Russell Wilson Net Worth 2021: Salary, Endorsements, Businesses, Mansions, Cars, Charity Works And More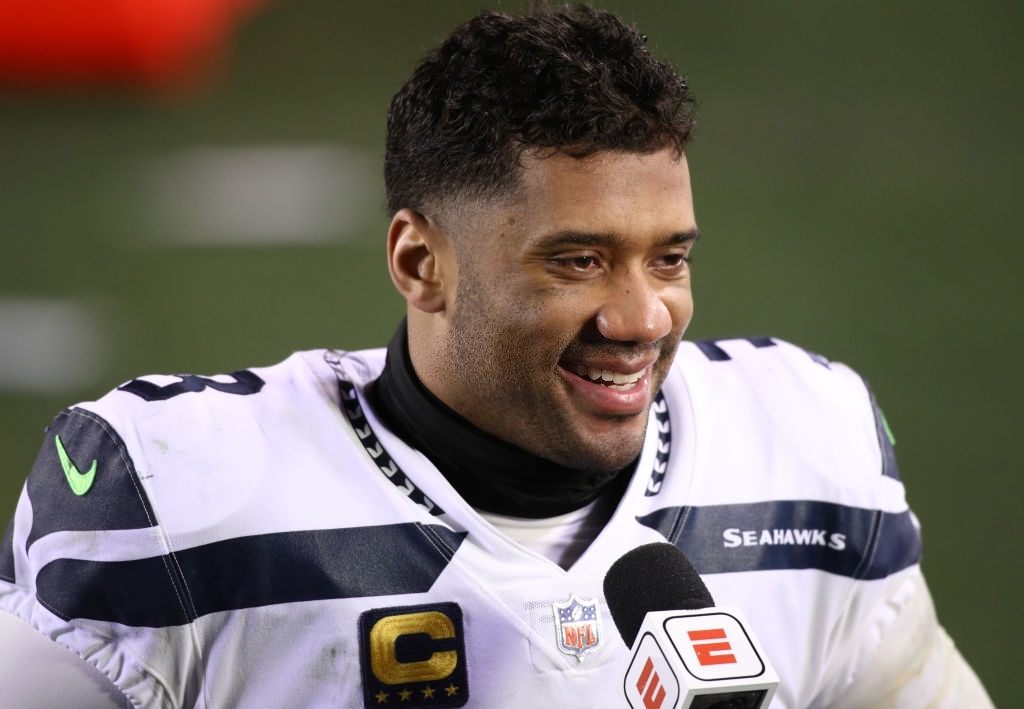 Russell Wilson is a thirty two year old American footballer of the National Football League (NFL). He is a starting quarterback position holder of the Seattle Seahawks. As of current times, he has appeared for two Super Bowls, winning one out of them.
Russell has been an inductee to multiple honors post joining the Seattle Hawks. Apart from bagging the Pepsi NFL Rookie of the Year Award, Wilson has also held his position of rank 51 in the NFL Top 100 of 2013.
One of the most successful NFL players, Russell is certainly worth of quite a good amount of wealth. Let us check out the sources of income and expenditure behind his whooping net worth of finances.
A Glance at Russell Wilson's Asset Accumulation:
| | |
| --- | --- |
| Name | Russell Carrington Wilson |
| Net worth | $135 million |
| Age | 32 (born on November 29, 1988) |
| Relationship status | Married to Ciara Harris |
| Source of wealth | Professional Football, Brand Endorsements, Businesses and Investments |
| Salary | estimated $35 million per season |
| Endorsements | Microsoft, Alaska Airlines, Bose, Luvo, Braun, United Way |
| Endorsement earnings | estimated $9 million |
| Philanthropy | Boys and Girls Clubs of America, Food Lifeline, Why Not You Foundation, Make-A-Wish Foundation |
What is Russell Wilson's Net Worth in 2021?
He is considered to be one of the highest paid athletes in the world. Celebrity Net Worth estimates Russell's net worth to be around $135 million as of 2021. His expensive career contract, endorsements and businesses all work up to provide the summation of his excessive financial worth.
Russell Wilson's sources of wealth:
Let us now take a look at the sources from which the NFL star accumulates such huge amount of wealth.
Russell Wilson's NFL salary:
On April, 2019 Wilson signed a contract for a tenure of four years with the Seattle Seahawks. This was a renewed contract with an extended worth of $140 million. The contract involves a signing bonus of a huge $65 million amount. This deal is still regarded as one of the most expensive NFL deals to ever take place.
His salary earnings have also increased to $35 million per season. This salary budget is a big leap from his previous salary earnings of around$2.99 millions across a duration of four years as reported by essentiallysports.
Russell Wilson's endorsement deals:
The financial worth of Wilson is a result of a fine number of endorsement deals he is associated with. He endorses brands such as Microsoft, Alaska Airlines, Molecule, Bose, Luvo, Braun, United Way, American Family Insurance, Wilson Sporting Goods, Levi's, Duracell, Mercedes Benz, etc.
Russell Wilson helps bring Juice Press to Seattle https://t.co/NMy77pRdLp @DangeRussWilson @juicepresstweet @dagenmcdowell @KevinRKelly_ @BrianBrenberg

— Maria Bartiromo (@MariaBartiromo) November 17, 2017
Wilson has been reported by PR Newswire to have signed a partnership with Juice Press. This was done in order to open the first flagship store of the company in Seattle.
Russell Wilson becomes the next athlete on Wheaties cereal box – GMA – https://t.co/oiJK3HdEYy via @GMA

— The Wilsons (@thewilsonsdaily) September 4, 2018
2018 marked the year when Russell was announced as the face of Wheaties cereal box.
Russell Wilson is now a team owner, Seattle Sounders. Fair play, everything the man touches is blessed ✊🏾 pic.twitter.com/S35JXuXV24

— Kisset.C (@kyrosrugby) August 13, 2019
Apart from the brand endorsements, Wilson has also made himself a part of the ownership group of the MLS franchise, Seattle Sounders FC.
The Charles Ray III Diabetes Association hold Russell as their brand ambassador also.
Russell Wilson's earnings through investments:
Welcome to Portland @DangeRussWilson and @ciara! The newest investors in the Portland Diamond Projecting brining MLB to PDX. pic.twitter.com/nvYYOnbeBx

— Portland Gear (@portlandgear) June 3, 2018
An extensive knowledge in the field of business works wonders for Russell. He is reported to make worthwhile investments in the sports industry. His initial investment was involved with the Portland Diamond Project which aims at bringing to Oregon, a mini league baseball team.
Russell announced of his intention to make an investment for developing a new sports arena in the SoDo neighborhood of Seattle.
Helmet maker VICIS announces a $7M investment round that includes @DangeRussWilson. Company taking reservations on $1,500 new helmet ZERO1 out in July pic.twitter.com/QIitnDdGD7

— Darren Rovell (@darrenrovell) November 20, 2017
A $7 million investment was made by Wilson in 2015. This went into a company called VICIS who specialize in manufacturing football helmets.
I'm thrilled to be part of Team Molecule as an Investor and Ambassador. @MoleculeSleep is dedicated to delivering the best recovery-focused sleep possible for athletes like me. While it's training camp and there's #NoTime2Sleep, when I do, it's on MOLECULE pic.twitter.com/RPMkikq3KD

— Russell Wilson (@DangeRussWilson) July 31, 2018
The following year found him investing on a mattress company named Molecule. He also endorsed them.
"If you think it, it's possible."

Ciara writes an open letter to her daughter about empowerment and equality after she and Russell Wilson announce they are owners of the Seattle Sounders pro soccer team. https://t.co/gav31L0ABO

— ABC News (@ABC) August 15, 2019
In 2019, Russell signed into a joint ownership with his wife Ciara for the local MLS club, Seattle Sounders FC.
Russell Wilson's earnings via business ventures:
It is not only the high end salary figure or the massive brand endorsements that helps Russell boast such huge amount of net worth. He is involved in personal businesses that fetch him even more wealth.
Follow my Creative Brand Management Team.

West2East Empire
@West2EastInc

Exclusive Content Lives Here. pic.twitter.com/LdZqSEKwYr

— Russell Wilson (@DangeRussWilson) July 15, 2016
West2East Empire is a brand management company founded by Russell in 2014. He holds the designated post of the company's founder as well as CEO. The company overlooks a couple of other production companies.
.@DangeRussWilson launches his own clothing label, "Good Man Brand"https://t.co/p0LfapfqcK pic.twitter.com/ubzzMfJPP5

— HotNewHipHop (@HotNewHipHop) February 29, 2016
The year 2016 found Wilson to start off his new clothing line under the name  Good Man Brand.
Both Amazon chief Jeff Bezos and Alibaba co-founder Joe Tsai have invested in Russell Wilson's TraceMe app https://t.co/SUMg0sn2dc

— Seattle Times Sports (@SeaTimesSports) July 6, 2018
A platform for the connection of fans and celebrities named TraceMe was founded by Russell on 2017. This company was surrounded by a number of big fat investors. The investors include Jeff Bezos, YouTube co founder Chad Hurley and Joe Tsai who happens to be the co founder of Alibaba
How Russell Wilson Spends His Millions?
Now that we know where all the wealth comes to Russell Williams from, let us glance through how and where all he spends it.
Russell Wilson's Luxurious Mansions:
Seahawks Russell Wilson — Ciara's Gonna Love … MY NEW KICK ASS MANSION!! (PHOTO) http://t.co/sr1CTnuZ3L

— TMZ (@TMZ) September 9, 2015
A waterfront mansion in Bellevue, Washington was purchased by Russell on 2015 for a worth of $6.7 million. The beautiful mansion reportedly sits on the Lake Washington and was built in the year 2008. It went on for sale into the market in 2010.
The mansion is two storied and boasts a square foot of around 10,700m.  It is located in one of the most beautiful spots with a serene view of the Lake Washington as well as nearby mountain ranges. The mansion boasts seven bedrooms, seven bathrooms and five fireplaces. It is huge to the truest of our imaginations.
Other than that, the mansion is also equipped with a wine cellar, a walk-in pantry and skylights as well.
View this post on Instagram
Upon signing his four year long $140 million worth contract with Seattle Seahawks in 2019, Russell did one of the best things a son could have done. He gave his mother the best surprise on mothers' day.
Wilson's mother Tammy T. Wilson was noticeably shell shocked at the sight of this exclusive mansion and to believe that she owns it from now. Russell sure does know how to utilize his wealth towards making himself and his folks happy.
Russell Wilson's Car collections:
Wilson possesses a fair collection of cars which include the big names like Audi, Range Rover, Tesla and Mercedes.
The most notable car amongst Russell's collection is the all new customized Mercedes G-Class. The car has an anti-theft insurance sanctioned as well as it boasts a voice recognition sound system.
Good luck topping Russell Wilson on Valentine's Day.

Mercedes G-Wagons for him and her:https://t.co/RPpqTPZ6fk pic.twitter.com/JNGN8tNRah

— 247Sports (@247Sports) February 14, 2019
This customized Mercedes is priced at around a range of a whooping $135,000. Well, not that big an amount it seems for the highest paid NFL player! He is reported to have bought a couple of them for himself and for his wife Ciara on the occasion of Valentines' Day.
Russell Wilson's Non-profitable Investments: The Charity Work
Like clockwork, you will find Russell Wilson with ailing children in need of a moral boost sat Seattle's Childrens Hospital. @seattlechildren @DangeRussWilson #Volunteer https://t.co/KIDuh7GDSI

— 👀‽ Patricia Unicorporated 👀‽ (@KuuipoSays) October 23, 2018
Russell is reportedly an active member and worker in and around the philanthropic community of Seattle. On his off days from NFL season he makes sure of paying weekly visits to the Seattle Children's hospital.
Picture time with Coach @DangeRussWilson at the @AlaskaAir Russell Wilson Passing Academy 🙌🙌 pic.twitter.com/sSZUW055eq

— Russell Wilson Passing Academy (@RWPassAcademy) June 15, 2019
During the off season, Russell puts up the youth football camp Wilson Passing Academy. He even goes to meet the army soldiers when he visits the local military base.
The funds Russell acquires from the youth football camps he conducts, is donated to the Charles Ray III Diabetes Association. He also conducts a variance of charity events.
In 2014, @DangeRussWilson launched the Why Not You Foundation, which is "dedicated to creating real and lasting change in the world by motivating, empowering and preparing today's youth to be tomorrow's leaders." https://t.co/MlnHreovoI

— DoSomething (@dosomething) March 27, 2019
Wilson has been reported to donate a sum worth over $1 million to the Seattle Children's hospital. This was done through the Why Not You Foundation for the program named 'Strong Against Cancer'.
Russell Wilson hosts annual charity golf tournament to raise funds for cancer https://t.co/uylLzhsdtb pic.twitter.com/GyquTi6LIV

— Zesty NFL Seahawks (@zesty_seahawks) June 30, 2017
Alongside Nascar driver Kasey Kahne, Wilson hosts an annual charity tournament of Golf. This event takes place at the Suncadia Resort situated in Washington towards eastern Seattle.
.@DangeRussWilson and @ciara are donating one million meals to Seattle Food Lifeline to support their community during the coronavirus outbreak. pic.twitter.com/xZQpgrP0e0

— NFL (@NFL) March 18, 2020
Recently, due to the Covid 19 pandemic, alongside his wife, Russell donated one million meals to needy people. This was done in partnership with Food Lifeline.
Russell's wife, Ciara Harris' net worth:
Ciara Harris is a singer and songwriter hailing from America. She is also known as the second wife of Russell Wilson since 2016. A fruitful career holder, Ciara is estimated by Celebrity Net Worth to boast a $20 million net worth under her name.