Paul George Net Worth 2021: Salary, Endorsements, Businesses, Mansions, Cars, Charity Works And More
Paul George is a thirty one year old American basketball player of the National Basketball Association (NBA). He is a small forward or shooting guard position holder of the Indiana Pacers. George is also known as PG13 by his fans. 
Having started his career in the year 2010, Paul got himself selected in the NBA Draft of the same year by the Indiana Pacers. Since 2019, he currently plays for the Los Angeles Clippers.
One of the best amongst the top  NBA players, George has shown consistent growth in his career. He also holds an Olympic medal under his belt. Let us check out the sources of income and expenditure behind his net worth of finances.
A Glance at Paul George's Asset Accumulation:
| | |
| --- | --- |
| Name | Paul George |
| Net worth | $90 million |
| Age | 31 (born on May 2nd, 1990) |
| Relationship status | Engaged to Daniela Rajic |
| Source of wealth | Professional Basketball, Brand Endorsements , Investments |
| Salary | estimated $47.5 million per year |
| Endorsements | Gatorade, Footlocker, Nike, 2k Games, New Era |
| Endorsement earnings | $8 – 10 million |
| Philanthropy | Paul George Foundation, American Stroke Association, Black Lives Matter |
What is Paul George's Net Worth in 2021?
Paul George is reported by Celebrity Net Worth to possess a high net worth of an estimated $90 million. His huge contracts and endorsements provide him the financial wealth and worth that he is the owner of. According to the list of highest paid athletes of 2021 by Forbes, Paul holds the 37th position.
Paul George's
Sources of Wealth:
Let us now take a look at the sources from which the NBA star accumulates his abundant wealth.
Paul George's NBA Salary:
A part of the Indiana Pacers for seven years, Paul joined the Oaklahoma Thunders in 2017. In the month of July of the same year, George signed a contract worth $137 million with the thunders. The contract was of four years tenure. That year marked Paul's salary to top off $30 million for the first time in his career.
Congrats on @Yg_Trece on signing a max extension with the LA Clippers for 190 million, no hate to paul but if i was the clippers i would have waited untill next season to extend his contract because they don't know if he will be as good as he was in indian

— Javier Rodriguez (@JavierR94634761) December 11, 2020
In 2019, Paul joined the Los Angeles Clippers and the following year he was offered an extension of five years in his ongoing contract with the Clippers. Celebrity Net Worth reports that the contract is worth $226 million with all incentives and around $190 million if no incentives are hit.
Acceptance of this newly offered extension deal resulted into Paul's salary hike from $33 million to $47.5 million. Since 2020 George's average annual salary has been $47.5 million and that to keeping aside his income from endorsements.
Paul George's Endorsement Deals: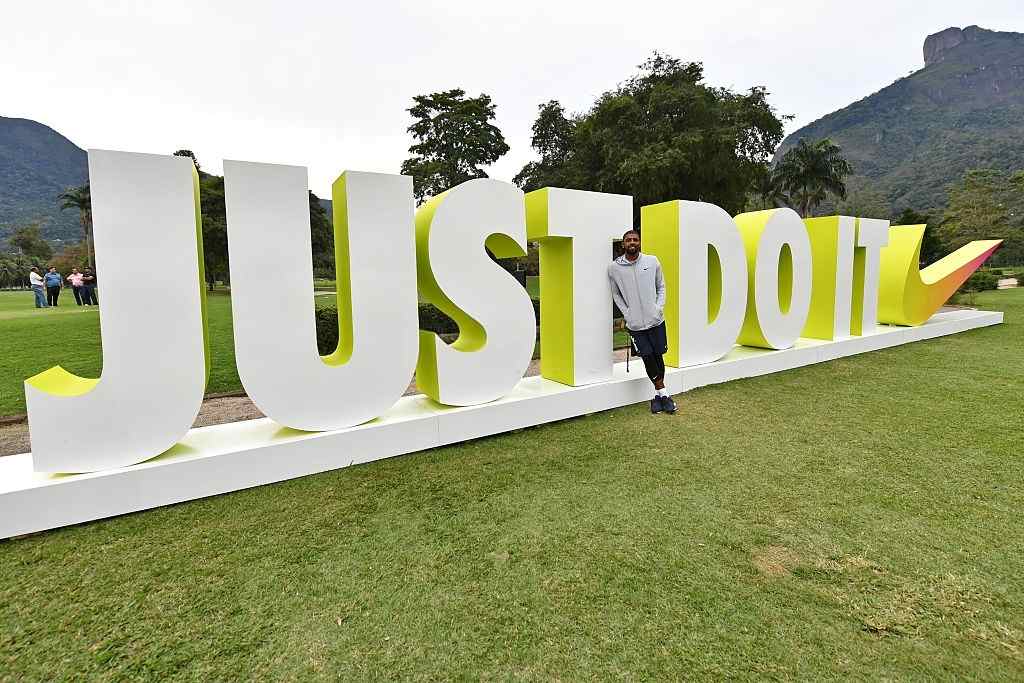 A list of big brands have endorsement deals associated with Paul. Nike happens to be the leading company behind George's endorsement deals. PlayersBio reports that Paul apparently earns around $5.5 million each year from Nike.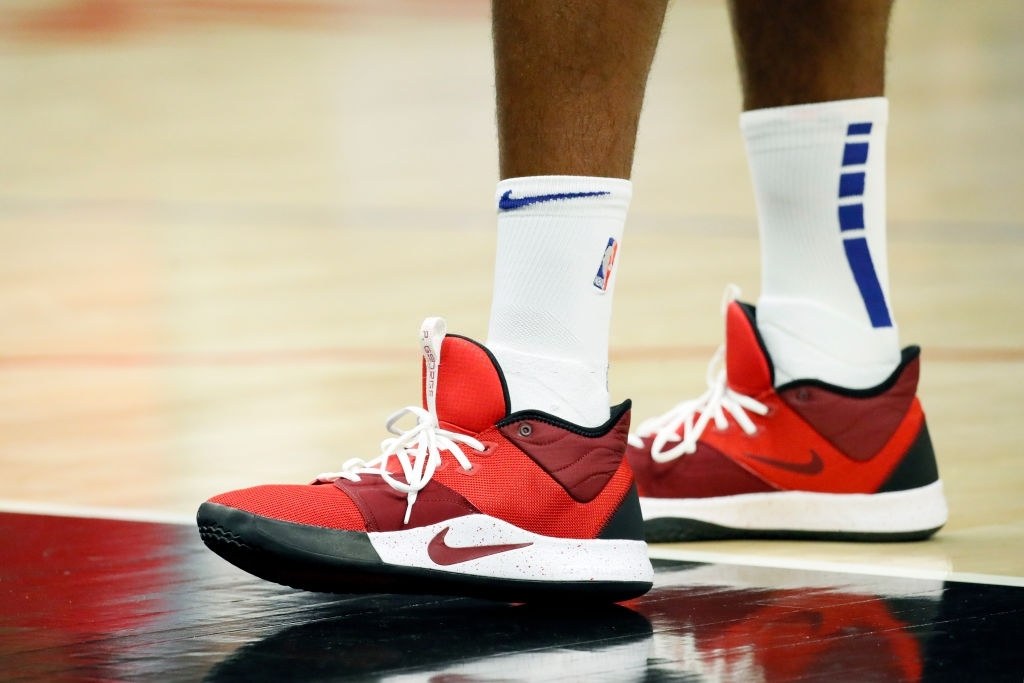 Moreover in 2017, he turned the 21st player to possess his own Nike series of shoes. 
Paul George's first signature shoe. The Nike PG1. pic.twitter.com/JlYCUpPhDP

— Basketball Forever (@Bballforeverfb) January 9, 2017
Currently the PG shoe series has entered its fifth generation. The PG1 models were released in 2017 while the second gen ones were released in the year 2018.
Watch #NewEraCap ambassador @Yg_Trece in the 2018 NBA All Star Game today! pic.twitter.com/zAyPuEJjnF

— New Era Cap (@NewEraCap) February 18, 2018
Paul is noted for his high enthusiasm for hats. This enthusiasm led to a deal signing with the company New Era. They produced Paul's signature custom series hats.
This new Paul George Gatorade commercial looks dope 🔥😳 pic.twitter.com/BZQsirqUFi

— Threezus (@AHyuckedUp) August 23, 2020
Gatorade signed in Paul George as their brand ambassador in the year 2014.This has led to Paul's appearance in a number of their media commercials.
Paul George is an 88 OVR #NBA2K21 next gen pic.twitter.com/C7Iae49oX7

— NBA2K21 News🤫 (@2KInsiderr) October 22, 2020
2K Games, the developers of NBA 2K series of video games have signed sponsorship deals with Paul. He remains featured as the cover athlete for the NBA 2K21 game.
No matter what game I'm playing, I always need to look fresh. #BecauseSneakers @footlocker pic.twitter.com/Y6ncDZ1gIY

— Paul George (@Yg_Trece) November 16, 2018
Alongside the aforementioned noteworthy endorsements, Paul is also associated with companies like Footlocker, AT&T, Bass Pro Shops, etc.
Paul George's Earnings Through Investments:
George has enough wealth apparently to make some smart and notable investments during his active years in the NBA.
@Yg_Trece Great choice on Impossible Foods let us know if you want to sell https://t.co/zji9PViye7

— Crediblock (@crediblock) August 12, 2020
Impossible Foods, a food company based on plants found Paul investing a Series E funding for the company. Reportedly he invested again for a second time as a Series F funding.
.@Tonal raises $110M funding round → includes investments from @StephenCurry30, @MichelleWieWest, @Yg_Trece, and @Bwagz https://t.co/2bqDK0ZMXN

— Boardroom (@boardroom) September 18, 2020
Another notable investment Paul has been reported to make is on an upcoming fitness company named Tonal. His investment is also added up by investments of other NBA stars such as Stephen Curry and Klay Thompson. Clutchpoints reports that Paul, on September 2020 pitched upon Tonal's $110 million VC capital.
Paul George's Earnings Via Media Ventures:
From @luka7doncic to @DaleJr and @Yg_Trece, pro athletes made the most of Twitch and gaming as an outlet, and @Flashpoint's debut also gets a nod in our weekly look at who won the weekend. https://t.co/IsaBPEF5VC

— ESPN Esports (@ESPN_Esports) March 16, 2020
Paul is reportedly an avid fan of gaming and a dedicated gamer himself. He has been appearing under his handle named Yg_Trece with his gameplaying in Twitch which is a streaming platform. His social media presence is massive and that helps in his brand growth to keep moving upwards.
Paul has a dedicated self-named YouTube channel that currently has 105K subscribers as of June,2021.
How
Paul George

 Spends His Millions?

Now that we know where all the wealth comes to Paul George from, let us glance through how and where he spends it all.
Paul George's Luxurious Mansions:
A beautiful mansion of 16000 square foot situated on the Hidden Hills, California, was purchased by Paul on 2016 for an amount of $7.4 million. The mansion sits on an area of around 1.45 acres as reported by Celebrity Net Worth. The property has a dedicated basketball court.
Paul George puts Hidden Hills mansion on the market for $9.495 million https://t.co/8aK83T7EmP

— Los Angeles Times (@latimes) June 3, 2020
Paul listed it for sale on June in the year 2020 for a price of $9.5 million.
French Montana Buys Paul George's Hidden Hills Compound https://t.co/NoOCswDGuT

— Variety (@Variety) December 18, 2020
It has been reported that in the same year, musician French Montana purchased the mansion from Paul for a price of  $8.4 million
In 2019, after he joined the Los Angeles Clippers, Paul made a purchase worth $16 million. This huge amount of money was spent on buying a massive mansion in the neighborhood of Pacific Palisades in Los Angeles. The ex owner of this mansion has been fellow NBA star DeAndre Jordan and he bought this house on 2015 for a price of $12.7 million.
Paul George has a new home — equipped with a basketball court — in the Pacific Palisades. https://t.co/Jl4t6EVdvk pic.twitter.com/mdhiNpnj0w

— The Real Deal LA (@trdsocal) September 27, 2019
The mansion boasts a space of 10,000 square foot and also has seven bedrooms and about ten bathrooms. The house features an open floor plan and boasts an elevator, a wine room with special climate controlling feature, a basketball court and a waterfall foundation swimming pool. Alongside, the mansion also boasts features like a theatre, game room, lounge, swimming pool, outdoor kitchen, etc.
Paul George Buys DeAndre Jordan's Former Pacific Palisades House – Variety https://t.co/adYG99P4Pp

— Micheal Soriano (@Soriano310ms) September 26, 2019
The mansion boasts serene views of the enchanting Pacific Ocean.
Paul George's Car Collections:
George's fascination for supercars is something that one would never miss. The NBA star's garage boasts a number of notable speed freak hot rods.
Paul owns one of the most desired and the best looking Ferrari. This one is a Ferrari 458  Italia Spider. Reportedly, he purchased a four wheeler in 2014 the company of which is yet to be known. The car is worth $3,70,000 and is loaded with the feature of making 0-60 in around 3.7 seconds.
In the year 2018, on occasion of Mothers' Day, Paul gifted his fiance Daniela with an absolutely new Land Rover.
Paul George's Non-profitable Investments: The Charity Work
George is the founder of the Paul George Foundation that organizes a variance of fundraiser events and programs with the mission of aiding different communities.
The philanthropic foundation founded by NBA All-Star Paul George gave $4,200 to the Oklahoma Fishing in the Schools (OKFITS) Program #oklahomafishing #PG13 https://t.co/hNb8akdJXO pic.twitter.com/bFNq7WhRoY

— Conserve Oklahoma (@Conserve_OK) February 19, 2018
In 2019, the foundation made an announcement of supporting thirteen schools with sponsorship of the OKFITS programs.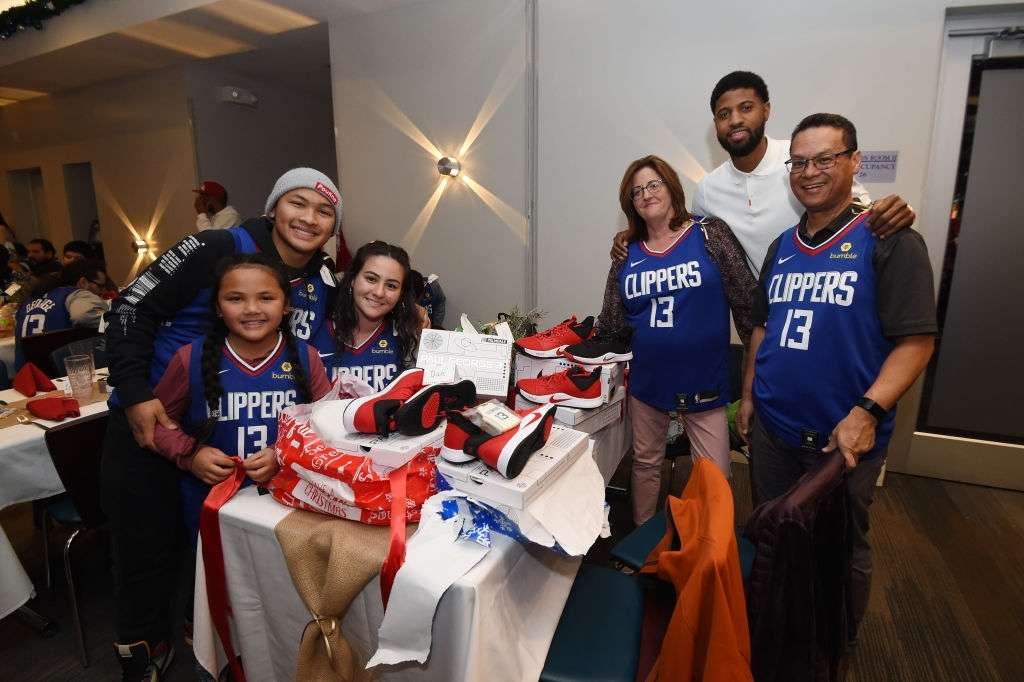 He has made a partnership with the American Stroke Association in order to host the annual Christmas dinner for victims of stroke. Paul lost his mother due to stroke when he was just a tender six year old child. He wishes to raise awareness and celebrate the survivors' victories together.
.@Yg_Trece Celebrity Fishing Tournament. Story and photos. https://t.co/mqU9RYSZMg pic.twitter.com/AcumW0qZwZ

— OKC THUNDER (@okcthunder) August 17, 2017
He also hosts a fundraising event  annually which is the Celebrity Fishing Tournament.
As per the rules of NBA, a player's decision concerning change of jersey number whilst being a part of the same team might require him to buy off all his jerseys. However after purchasing all his jerseys, Paul donated the whole sum to his former high school in the year 2014.
George apparently runs an youth basketball program in his hometown in order to train, help and motivate children to pursue the sport as a career.
Chrysler -Paul George donates $10K towards wheelchair van for 11-year-old Daisy Esterline – Vigilant Sports http://t.co/Uqv4y9Btqp

— d b (@vanforums) May 5, 2015
It is reported that in the year 2015 the family of an eleven year old child named Daisy Esterline was frantically trying to arrange for a wheelchair van. Paul has donated a sum of $10.000 to the family for fulfilment of the purpose.
The Lakers and Clippers both kneel during the national anthem as LeBron, AD, Kawhi and Paul George all wear Black Lives Matter shirts. pic.twitter.com/aP6ZxNKqF2

— Frank Pallotta (@frankpallotta) July 31, 2020
Alongside all this, Paul is an active participant of the Black Lives Matter movement. During his pre game warm ups, he is often spotted to be wearing a Black Lives Matter tee or hoodie.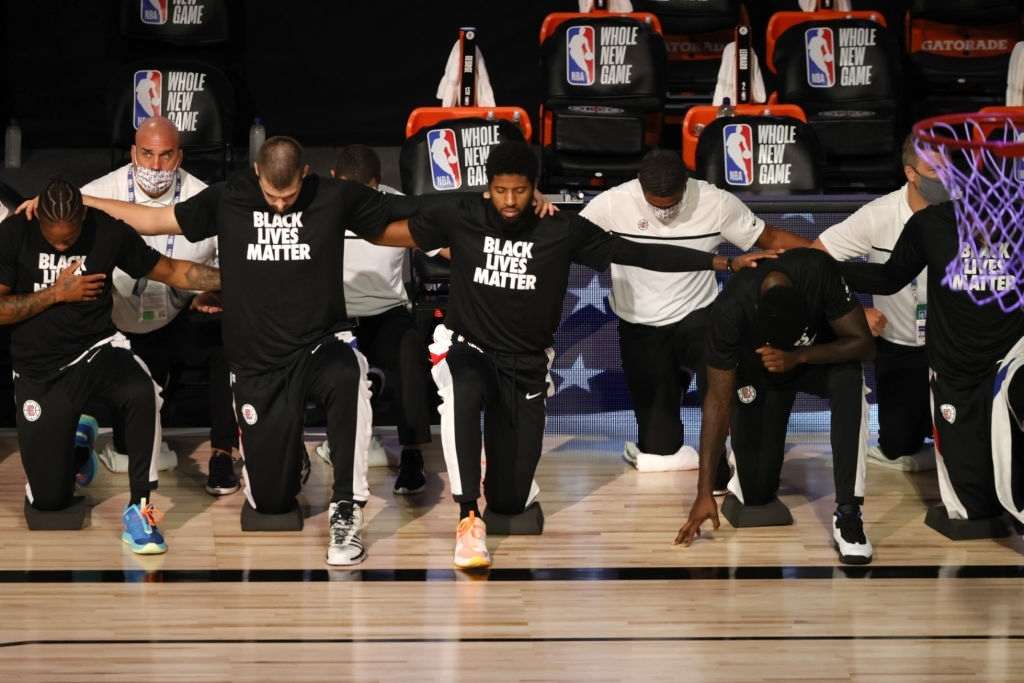 Paul's
fiance, Daniela Rajic's Net Worth:
Congratulations to Paul George and Daniela Rajic 👏 pic.twitter.com/WjOCxP1f6w

— Clippers Nation (@ClipperNationCP) November 7, 2020
Paul's fiance, Daniela Rajic is a former model and exotic dancer. She is popularly associated to Paul due to their relationship and kids. The fiance of the NBA star is currently estimated by Popular Bio to possess a net worth of $40 million as of the year 2021.