Lamar Jackson Net Worth 2021: Salary, Endorsement, Clothing brand, Mansion, Car and More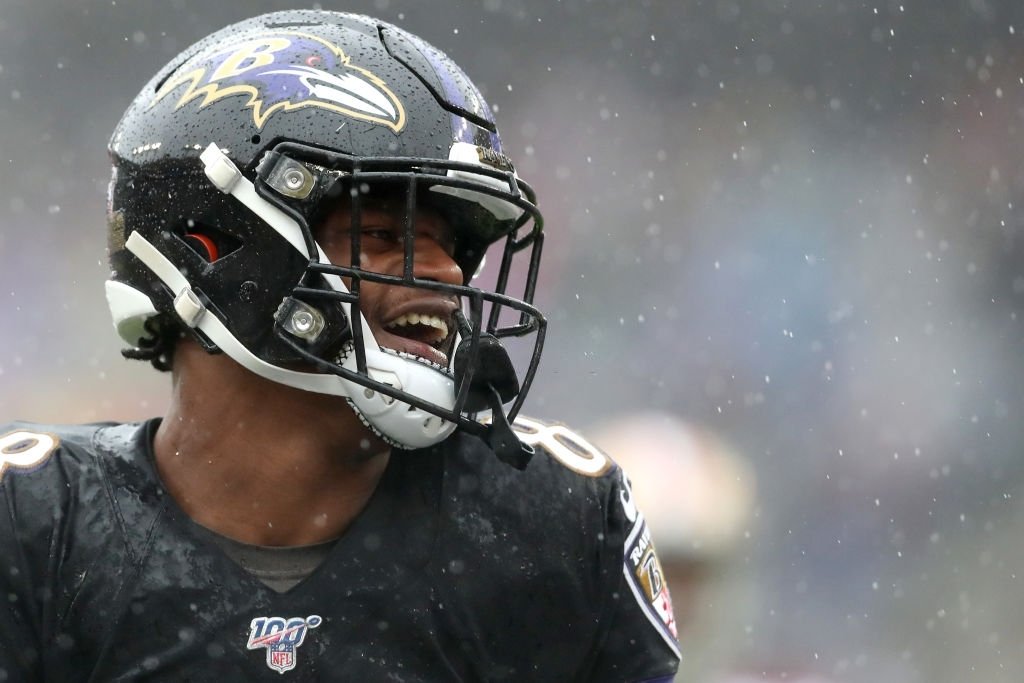 Lamar Demeatrice Jackson Jr., better known as Lamar Jackson is a professional American football player. The young quarterback started his professional journey with the Baltimore Ravens as the 32nd overall pick in the year 2018. The 24-year-old athlete rose very quickly to fame and was even named NFL's most valuable player of 2019.
Rising to fame as a star quarterback, Lamar has bagged a heavy starting contract that will only go uphill in the years to come. Alongside his NFL salary, own brand, and other avenues, add to his net worth. We will bring to light all that there is about the quarterback's net worth.
A Glance at Lamar Jackson's Asset Accumulation
| | |
| --- | --- |
| Name | Lamar Jackson |
| Age | 24 years old (January 7th, 1997) |
| Residence | Mansion in Baltimore |
| Net Worth 2021 | $4 million |
| Salary | $1.7 million |
| Endorsement Earnings | Unknown |
| Source of wealth | Salary, Endorsement, Own Brand |
| Endorsements | Oakley |
| Expenditure | House, cars, jewelry, charity |
| Philanthropy | Blessings in Backpack, Missions for Hope |
What Is Lamar Jackson's Net Worth in 2021?
Celebrity Networth estimated that the quickly rising star quarterback has an estimated net worth of $4 million as of 2021. Earning an annual salary of $1.7 million at just 24 years old, Jackson's future looks very bright. The quarterback's endorsement deal and his line of apparel, also add to his bank balance.
Lamar Jackson's Source of Wealth:
While the primary source of income is his four-year rookie contract with the Baltimore Ravens, Lamar's very recent endorsement deal and his clothing line altogether add to his wealth. Let's dive deep into all the details revolving around his wealth accumulation.
Lamar Jackson's NFL Salary
In 2018, Lamar signed a four-year rookie contract worth $9.47 million including a $4.97 starting bonus with the Baltimore Ravens. His annual salary as of 2021 is $1.7 million which is a major upgrade from his starting salary of $480,000. Furthermore, in his ongoing career, the quarterback has earned $7.9 million as of yet.
Lamar Jackson's Endorsement Deal
Lamar is a considerably young face in the NFL panel and thus has not yet landed any major brand deals. However, fairly recently United States-based sunglasses brand, Oakley signed an endorsement deal with him in August 2020.
Although details regarding their contract are currently unknown, it can be assumed that this deal earns him quite the pocketful.
Lamar Jackson's Earning Through His Clothing Brand
View this post on Instagram
In 2019, the NFL quarterback launched his clothing brand called "era8apparel." Named after his jersey number, he sells personalized clothing, caps, face-masks, and even iPhone cases. This business endeavor seems to be doing quite well based on the reviews online. The apparel's Instagram page has already crossed 47,000 followers and is constantly growing.
How Lamar Jackson Spends His millions?
Spending big for millionaires is like a walk in the park. After signing his first rookie contract worth over $9 million, Lamar started to opt for the posh lifestyle. Here's how Lamar Jackson spends with hard-earned money.
Lamar Jackson's Baltimore Mansion
According to ESPN, with his first big paycheck, Lamar bought a massive $1.3 million mansion in Baltimore. Featuring more than five bathrooms, the brick estate features a reception room, a gym, two huge fireplaces, and a three-car garage. Spanning over 3 acres of land, the million-dollar mansion must be a treat to live in.
Furthermore, Jackson also bought a house for his mother in the same area. In an interview, he said the best thing about being an NFL player is giving back to your parents.
Lamar Jackson's Mercedes Benz
Currently, the 24-year-old athlete drives a Mercedes Benz SL500 Grand edition he bought in 2018. The sleek and classy car is worth a whopping $100,000.
In 2019, Lamar posted a video of himself driving the Benz on Instagram going over 105 miles per hour without a seatbelt on. Later h=the rising star player apologized on Twitter for his rash behavior.
Lamar Jackson's Watch and Jewelry Collection
One of Lamar's biggest purchases so far seems to be his chain. The $100,000 chain was custom built by Stacks Customs and took three whole weeks to make. The chain features 258 grams of gold and multiple 25 carats of VVS stones. The NFL athlete had this custom built to immortalize one of his best career plays when he hurdled over a defender with ease during his time at Louisville.
View this post on Instagram
Lamar has also been spotted multiple times covering both of his wrists in gold. While the gold-plated watch and bracelet that he rocks are yet to be associated with big-name brands, combined they can easily cost $50,000 or more.
Lamar Jackson's Non-Profitable Investments: The Charity Work
The Raven's quarterback does not have a charity or foundation of his own. However, in 2018 he arranged for an autograph signing event in Louisville. The event was blessed with a donation of $29,000. A major sum of $25,000 was donated to Blessings in a Backpack while the rest was given to Missions for Hope.