Tom Brady is an American footballer of the National Football League (NFL). He plays for the Tampa Bay Buccaneers in the position of a quarterback. Brady was a part of New England Patriots for the primary twenty seasons in his career. His record of winning seven Super Bowls out of ten for the Patriots is still unbeaten.
A player of such high performance level, Tom Brady's net worth is a topic of widespread speculation. So keeping aside all the what ifs, let us just glance through the footballer's overall possession of wealth.
A Glance at Tom Brady's Asset Accumulation:
| | |
| --- | --- |
| Name | Thomas Edward Patrick Brady, Jr. |
| Net worth | $250 million |
| Age | 43 (born on August 3, 1977) |
| Relationship status | Married to Gisele Bundchen |
| Source of wealth | Professional Football, Brand Endorsements and Investments |
| Salary | estimated $30 million per annum |
| Endorsements | Upper Deck, IDC Watches, UGG, Footlocker, Under Armour |
| Endorsement earnings | estimated $100 million as of 2019 |
| Philanthropy | Best Buddies International, KaBOOM! , Entertainment Industry Foundation and the Boys and Girls Club of America |
What is Tom Brady's Net Worth in 2021?
As per reports by Republic World, currently in the year 2021, Tom Brady possesses an estimated net worth of $250 million. His twenty season tenure with the New England Patriots fetched him a hefty earning of $235.2 million. The latest Tampa Bay contract deal of two years for Brady is worth a sum of $50 million.
Apart from his football career, Tom is estimated to have been remunerated around $100 million from his endorsements. This is reported to be his endorsements' estimation between the timespan of 2000-2019.
Tom Brady's sources of wealth:
The income sources of Tom are quite a worth of discussions as they fetch him so much of financial worth. Let us take a detailed look into them.
An annual income of $30 million is drawn by Tom. He received around $230 million only from salary during his time in the Patriots. It is estimated that the current two year contract of the Tampa Bay Buccaneers will fetch him around $280 million from salary.
Tom Brady's endorsement deals:
Under Armour is ready to start adding to a roster of athletes that already includes Stephen Curry, Tom Brady and Dwayne "The Rock" Johnson.#sports #sportsbusiness #apparel​ https://t.co/TB4lZnn2be

— Baltimore Business (@BaltBizOnline) May 13, 2021
At present, Brady endorses a range of brands such as Upper Deck, IwC Watches, UGG, Footlocker, Under Armour and a few more. Tom's deal with Under Armour works with the tag of Brady line of athletic gear such as shoes, workout clothes etc.
In recent times, Brady is reported to have signed a promotional deal of a $200,000 car with Aston Martin. His recent endorsements also include Tag Heuer and the Sam Adams beer company.
As of the year 2019, Tom Brady's endorsement earnings have been estimated up to $100 million. It is speculated that by the end of two years it may increase up to $140 million.
Tom Brady's earnings through investments:
View this post on Instagram
In 2013, Tom Brady co founded a health and wellness company named TB12. A top performance website TB12Sports.com was officially announced in 2016. The website offers information on the training course of Tom Brady and also features the option to shop TB12 merchandise and equipment.
View this post on Instagram
On August 2016, TB12 made an expansion of offering a snack line. This includes glutton and dairy free snacks made from raw, organic and vegan ingredients.
View this post on Instagram
In partnership with Boston Private and Robert Paul Properties, Brady announced the TB12 Foundation to be formed. The announcement was made on September 2016. The vision of this non-profit foundation is to provide free of cost post injury rehab care. It also loos forward to provide training to young and underprivileged athletes.
How Tom Brady spends his millions?
The immense amount of wealth is an undoubted reality for Tom Brady. But what we still get to see now, is how or where he spends so much of his finances.
Tom Brady's asset possession:
Brady owned a twelve thousand square foot house with his wife Gisele. The house is located in Brooklyn, Massachusetts and is built upon a five acre land. However, upon his arrival at Tampa Bay, Brady and his family moved into a mansion in the most expensive Davis Islands.
Derek Jeter Takes $22.5M for Tampa Mansion Rented to Tom Brady – https://t.co/G2OdgFKeVh pic.twitter.com/JIdHDparEK

— American Luxury (@amluxmag) May 22, 2021
The Davis Island mansion boasts an area of about thirty thousand square foot. It has been built by the Yankees shortstop and Hall of Fame inductee Derek Jetter.
#SUPERCARSCOLLECTION #CARSCOCHES
CARS&STARS

Tom Brady luxury Car Collection, $ 4.9 Million ★ 2021#Followme #sígueme @TomBrady #TomBrady #cars #autos #coches #new #news #cool #Super #people #supercar #Supercharger #supercoche #superauto https://t.co/Pwo8fxoZRQ

— CARS COCHES GROUP (@CarsCochesOFL) March 29, 2021
Alongside his beyond expensive mansions, Tom Brady boasts a varied collection of super and luxury cars. His current collection includes a couple of Aston Martins, a Rolls Royce Ghost,  A Bugatti Veyron Super Sport and a Ferrari.
Tom Brady's Non-profitable Investments: The Charity Work
Tom Brady is not known to spend all his wealth only on materialistic wellness. He also happens to be a dedicated charity worker and donator.
Tom Brady 'All-In Challenge' package sells for $800,000 – The starting bid was $50,000, and it received 32 bids. All of the proceeds from the auction will go directly to Feeding America, Meals On Wheels, World Central Kitchen and No Kid Hungry. https://t.co/kVifQVtmNT

— JusticeToAll ~ ❤️ ⚖️ 🚀 (@JusticeToAll) April 29, 2020
In the year 2020, Brady took part in the 'All-In Challenge' and helped in raising a $100 million in total. The raised amount was distributed amongst four charities namely, Feeding America, Meals On Wheels, World Central Kitchen and No Kid Hungry.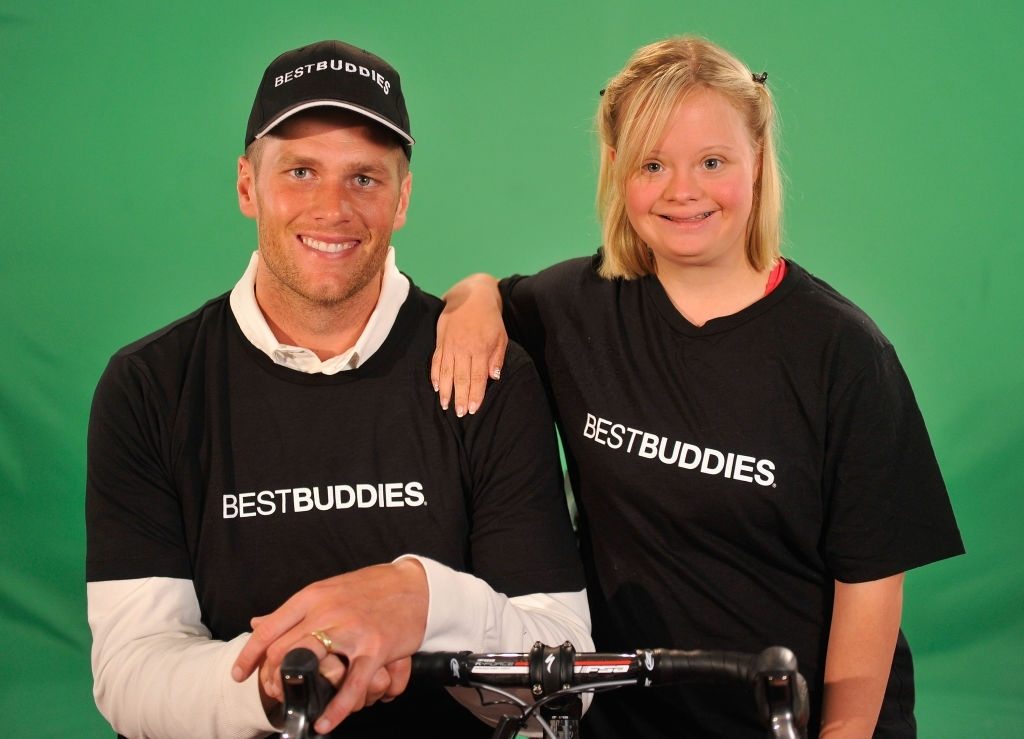 Brady's other charity associations include Best Buddies International, KaBOOM! , Entertainment Industry Foundation and the Boys and Girls Club of America.
Tom's Wife, Gisele Bundchen's net worth:
Gisele Bundchen falls under the category of some of the highest paid fashion models. The spouse of the quarterback Tom Brady is estimated by Celebrity Net Worth to possess a net worth of $400 million as of 2021. As noticeable as it is, Gisele's net worth is double than that of her husband Tom Brady. Therefore, the flow of finance does not seem to be a thing to think about for the couple due to their individual net worth of high expense.