Conor McGregor Wife: Dee Devlin, Kids + Relationship Timeline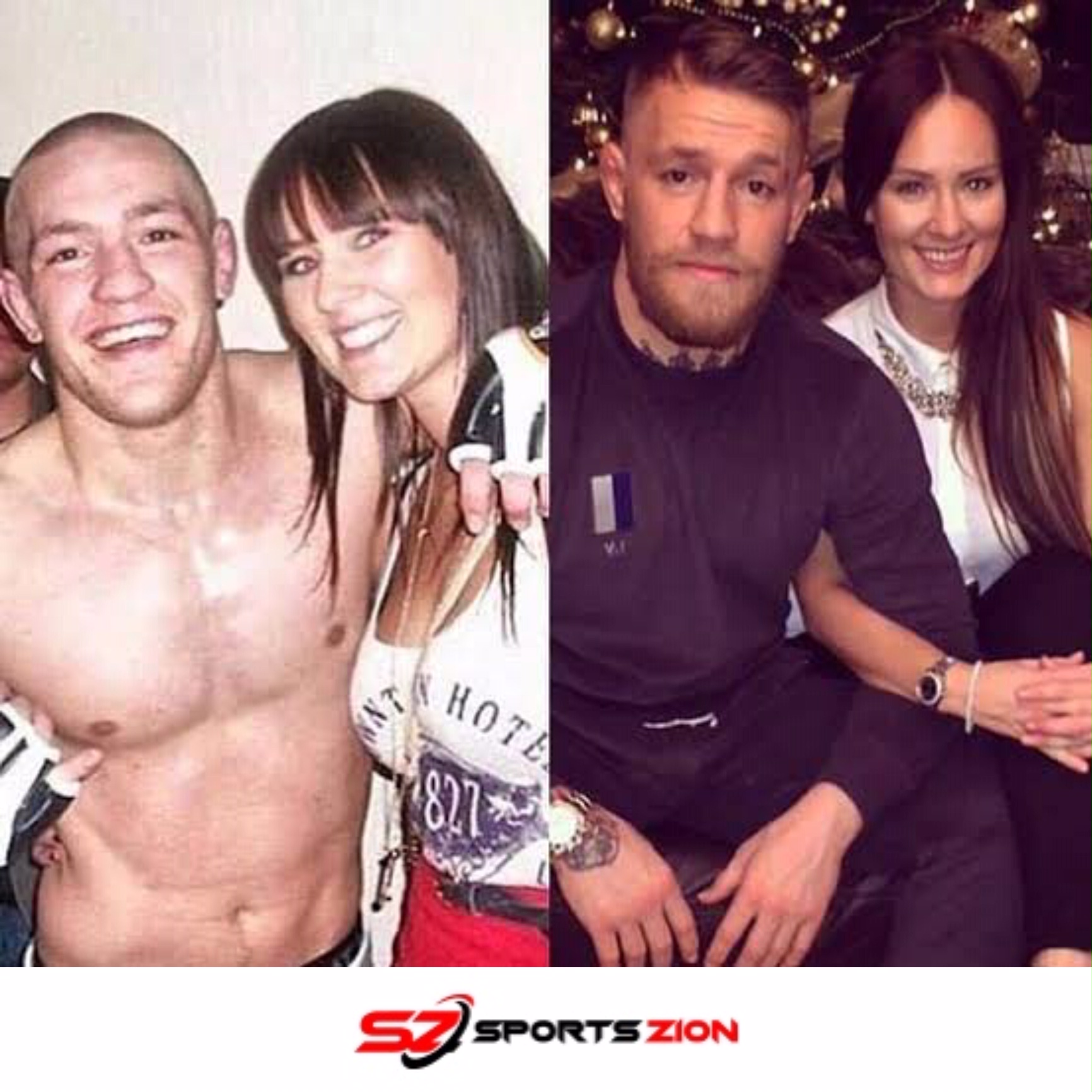 Former UFC Champion Conor McGregor has always been in the limelight both positively and negatively regarding his professional and personal life. But he has always managed to balance his UFC life and family life perfectly. At the age of 32, the Notorious is already a millionaire now, and he aims to become a billionaire by the age of 35.
However, McGregor always credits his girlfriend Dee Devlin for his success. Both the Irishman and Devlin have come a long way together since their relationship in 2008. After all the struggles, ups, and down, the coupe has finally seen the success. Furthermore, Devlin is going to be Conor McGregor's wife anytime soon. 
That being said, we have gathered everything you may want to know about McGregor's fiancé Devlin.
Who is Conor McGregor's wife Dee Devlin?
Dee Devlin is an Irish girl from Walkinstown, Dublin, Ireland, who used to live in the same neighborhood as McGregor. Currently, she is working as a finance manager with Conor McGregor. Though Devlin is yet to get married with Conor, they are in a committed relationship and got engaged recently. Hence, we will refer Devlin as McGregor's girlfriend, fiance, and wife throughout the article.
Conor McGregor wife Dee Devlin: Quick Stats
| | |
| --- | --- |
| Full Name | Dee Devlin |
| Nickname | Dee |
| Known as | Conor McGregor's partner |
| Profession | Entrepreneur, Modeler |
| Date or Birth | August 9, 1986 |
| Age | 35 Years old |
| Birth Place | Walkinstown, Dublin, Ireland |
| Nationality | Irish |
| Ethnicity | White Caucasian Descent |
| Gender | Female |
| Religion | Christian |
| Sexual Orientation | Straight |
| Zodiac Sign | Leo |
| Height | 5 feet 5 inch or 167 cm or 1.67 meters |
| Weight | 60 kg or 132 lbs |
| Eye Color | Brown |
| Hair Color | Dark Brown |
| Shoe Size | 8 (UK) |
| Father | Not revealed |
| Mother | Not revealed, Homemaker |
| Siblings | 2 Sisters |
| Sisters | Cathy Devlin and Sara Devlin |
| Marital Status | Engaged |
| Fiancé | Conor McGregor |
| Kids | Conor Jack McGregor Jr., Croia McGregor |
| Education | High School, at a Local High School |
| Dream Holiday | Greece, Miami, Paris |
| Favorite Color | Black and White |
| Favorite Food | Irish Cuisine |
| Loves to Do | Travel, Shopping, Music |
Conor McGregor wife Dee Devlin: Body stats
Even though Devlin has two children, she maintained an amazing body at the age of 35. She has a body measurement of 34-26-35, breast, waist, hips accordingly. She wears a 36B bra. Besides, McGregor also helped her in the gym to get in shape postpartum.
Conor McGregor wife Devlin: early life, family and education
Devlin was born on August 9, 1986, in Walkinstown, Dublin, Ireland. Walkinstown is a suburb located in the south of Dublin with a small population of 6,819 as of 2016's data. She grew up with her parents and two sisters. However, no details about her father were found; Devlin's mother was a homemaker.
Devlin has two younger sisters Sarah Devlin and Cathy Devlin. Sarah is working as an asset model with TV3 in Ireland. On the other hand, Cathy is married to Rossy Sargent; the couple tied the knot on June 22, 2017. However, all three sisters have good bonding among them. 
Devlin struggled a lot in her early life, and had to start working as a teenager to get going. However, she did not like to study and hence dropped out after high school.On starting to work the odd job of waitressing at the age of 15, she moved on to modeling in the late teens and early twenties.
Conor McGregor wife Dee Devlin: Career
Dee had a bumpy career from the beginning by dropping from high school eventually having to manage odd jobs for a living. Later on she found momentum as a model in her early twenties, although she did not stick to modeling for very long. Devlin left modeling in 2008 when she met McGregor.
The Notorious hired her to handle his finance and keep track of the training schedules. Currently, she is a businesswoman, and works as a part of Conor's management and promotional team. Besides, she also worked with McGregor's whiskey brand Proper No. Twelve. However, it is not clear if she still works with the whiskey company, as the Irishman reportedly sold the brand to Jose Cuervo's parent company Becle.
Conor McGregor's relationship timeline with Dee Devlin
McGregor and Devlin have been in a relationship since 2008. From the start they struggled a long way to reach today's position, which represents the example of true love. Throughout the last 13 years, they have shared numerous significant moments. Let's dive into their relationship timeline.
How McGregor met his fiancé Devlin?
Conor McGregor was just 19 years old when he met Dee at a local nightclub. Although they lived in the same neighborhood, the notorious never approached her until he started his fighting career. When Dee met McGregor at the nightclub in 2008, she liked him at first sight. McGregor's funny and charming personality made her fall for him.
Despite living in the same neighborhood for 19 years, it was their first time conversation. It was evident that, McGregor too found her attractive and nice. After that meeting, their second meet was at a friend's party. From there on, they started dating and were seen in different places in Ireland.
How Conor McGregor and wife Dee Devlin overcame their struggles?
During 2008-2015, the couple had gone through an immense hard time, but  Devlin never left McGregor in his tough times. At one point in time the couple had to leave their house and they moved to McGregor's father's attic.
Conor started practice from there while Devlin took care of him, cooking for him, driving to the gym. Devlin gave him full support so that the Notorious could focus on his fighting. During that period, the fighter fought multiple bouts in Ireland, Jordan, and England.
Their struggling period was over when McGregor landed himself in the UFC in 2013. McGregor's partner has attended every fight with him and supported him throughout.
McGregor & wife Devlin: How many babies do the couple have?
 The McGregor couple have two children. However, they are having another child in May 2021. In November 2016, McGregor won the UFC lightweight title and became the first fighter in UFC history to hold two belts at the same time. Right after the win, McGregor announced that the couple was expecting a baby in May 2017.
View this post on Instagram
Henceforth, the McGregor couple welcomed their first child McGregor Jr in Dublin on May 6, 2017. Both of them were overwhelmed to welcome the newborn baby, and it was like their relationship got completed that day. Later on January 2, 2019, Devlin and the Irishman welcomed their second child Croia McGregor in Coombe Hospital in Dublin. This time it was a girl.
Conor McGregor and wife Dee
Devlin's Engagement
View this post on Instagram
Conor McGregor proposed to his longtime love Dee Devlin on August 8, 2020. Conor posted a photo of them and captioned, "What a birthday, my future wife." Devlin's relentless support to her future husband throughout the career has made him successful and also took their relationship to a new level every day.
Later that year, the McGregors announced the arrival of their baby on Christmas. The 33-year-old UFC fighter posted a family photo of Devlin and Jack holding up an ultrasound image. McGregor and Fiancée Dee Devlin are expecting another baby boy, which McGregor announced via an Instagram post in April 2021. Further, the couple is expecting to welcome the boy in May 2021. 
How Dee Devlin supported Conor in shaping his life?
McGregor and Devlin have been together for the last 13 years. During these times, the couple has seen many up and down, which they fought together to achieve success. 
Financial support
Before joining the MMA, McGregor used to work as a plumber earning an annual wage of $1,800. When Conor left the job to pursue his dream, Devlin was there for him and supported him financially until her boyfriend started earning a handsome wage.
Mental support
There have been times when Conor McGregor lost faith in himself. But Devlin brought back the confidence in him and provided immense inspiration so that the Notorious comes back strong. And we can see the result now.
Devlin stood by Conor when he was charged with cheating
Conor McGregor's fiancé Devlin went through a hard time when McGregor was accused of cheating by Terri Murray. The English woman claimed that Conor McGregor was her baby's father. Further, Murray claimed that she had sexual relations with McGregor on two occasions during the 2017 Grand National in Liverpool.
Brushing it off, McGregor denied the allegation  and eventually he had to go through the DNA test to prove himself. Finally, McGregor came out innocent in the DNA test and the whole process took two years to overcome. McGregor's wife was by him throughout this allegation period.
Conor McGregor wife: Controversy
Although McGregor and Dee have been enjoying a perfect life, they also faced controversies in 2017 while Dee was pregnant. Devlin posted a photo on Instagram taken by Conor McGregor while driving. Besides, Devlin had her legs up on the dashboard and did not wear the seatbelt. That picture created enough controversies as the couple did not follow the safety aspects on road.
Conor McGregor wife Dee Devlin: Watch collection
Conor McGregor is one of the wealthy UFC fighters in the world. So, he spends a lot of money on himself as well as his girlfriend. Nevertheless, McGregor has a fascination for watches, and he always loves to give her fiancé expensive watches. For example, McGregor once gifted her a diamond-studded Rolex from Audemars Piguet diamond-pave watches. And that's how she got a huge number of watch collections in her locker.
Conor McGregor Wife Dee Devlin: Charity works
Both McGregor and his girlfriend are involved in charity works from time to time. Although, they maintain a low profile while doing donations or charity work, however sometimes some of their social activities get limelight due to the couple's kindness. For instance, the couple donated €25,000 worth of toy vouchers to the homeless families in 2019's Christmas. Recently, during the COVID-19 pandemic, the couple took the initiative to build eight houses for homeless families in Dublin.
These are small examples of their kindness. And they have countless instances like that.
Conor McGregor wife: Award
Devlin is popular on social media, especially on Instagram. Besides, she is known as a style icon too, which earned her the 'Most Stylish Newcomer Award' in 2016. However, McGregor also achieved that award.
Dee Devlin on social media
As McGregor's to-be wife Devlin has a lot of followers in her social media accounts. Devlin is mostly active on Instagram. She has 1.8 million followers on Instagram. Besides, her Twitter account has 55,200 followers. However, Dee does not have an account with Facebook.
Conor McGregor wife Dee Devlin: Net worth
Devlin's net worth is $25 million, which she earned while working with Conor McGregor as financial advisor. Besides, she also works with McGregor,' whiskey brand, to check out the finance.
Conor McGregor's career at a glance
McGregor is one of the top MMA fighters in the world. Currently, he is at #6 in the UFC lightweight division and #15 in the pound for pound ranking. Previously he won UFC featherweight and lightweight title. Further, he holds both titles simultaneously for two years. Besides these, the Notorius also holds the fastest victory in the UFC by defeating Jose Aldo in just 13 seconds. Nevertheless, McGregor has returned to the Octagon in January 2021 after one year to win the two titles again.