Crown Jewel 2022: Jake Paul makes WWE debut, Roman Reigns defeats Logan Paul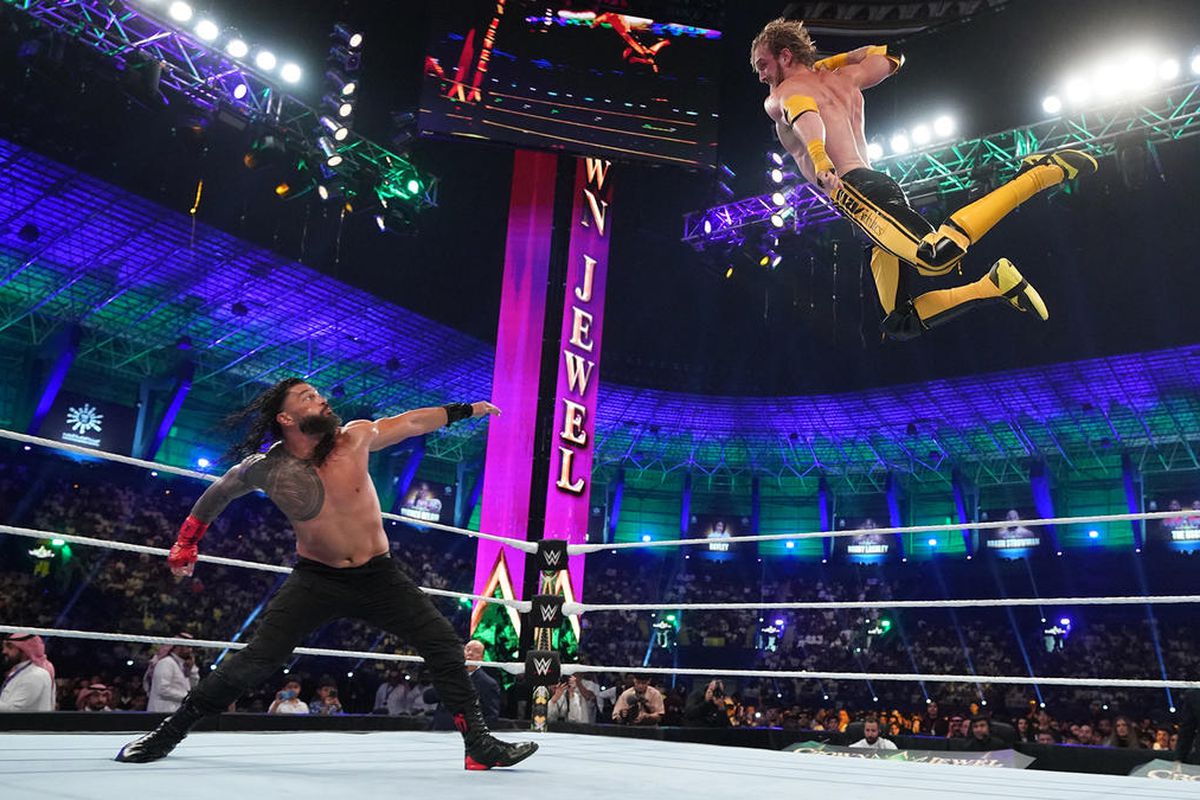 Today, fans witnessed something extraordinary at Crown Jewel 2022 in Saudi Arabia. The match between Roman Reigns and Logan Paul was more stunning than fans expected it to be, as the fight was fought tooth and nail until the bitter end. Yet, after losing the match, Logan demonstrated why he belongs in the ring.
As of now, it was the YouTuber-turned-wrestler's third match in his entire wrestling career. Nonetheless, he showed with his gestures and abilities why he should belong in the ring. The matchup between The Maverick and The Tribal Chief was already hyped, but the addition of Jake Paul later made it more interesting. The problem child was called out for extra assistance if the Bloodline ever interfered. After the bout, fans couldn't stop praising Logan for his incredible showdown at Crown Jewel.
In the whole show, the two things that stand out the most. First, he jumped off from the top of the rope onto the undisputed WWE champion while recording himself on a cell phone. Crowds were shouting from the stands as the remarkable stand happened. The whole thing was also later posted online by the 27-year-old.
THROUGH THE TABLE @WWE pic.twitter.com/hmVslclxgs

— Logan Paul (@LoganPaul) November 5, 2022
Second is when he attempted to hit the WWE champ with The Heartbreak Kid's signature "sweet chin" music finisher. Although it ended in failure, all the moving points were right there. His effort will undoubtedly go down as one of the greatest at Crown Jewel.
WHAT. A. FROG. SPLASH.@LoganPaul #WWECrownJewel pic.twitter.com/W3IFxkz97q

— WWE (@WWE) November 5, 2022
Also, the addition of younger Paul's brother as an assistant is something to look forward to. Because the undefeated 6-0 boxer just made a statement today with his skills by dropping one of the undisputed tag team champions. There is clearly a rivalry between The Bloodline and The Paul Brothers that is coming out of this in the future, possibly at next year's WrestleMania, but who knows for sure?
Incredible athleticism from @LoganPaul at #WWECrownJewel! pic.twitter.com/PVhYbXiO8e

— WWE (@WWE) November 5, 2022
Knockout shot from @jakepaul!!!#WWECrownJewel pic.twitter.com/upnNjjD1Ao

— WWE (@WWE) November 5, 2022
What a match bro @LoganPaul 🙌🏿 pic.twitter.com/U0MnNLwOt5

— ksi (@KSI) November 5, 2022
Although the social media personality didn't win the match, his efforts and dedication were all there. Fans are praising him on social media as they witness something new and want it to continue. Later, his former boxing nemesis and Internet celebrity KSI shared his reaction on Twitter, saying, "What a match, bro."
Logan revealed after the fight that he suffered a torn meniscus, MCL, and possibly an ACL midway through the fight. However, the Paul brothers continue to prove that they are must-watch television and will hopefully keep giving fans show-stopping moments.