Dallas Cowboys star quarterback Rayne Dakota Prescott started his NFL career with the team in 2016. With his phenomenal performance, Prescott has become the fourth highest-paid athlete in the world. Besides, Prescott's $107.5 million between May 2020 and May 2021 has set a record as an NFL Player.
His total earnings include base salaries, bonuses and prize money. However, Dak's new business venture will be added to his total earnings next year, as he just invested in a Walk-On's casual dining restaurant in Texas.
This article will take you through Dak Prescott's net worth, salary, endorsement, business, expenditure, and more.
A Glance at Dak Prescott's Asset Accumulation
| | |
| --- | --- |
| Name | Rayne Dakota Prescott |
| Age | 28 years old (Born July 29, 1993) |
| Residence | Frisco, Texas |
| Net Worth 2021 | $40 million |
| Salary | $31.4 million |
| Endorsement Earnings | $50 million |
| Source of wealth | Salary, Endorsements, Bonus |
| Endorsements | AT&T, Adidas, Beats by Dre, Campbell's Chunky Soup, Citibank, Direct TV, 7-Eleven, New Era caps, Sleep Number beds, Oikos, Pepsi. |
| Expenditure | Mansion, Cars, Watches, Sneakers, Jewelry, Charity, Designer clothes, Travelling, Fines, Charity, Business Ventures |
| Philanthropy | The Faith Fight Finish foundation, Cancer Research, Police Training, Disaster relief, Make A Wish Foundation, Texas Freeze, Others |
What is Dak Prescott's Net Worth in 2021?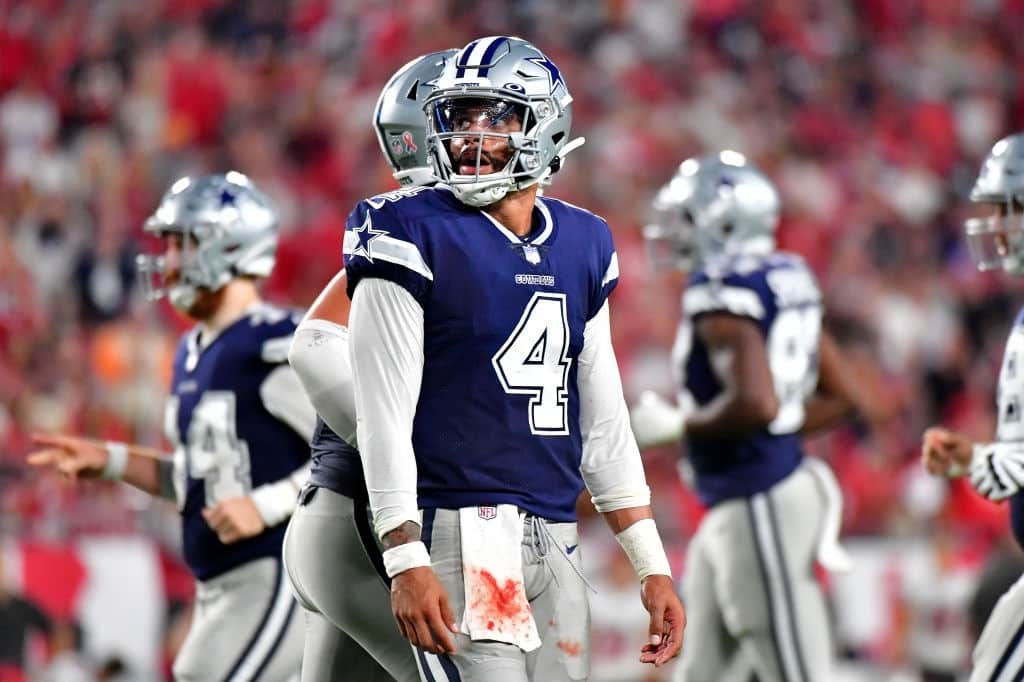 As of September 2021, Dak Prescott's net worth is $40 million. Previously he signed a new four-year extension with the Cowboys for $160 million in March 2021. He also got $66 million as a signing bonus and $126 million guaranteed. For these figures, it is evident that Prescott's net worth will grow in the coming years.
Dak Prescott's Source of Wealth:
Dak Prescott's main source of wealth accumulation is from the NFL and multiple endorsements from different brands. However, he also started a few business ventures recently, but the earrings from those ventures are not public yet. Hence, we have focused on earning from NFL and endorsement.
Dak Prescott's NFL Salary
The 28-year-old Cowboys quarterback has an average base salary of $40 million/ year. However, in 2021, Prescott will earn a base salary of $2,750,000, and obviously, his $66 million earning from the sign-up bonus will be added too. Besides, he will also earn a $6,250,000 restructuring bonus.
As per Prescott's new contract, he will get $95M fully guaranteed, which includes signing bonus, 2021 salary, and 2022 salary. Prescott's salary in 2023 will be $31 million fully guaranteed.
Dak Prescott's Endorsement Deals
Dak Prescott reportedly has a range of endorsement deals with some top companies such as AT&T, Adidas, Beats by Dre, Campbell's Chunky Soup, Citibank, Direct TV, 7-Eleven, New Era caps, Sleep Number beds, Oikos, and Pepsi. Aside from these endorsement deals, he is expected to sign more deals in the coming years as his market value is on the rise.
In June 2021, the Cowboys quarterback signed a five-year endorsement agreement with the Jordan brand. So, he will be seen promoting Jordan Brand in the 2021 NFL season.
Apart from all those endorsement deals, Prescott has also taken disability insurance policies alongside the out of loss value which will provide him compensation for a career-ending injury.
As of September 2021, Dak Prescott has an active endorsement deal with 13 brands.
How Dak Prescott Spends His Millions?
Dak Prescott likes to spoil himself and spend a notable amount on houses, cars, fashion, dining out, and more. Hence, we researched to find out every detail of his spending, and the following is the breakdown of his millions of spending. Apart from these, he also spends money to make more money; Prescott has invested in several business ventures.
Prescott's Lavish Mansion
Prescott lives in a 9,000-square foot home which is built on seven acres of land. The luxury mansion is worth $3.3 million, which has a custom practice field and a guest house.
After buying the mansion, Prescott made several home improvements as he added a custom 'D4 K' logo and 'Faith' across the endzone of his practice field located on the property. ESPN reported that he hired the same company who installed the logos at AT&T Stadium and The Star.
Dak Prescott's million-dollar house features an indoor sports simulator theater, a pool, expansive outdoor area, a game room, Victorian-style staircase, and a Study room.
Prescott's Car collection
Dak is not a car guy, but still, he owned multiple cars in his career. Prescott used to drive a 97 Chevy lumen. However, he bought a Cadillac Escalade right before the NFL draft, which he paid later when the quarterback got drafted. However, Dak Prescott is environmentally conscious, and he supports reducing carbon emissions and lowering the carbon dioxide outpour into the atmosphere. Therefore, currently, he drives a Tesla, while he also owns that Escalade.
Dak Prescott's wrist watch collection
Although no report has been found about Prescott's watch collection, he owns a Rolex Datejust 41 with a Jubilee bracelet and black dial, which he received at the 2020 ESPY Awards. However, he was not happy with the basic design, and later the quarterback added a custom diamond bezel to the watch.
Dak Prescott's Investment on Business Ventures
Aside from the NFL, Prescott was also eager to earn money from the business, and he invested in a few ventures. He, along with former Cowboys wide receiver Dez Bryant invested in a Plano-based high-tech smart gym equipment startup OxeFit. Reportedly, Prescott has invested $12.5 million.
Additionally, Prescott also invested in four Walk-On's casual dining restaurants in Texas in May 2021. He will co-own the company for a 20% stake. However, the financial terms were not public.
Dak Prescott's Non-profitable Investments: The Charity Work
Dak Prescott has a charitable organization named The Faith Fight Finish, which works on empowering families, individuals, and communities. The aim of the foundation is to focus on fighting cancer and provide assistance to those who are facing hardships.
Apart from the foundation, Prescott also makes frequent donations personally. For example, Dak donated $1 million to improve police training. Further, he also donated during the Texas Freeze. Prescott also worked on feeding the Dallas homeless people.