Tennis icon Rafael Nadal is having a lean 2023 season in terms of on-court performance. He is hampered by injuries and has required surgeries to correct his left hip flexor, which was wounded during his Australian Open clash with Alexander Zverev. The lingering affliction left the Spaniard with no choice but to withdraw from the remaining grand slam tournaments.
Now, with the season's final grand slam, the US Open, underway, Nadal has had to watch the happenings in Flushing Meadows from home. In his time off from playing tennis, the 37-year-old is extending his legacy through entrepreneurial partnerships that are laying the foundation for extending the global impact of the sport.
Rafael Nadal signs partnership deal with Infosys
The 22 Grand Slam-winning Spaniard has announced a three-year partnership with Software services firm Infosys on Thursday. Infosys is a digital innovation partner for the ATP Tour, Roland-Garros, Australian Open, and The International Tennis Hall of Fame. It has played a role in reshaping the tennis landscape through the use of AI, cloud computing, data analytics, and digital interactions.
This is Nadal's first collaboration with a digital services company. As part of the collaboration, the company is developing an AI-enhanced match analysis tool that will be accessible in real-time to Nadal's coaching team to concurrently monitor information from his live games with information from past data, when he returns to the tour.
As an advertisement for the collaboration, a massive 3D virtual hoarding was set up in Times Square, New York. A digital Rafael Nadal is seen serving, smashing forehands and backhands as the ball swerves back and forth in a 3-dimensional projection.
Excited about the venture, Rafael Nadal said, "I'm very happy to work closely with Infosys, as they work to not only evolve the experience of tennis to the times, but also empower people in our communities to be part of a brighter future."
"I love the way Infosys has brought its digital expertise across industries to the global tennis ecosystem. It has transformed the tennis experience for a billion global fans and truly empowered all players on the tour with analytics that they could have only dreamt of a few years ago. Also, the impact that Infosys is making beyond the court – creating the next opportunity for people, businesses, and communities – deeply inspires me. "
"I believe it's our shared aspiration to create societal good that makes our handshake truly meaningful."
Salil Parekh, CEO of Infosys, was animated with the partnership and stressed Nadal's dedication and determination to be a source of inspiration for Infoscions worldwide and that the Spaniard was a perfect fit with the company's ethos and values.
Nadal shares heartfelt message on missing US Open
In an Instagram post, Nadal announced his role as global ambassador for Infosys and captioned the video with a regretful message about missing out on playing in the US Open.
"Hi all. I miss the @usopen and #newyork and all of you (big apple, big time).
But at least I can be there virtually at #timessquare with @infosys," Nadal wrote.
Hello everyone. Very excited to join Team @Infosys as their global brand ambassador. Infosys has brought its digital expertise to the global tennis ecosystem and love impact that Infosys is making to communities beyond the court. I am looking forward to this partnership to do… pic.twitter.com/vf8wcV5ixp

— Rafa Nadal (@RafaelNadal) August 24, 2023
After undergoing surgery in June, Nadal's doctors revealed that the former world no.1 athlete could return to professional action after a five-month rehabilitation period. This meant he couldn't recover in time for the US Open but could be fit to participate in the Davis Cup Finals, which takes place in Malaga, Spain in November.
Many Spaniards will be looking forward to a return for their national champion in Spain amidst a rumored dream team collaboration with Carlos Alcaraz.
Davis Cup tournament director Feliciano Lopez wished Nadal a speedy recovery.
"I think it's too early to say, honestly. I just wish Rafa a speedy recovery. I hope Carlos can also play in Valencia. The most important thing is that Spain qualifies for the Final 8 in Malaga.", he said.
Roger Federer has shown sympathy and optimism for the Spaniard during this tough period.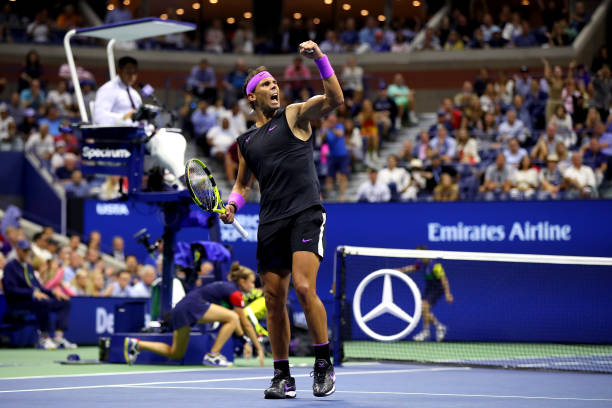 Despite his absence from the tournament, Rafael Nadal was in a joyous mood prior to the tournament. In a video, he is seen training Colombian singer Sebastian Yatra in tennis for an exhibition. Yatra was the headlining act in the Sounds of the Open presented by Chase concert held on August 25th in the Arthur Ashe Stadium.
How much do you miss Nadal at the US Open, where he has won 4 titles? What are your favorite Nadal moments from the Flushing Meadows? Share your thoughts in the comments section below.