Arguably one of the greatest athletes and icons of the NBA, LeBron James has reached everyone's expectations or rather leapfrogged it to another level. With his partnership with Nike, LeBron features his own line of shoes on the court as he continues to excel game after game.
His 20 years of collaboration with the sporting giants Nike has been with memories and moments, producing one of the most iconic series of shoes under the title "LeBron". While the player's game in itself is a notable asset, his collection of kicks has also taken over the waves of the modern NBA.
LeBron reveals beloved Nike off-court shoes
LeBron James recently took to Instagram by sharing a post from @nicekicks which featured the Nike Zoom Vomero 5, showing his love for the shoes and dubbing the pair as his "favorite" shoe off the court by far. While the Basketball legend may have his own line of shoes, he hasn't shied away from expressing his thoughts about the collection and Nike as a whole.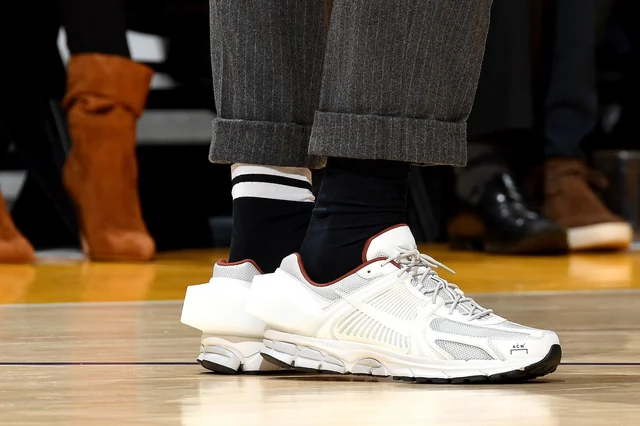 While the athlete was seen wearing them often, his love for the brand has always been out there in public. Their partnership dates way back to 2003 when a young LeBron James just broke into the NBA with all eyes on him, not just on which team he would be drafted to, but also the brand of shoes he would sign with.
LeBron James' enduring bond with Nike
Cleveland Cavaliers selected LeBron James with the first pick of the 2003 NBA Draft with the rookie just about to sign the payday of his lifetime. With terms agreed upon, LeBron had also decided that he would partner with Nike while kicking off his professional career.
On May 22, 2003, LeBron signed on the dotted line with Nike with a deal of $87 million for 7 years even though he was reportedly offered more money by Reebok (about $115 million). While on the other hand, brand rival Adidas had offered less than $60 million.
While Nike and LeBron have been together for more than two decades, the two have managed to create a marketing genius with the LeBron series shoes. While his impact goes beyond the basketball court, Nike has certainly helped him reach the height of relevance and pinnacle of glory along the way. The whole business has been a tremendous success with both parties profiting from each other's gain.
Apart from basketball, LeBron has also been involved in collaborations with Nike for lifestyle and fashion-oriented products and has extended beyond footwear to include apparel, accessories, and even a partnership with video game publisher 2K Sports for the NBA 2K video game series.
What are your thoughts on LeBron James' two decade-long partnership with Nike? Share with us in the comments.