During an appearance on the "I AM ATHLETE" podcast on May 22, former Arizona Cardinals wide receiver DeAndre Hopkins addressed the fact of not taking part in the team's minicamp session amid an offseason full of uncertainty in Arizona and the Cardinals eventually released him on May 26 due to being failed to find any suitor for his next destination.
As the news hit the headlines, several teams were literally rallying and vying to see Hopkins donning their jersey and he tried to add an extra layer of intrigue to the already intense free agency period by sharing an enigmatic statement that ignited a flurry of rumors and theories among football fans and pundits.
DeAndre Hopkins mysterious tweet
The former All-Pro wide receiver's fate is still hanging in the air, albeit he tried to transfer fans worries into predictions by taking Twitter to share a tweet consisting of only three emojis: a hear-no-evil, speak-no-evil and see-no-evil monkey.
…🙉🙊🙈

— Deandre Hopkins (@DeAndreHopkins) May 31, 2023
As the post went live, fans and analysts started decoding the words, trying to unravel their hidden meaning with countless theories emerging about what the future may hold for the Cardinals veteran star.
Did the five-time Pro Bowler secure a deal with a new team? Is he about to announce a piece of big news in the near future?
Or is he just trying to tease fans?
Hopefully, the answers will be on the table soon.
What will be Hopkins next destination?
D-Hop is probably mostly linked to the Kansas City Chiefs as the future Hall of Fame Patrick Mahomes is leaving no stone unturned to grab their back-to-back Lombardi trophy. Getting the WR enrolled in Kansas City might require some major adjustments in the franchise following their limited cap space. However, Mahomes is even ready to be underpaid to let his team include big weapons around him.
The 30-year-old was linked to the four-time MVP Aaron Rodgers' team New York Jets as he added a photo of a television screen in his gym in his recent Instagram story, with Gang Green's logo displayed in the bottom left corner.
🚨BREAKING: Former #Texans and #Cardinals superstar WR DeAndre Hopkins recently posted a #Jets logo to his #Instagram story. Could the 5x Pro Bowler have his eyes 👀 set on the BIG APPLE 🍏? 🚨👨🏿‍🦱 #NFL pic.twitter.com/J3NA8yA4f1

— Albert Elrod (@ElrodSSPN) May 29, 2023
The Cleveland Browns' quarterback Deshaun Watson, Hopkins' former teammate from Houston Texas, publicly cited his expectation to enjoy a potential reunion with the veteran star to repeat the record of the Duo's combined 264 completions on 487 targets for 3,343 yards and 25 touchdowns throughout 38 games together in Houston.
Besides these, the three-time first-team All-Pro was linked to Josh Allen's Buffalo Bills who are yet to win any Super Bowl as well as he also caught the attention of New England Patriots and Dallas Cowboys.
It remains to be seen what lies ahead for one of the most electrifying wide receivers in the NFL and where he will ultimately land.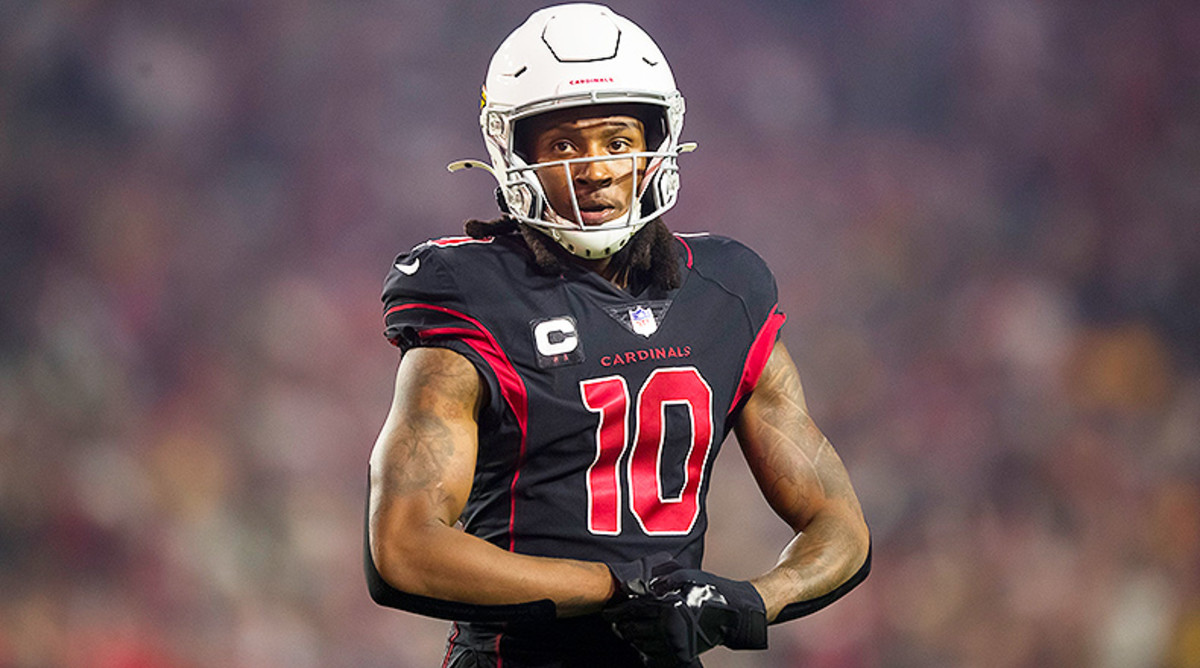 What's your projection? Which team do you think he will end up with? You can share your speculation with us in the comments.