Christopher Eubanks has experienced a breakthrough 2023 season. The lanky American, towering over opponents with his 6ft 7in frame, reached a career-high ranking of 29 in July, after languishing in the mid-100s just last year. His gritty run at Wimbledon, where he reached the quarter-finals and defeated Stefanos Tsitsipas in the process, showcased his meteoric rise.
The 27-year-old Christopher Eubanks, who was born and raised by a Baptist minister in Atlanta, had a mixed run of results leading up to the US Open. The highs of a quarterfinal result at the Atlanta Open and a third-round loss at Mubadala Citi DC Open contrast drastically with first-round losses at the Canadian Open and Cincinnati Masters. However, these results didn't diminish his confidence as he took the stage at Flushing Meadows, amidst a strong home crowd who cheered him on at every moment during his first-round match.
Christopher Eubanks explains young boys need more black male tennis icons
Growing up on the south side of Atlanta, Christopher Eubanks had tennis role models from a very young age. Jarmere Jenkins, a family friend, introduced Eubanks to the game and became his first mentor. Throughout his childhood, he modelled his game after mentors who guided and sparred with him as hitting partners in various locations such as Madrid, Rome, Nice, and Paris. Attending events like Wimbledon, Roland Garros, and the US Open further honed his skills and exposed him to elite tennis.
His swift serves quickly caught the attention of his advisor, who referred him to Georgia Tech University, where Eubanks studied. He dropped out during his final year to turn pro.
Christopher Eubanks counts himself lucky to have developed his game with the guidance of a senior mentor. "They gave me the ability to see that it was possible.", Christopher Eubanks says.
Chris Eubanks says there hasn't been a black male Serena on the men's side:

"It's tough for a kid to believe they can be something if they don't see anyone who looks like them doing it. It's a tough thing to get a kid to buy into, to say, 'You can do this,' but when you look on… pic.twitter.com/YvyKJscRxp

— The Tennis Letter (@TheTennisLetter) August 29, 2023
He emphasises the need for young black male players to have black male tennis icons like how Serena Williams is for women. His own experiences as a youngster have influenced his decisions as an adult, and he advocates for the idea that young kids can embrace the sport by witnessing players like himself succeed on the grandest stage.
As the hard-court season commenced, Christopher Eubanks had one thing on his mind. "I'm just confident in this. Not focusing on winning and losing and just focusing on my confidence. One match at a time. That's my mantra."
Eubanks is situated in the bottom half of the US Open draw along with Novak Djokovic, who he has praised in the past.
Christopher Eubanks defeats Kwon Soon-woo
Christopher Eubanks began his first grand slam as a seeded player with a topsy-turvy first-round victory. Eubanks, ranked no.28, defeated South Korean Kwon Soon-woo 6-3, 6-4, 0-6, 6-4 on the Grandstand on Monday night.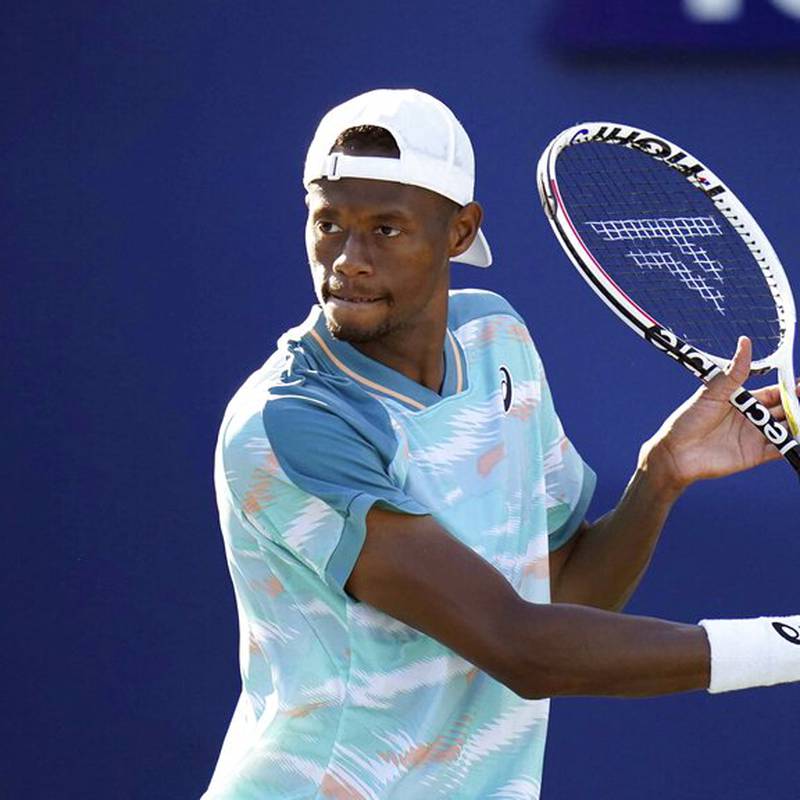 Eubanks was in fine form in the first two sets as he fired 15 winners in the first set and 13 winners in the second. With six of those winners being aces, Eubanks was winning 80 percent of his first-serve points.
However, he encountered a setback. Kwon Soon-woo handed Eubanks a 6-0 bagel, leaving the American searching for solutions. After a quick bathroom break to regather his thoughts, Eubanks returned and finished the game with an ace.
"I think Soonwoo is one of the best ball strikers on tour," Eubanks said. "When he gets in the mode [like] he was in the third set, it's tough for everybody. Not very often I get broken three times in one set. When that happened, [I said], 'All right, let's throw that one out the window, start fresh in the fourth.' Everything else kind of took care of itself."
Eubanks is set to face French tennis player, Benjamin Bonzi, who triumphed over fellow countryman Quentin Haleys 5-7, 6-4, 6-4, 6-4. He'll have a chance to reach the third round in New York for the first time on Wednesday.
Christopher Eubanks had had a phenomenal rise up to the top of world tennis. Can he emulate his Wimbledon success story and pursue glory at the US Open? From being a commentator to a home-crowd favorite tennis player, Eubanks has all the makings of a role model for young kids. Let us know what your opinions on the lanky American are in the comment sections.