Emma Raducanu suffered a horror injury in the 2023 Australian Open and subsequently dropped out of the rest of the year's major events in order to undergo surgery. The 2021 US Open champion has endured intense off-court struggles in her attempt to resurrect her derailed career, often undergoing multiple surgeries to correct her affliction.
While many top commentators have often criticised the Brit for being a one-time wonder, Emma Raducanu has nevertheless proven her mettle over the course of an illustrious, nascent career in elite tennis. Despite her detractors, a former famous tennis star has come out in the open and backed the Bromley whiz to return strongly amid a steep drop in her rankings.
Tim Henman believes Raducanu will bounce back strongly
Emma Raducanu sank to her lowest ranking since July 2021. She tumbled outside the top 200 in the updated WTA rankings. She is now ranked No. 214 in the world.
Emma underwent three surgeries after her devastating injury, and her decision to back out of the major ATP events in 2023 has led to a drop in rankings.
She had started the season as world no. 78. She had reached the 2021 Wimbledon 4th round and pulled herself into the top 200 of the WTA rankings before her US Open victory, ranked 150th in the world, catapulted her to world no. 23. In July 2022, Emma achieved a career-high ranking of world no. 10.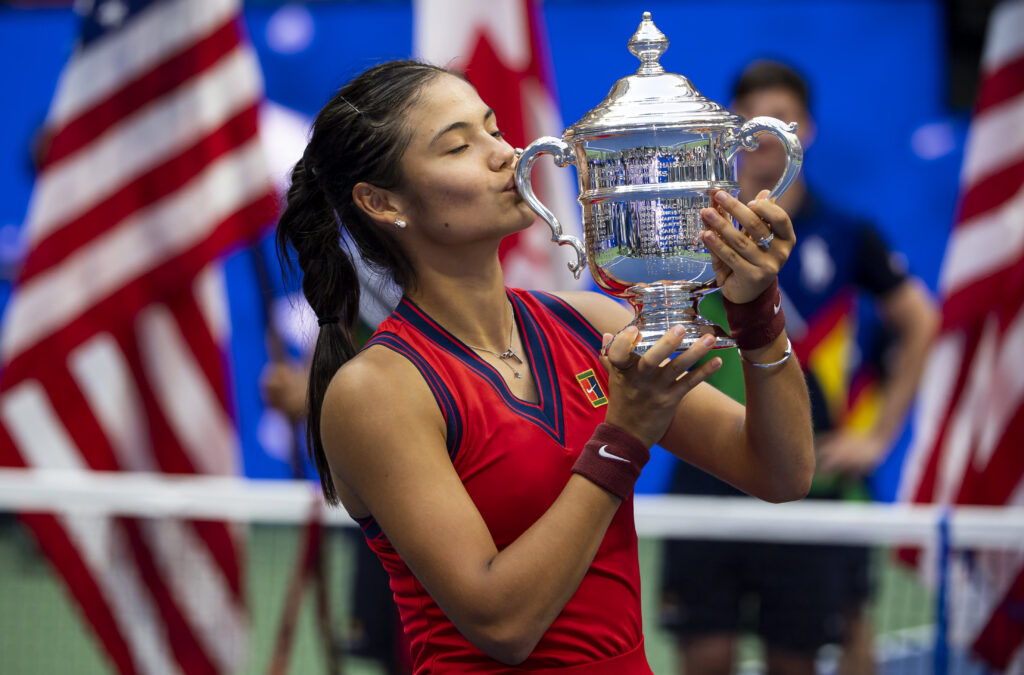 Amid her arduous struggles, former British tennis player Tim Henman has offered support to Emma Raducanu and feels that she will easily breach the top-100 mark, when she returns to the tennis court.
"At Indian Wells, one of the last tournaments that she played, up until 20 minutes before the matches, she wasn't sure whether she was going to play. She was training on court so sporadically, and then she still won three rounds and beat some very good players." Henman told in August.
"Her victory over Beatriz Haddad Maia was her best win by ranking since the US Open title. And that was on the back of no practice or training. So, if she can be fit and healthy, she'll get back in the top 100 comfortably and she'll get back in the top 50." he added.
"And who knows from there? So I'm very positive and optimistic. She's such a great player that everybody would love to see Emma at the US Open, but she's gonna have so many opportunities ahead of her. She and we just need to be a little bit patient," he concluded.
What injuries does Emma Raducanu have?
In August, Emma Raducanu returned to the tennis courts for practice post her surgery. "August 2nd, THE FUN PART. 1st time back on court," she wrote on Instagram.
Injuries have plagued Emma since her debut on the world stage. From breathing difficulties to sustaining blisters on her hands, Emma Raducanu has underwent a lot of pain. However, the worst was yet to come.
Emma injured her ankle and wrist in Auckland and eventually had to drop out of the 2023 French Open and 2023 Wimbledon, as the extent of her injuries came to the fore. She was stonewalled by her afflictions and had to consider rehabilitation in order to stage a comeback.
She underwent surgeries to correct her wrist and ankle, and took to Twitter to lament her situation and offer hope to fans on her much-awaited return.
"It is safe to say the last 10 months have been difficult as I dealt with a recurring injury to a bone of both hands," Raducanu said on Twitter.
"I'm having a minor procedure done on both hands to resolve the issues. I'm disappointed to share that I will be out for the next few months and while I am at it will have another minor procedure that is due on my ankle."
Emma Raducanu finally expressed disappointment on missing out on major tournaments and expressed gratitude to her fans for their support.
"It pains me that I will miss the Summer events and I tried to downplay the issues so I thank all my fans who continued to support me when you did not know the facts," she added.
What are your opinions on Emma Raducanu's struggles with injuries at such a young age? Can the mercurial talent bounce back to the top-50 in the WTA rankings ? Let us know in the comments section below.