The New England Patriots Tom Brady and Julian Edelman duo is regarded as one of the best wide receiver-quarterback pairs in the NFL's history, given their dominance on the football field for nearly a decade. The ex-Patriots QB has been labeled as a humble hero throughout his career and besides his phenomenal performance, he stole many hearts with his adorable bond with his teammates.
Nevertheless, WR Edelman dropped a bomb on the NFL fans revealing how the humble hero once made him cry during his journey from being a non-receiver to a pro-receiver.
Edelman revealed how Tom Brady made him cry
Julian used to play as a QB at the college level and he found himself in hot water after facing the challenges that came with the role of a receiver after being drafted in New England in the seventh round of the 2009 NFL Draft. During a recent episode of Edelman's podcast "Games With Names", he recalled the challenging days of his initial tenure in the league,
"First pass ever from Tom, they put in a package with four receivers, a four-wide group. They gave me a play and I'd never played receiver, but they created a package for me and they're like, 'Alright, Edelman, get in."
The WR said he wanted to do his best with the ball but couldn't do anything significant in the end, making TB12 frustrated.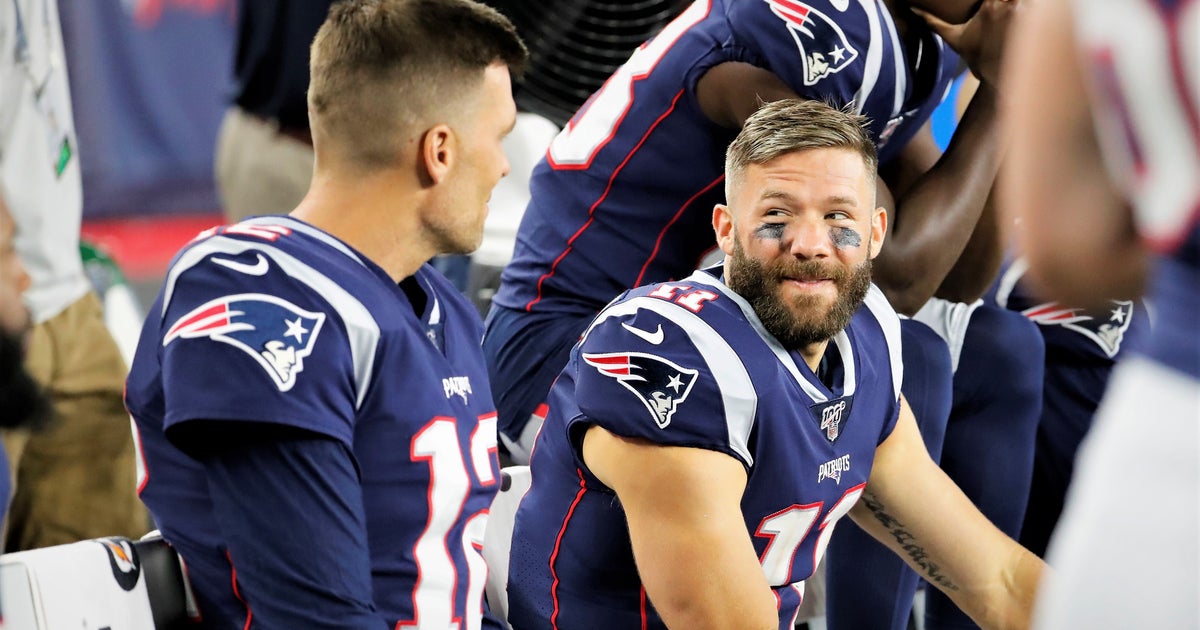 "I run like a hook route and Tom darts it on me, and I tried to run before I had it 'cause I wanted to do something with it, dropped the ball. He [Brady] goes, 'Catch the f**king ball, Julian.'"
The ex-NFL star revealed how broken he was from the words of the California Cool and how he had to struggle for nearly four years to be in the good book of his former teammate.
"I went home and cried. I felt pretty sh-tty for like four days. It took me so long to earn his trust after that f–king play, it took me like three years to earn his trust back."
Ex-Patriots WR speculates career jump with Shawn Michaels
The WWE legend Shawn Michaels offered the former football star to join hands with him in the boxing world in one of the episodes of the "Games with Names" podcast's episode. The topic came as Julian asked if he could get an opportunity to grace WWE one day.
Shawn said if the NFL analyst and personality Pat McAfee can do WWE, the former football star should be welcomed anytime in the boxing court. McAfee took part in the SmackDown promotion in 2021 and has continued to visit the court since then.
"Are you kidding?! We took a punter for h***n's sake! McAfee. And you, my friend, you know you are way more athletic than McAfee. So, are you kidding me? You'd be a piece of cake, babe."
Edelman asked if he would need to be a villain to join WWE and Michaels hilariously responded by saying the WR's NFL background with the Patriots could help sell his villain persona in the boxing world.
"Oh, for sure! Coming from New England, you don't have a chance. It doesn't matter where you're actually from, mister. As far as everyone's concerned, you're a New England Patriot, and that's it. So they'll boo you out of the building no matter where you go."
Do you think Julian can pursue a boxing career with Shawn? You can share your thoughts with us in the comments.