Just when people might have thought she was beyond the point of no return, former world number 1 Caroline Wozniacki is coming back to prove people wrong. Wozniacki retired in January, 2020 but nothing was able to hold her fierce vying drive back. Now, she is back to thriving and fulfilling her goals in tennis.
It is no wonder that Wozniacki is as competitive as she is, considering her pro athlete family. Her father was a former pro soccer player, her mother, a former pro volley ball and her brother is retired pro soccer player. She went on to marry the former NBA star, David Lee in 2019 with whom she has two kids now.
Miss little Sunshine retired from the world of tennis to take care of her health and start a family. However, after three years she has decided that she is not done with her tennis prowess and is coming back with the support of her athletic family.
Caroline Wozniacki poised to return following 3 years absence from Tennis
The Dane started strong from when she was just 10 years old and her confidence was her biggest strength and that stands strong till date. After winning the 12 and under national championship, she knew then that she wanted to be world number one and win a Grand Slam. Boy, is she resolute!
Woz went on to win the junior Wimbledon when she was fifteen and five years after that, became world number one. Once she understood the ups and downs of the journey of an athlete she trained harder to become world number one again in 2018. The path she took made her feel content and she wanted to start a family. At this peak, Caroline was diagnosed with rheumatoid arthritis and she realized she had to stop.
The Australian Open 2020 was suppose to be her finale. Woz took her long deserved break and travelled with the love of her life, gave birth to two adorable children and taking complete care of her condition. The former world number 1 realized that she has been hitting well again after her break and asks her husband:
"'Should I come back?' I asked, more rhetorically than anything.
'Honestly, why not?' David said, after a moment. 'We only live once.'"
Over these past three years away from the game I got to make up for lost time with my family, I became a mother and now have two beautiful children I am so grateful for. But I still have goals I want to accomplish. I want to show my kids that you can pursue your dreams no matter… pic.twitter.com/OQatFWxQGK

— Caroline Wozniacki (@CaroWozniacki) June 29, 2023
With the support of her family and also the GOAT Serena Williams, Woz is ready to prove the strength of motherhood and women all around. Starting off at the Canadian Open in August, she is focused on U.S Open with a longer goal to play in the 2024 Olympics in Paris.
How many grand slams did Wozniacki win in her 13-year career?
Little Miss Sunshine has been flourshing in the world of tennis from the beginning. Caroline Wozniacki is the first Danish woman to ever be ranked world number one. She has won over 30 singles titles.
Woz held her world number 1 rank for over 70 weeks. With regards to the Grand Slams, Wimbledon hasn't been of much luck considering her play of style and the grass surface. However, she has been the quarterfinalist at the French Open (2010, 2017) and the runner up at U.S Open (2009, 2014). Finally, in the year 2018, she won the Australian Open against Romanian Simona Halep and this was her first Grand Slam. Soon after this milestone that brought her over $55 million, she had to retire.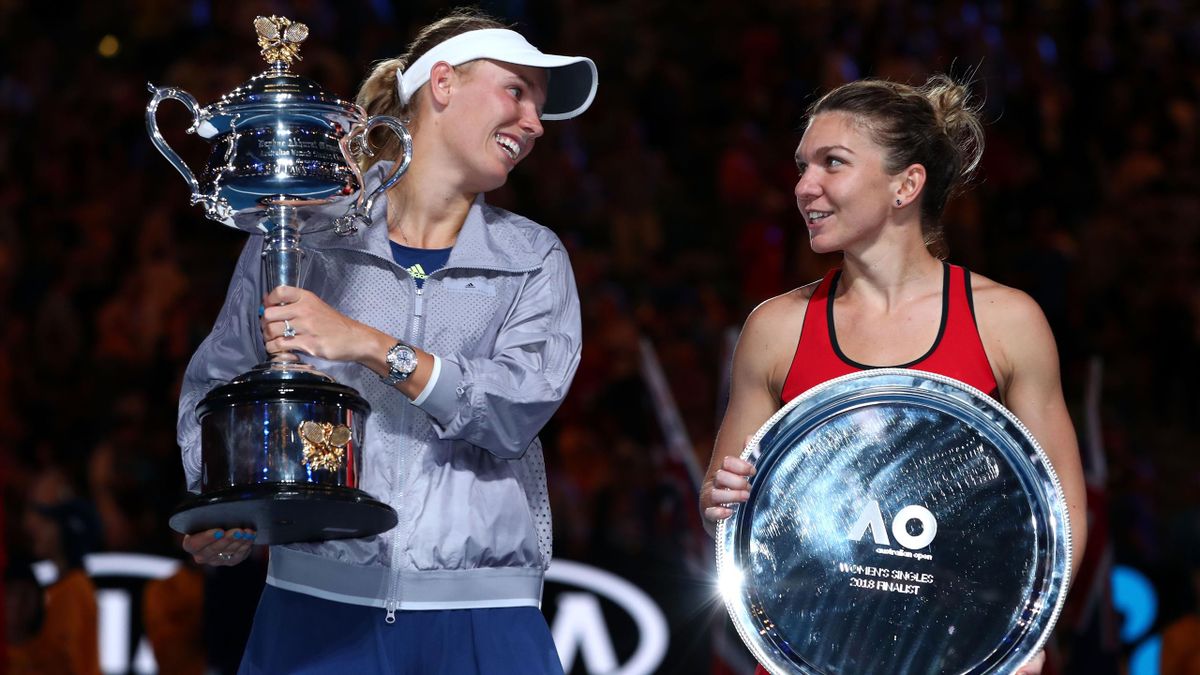 Considering her comeback, already preparing for the U.S Open, this number might go up quite soon. She has established her competitiveness throughout her career and her determination and confidence might just give her the win.
What are you thoughts on this admirable comeback of Little Miss Sunshine? Do you think she might have a chance to take a couple of more titles home? Let us know in the comments below!