The Memphis Grizzlies announced on Saturday that star guard Ja Morant will not return to the court until Wednesday's game against the Houston Rockets, despite being eligible to play in Monday's game against the Dallas Mavericks. The team's coaching staff will consult with the medical staff on Morant's status for that game. Grizzlies head coach Taylor Jenkins said he's confident that Morant is ready to return based on conversations he's had with him. "It all starts with what is in between here and what's here," said Jenkins, as he pointed to his head than his heart.
Morant has officially suspended eight games without pay for conduct detrimental to the league, stemming from an Instagram Live video he posted in which he had a gun at a Denver-area nightclub following a game against the Nuggets on March 3. The suspension included the five games that he missed while away from the team. During that time he spent multiple days at a counseling center in Florida. Morant met with NBA commissioner Adam Silver on March 15.
"Ja's conduct was irresponsible, reckless and potentially very dangerous," Silver said in the statement. "It also has serious consequences given his enormous following and influence, particularly among young fans who look up to him. He has expressed sincere contrition and remorse for his behavior. Ja has also made it clear to me that he has learned from this incident and that he understands his obligations and responsibility to the Memphis Grizzlies and the broader NBA community extend well beyond his play on the court."
This incident is not the first off-court controversy that Morant has been involved in over the past year. He was alleged to have punched a teenager "12 or 13 times" according to a Washington Post report. Morant claimed he was acting in self-defense.
The teenager alleged that Morant had a gun tucked into his pants. Morant was also involved in a mall incident where a security guard claimed he was threatened by Morant and his associates after his mother reportedly got into an argument with an employee at a store. After the video of him with a gun went up, Morant wrote in a statement, "I'm sorry to my family, teammates, coaches, fans, partners, the city of Memphis, and the entire organization for letting you down. I'm going to take some time away to get help and work on learning better methods of dealing with stress and my overall well-being."
The Grizzlies lost their first two games without Morant, but are 4-1 since then. They are currently battling with the Sacramento Kings for the No. 2 seed in the Western Conference, with both teams having identical 42-27 records. The Kings have the tiebreaker. While there is a slim chance either Sacramento or Memphis could claim the top spot, it is more likely that they will be the second and third seeds.
"Ja Morant: Key Player for Memphis Grizzlies' Playoff Push and Potential Superstar"
A key member of the Memphis Grizzlies is Ja Morant. The teenage guard has already established himself as one of the most intriguing players in the game, with his electric athleticism and playmaking skills.
The Grizzlies' attack is powered by Morant, so his absence during his suspension was noticeable. Morant's return couldn't have come at a better time for the Grizzlies, who are competing for postseason positioning in a competitive Western Conference. The coaching staff will be excited to see him back in play because his presence on the floor greatly increases the team's chances of winning.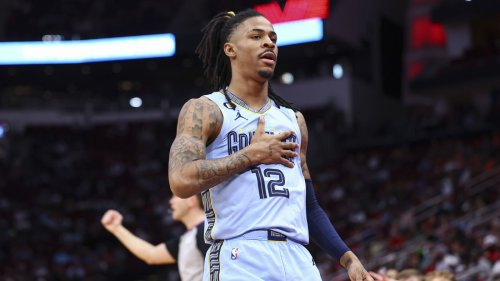 The team will need to monitor his behavior off the court, though, as his past controversies have raised questions about his maturity and professionalism. Morant has the potential to be one of the biggest stars in the game for many years to come if he can avoid controversy and keep improving as a player.