In a humdinger finale to his Nitto ATP Finals round-robin stage, Novak Djokovic displayed an electrifying performance that had fans gasping for breath at the sheer intensity of his showing.
The Serb was in a tight situation, having won one and lost one match heading into his final group stage match against the new entrant Hubert Hurkacz. Hubert, who played only because Stefanos Tsitsipas withdrew from the competition, managed to throw the ageless Djokovic off his game, but in the end the Serb dominated the match and had a few words to say about his opponent's performance.
Novak Djokovic speaks on his ATP Finals win
In a thoroughly entertaining contest, Novak Djokovic triumphed 7-6(1), 4-6, 6-1 over Hubert Hurkacz in just over two hours. The victory added another win to Djokovic's lopsided head-to-head record against the Pole, which now stands at 7-0.
A riveting first two sets left the match in a delicate balance, but Hubert's slump coupled with an offensively astute Djokovic in the third gave the win to the Serb and he was relieved and surprised at the end.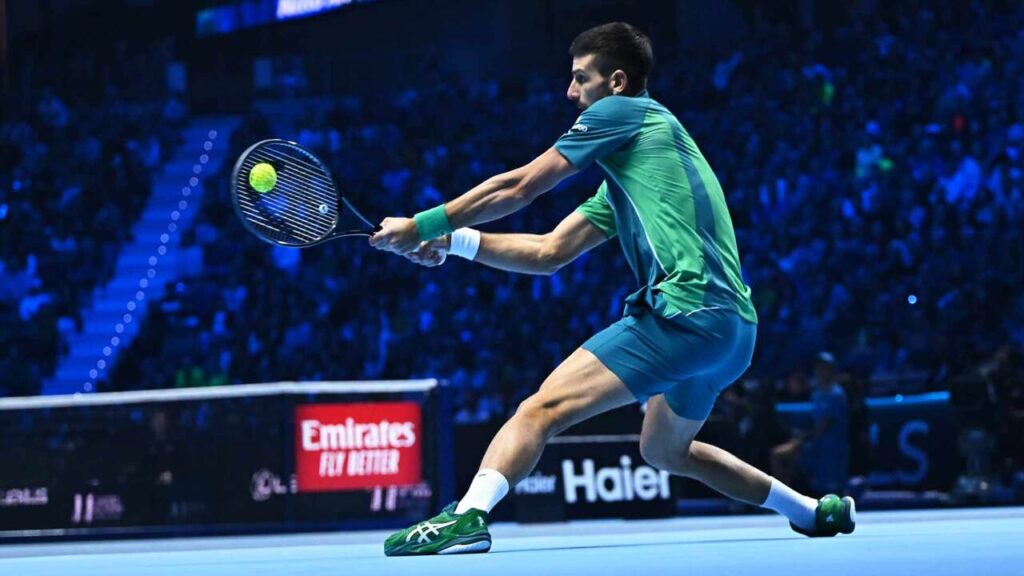 "So and so…" Djokovic responded with a nod of his head when interviewer Prakash Amritraj asked him about his performance during important points.
"He handed me the third set. A very sloppy second-set break that I lost. A win is a win, I did my job. I don't care about my semi-final opponent, I just did my job. I'll worry tomorrow," he added with a touch of irreverence.
Novak was far from his upbeat self after the match, with his semifinal qualification happening after a tough round-robin stage. When the interviewer asked him why he was upset in the second set, Novak Djokovic was seemingly perplexed by the question.
"Why? Why was I upset? I lost the set, so it's normal," Djokovic retorted.
The interviewer tried bringing back calmness by asking him about his overall performance, but a visibly frustrated Novak Djokovic said, "Good win" before ending the discussion.
A three-match test of the highest quality left Novak Djokovic with a solid 12-4 lead in the group stage and in the process solidified his qualification for the next round, where his opponent is yet to be determined.
Novak Djokovic qualifies for ATP Finals semifinals
Novak Djokovic's path to the semifinals wasn't without its roadblocks. A dominating first-match victory over Holger Rune met its antithesis in a loss to Jannik Sinner in the next match. A win was paramount for the newly crowned year-end world No.1 to secure qualification for the semifinals and he did exactly that by triumphing over Hurkacz.
Novak Djokovic became the first athlete of the eight-player roster to qualify and an exceptionally dominant Jannik Sinner followed him to the semifinals the next day. Novak's opponent for the semifinal will be determined later on when Medvedev, Alcaraz, Zverev and Rublev are in action.
Since he has finished second in the green group of the round-robin stage, Novak will face the first-placed player from the red group in the semi-final. In all likeliness, Daniil Medvedev, with two wins on the trot, will be his opponent but circumstances can change quickly if Alcaraz(1 win) triumphs over Medvedev and Rublev(0 wins) wins against Zverev(1 win).
Novak Djokovic may be a tad bit disappointed with his performances, but as witnessed by fans in the recently concluded US Open, the Serb produces his best performances when the stakes are high and that could be ominous signs for his fellow semifinalists.
What are your opinions on Novak's qualification to the semi-final? Can the Serb earn his record seventh ATP Finals title? Let us know in the comments section below.