NBA legend LeBron James' long-discussed retirement rumors were put to rest by the retired four-time Super Bowl Champion Rob Gronkowski of the Tampa Bay Buccaneers.
In his eleven seasons in the NFL, Gronk spent nine of them with the New England Patriots and the final two with the Tampa Bay Buccaneers. The tight end and Tom Brady enjoyed a long happy time together as they shared four Super Bowl victories, three of which were in New England and the final one in Tampa Bay.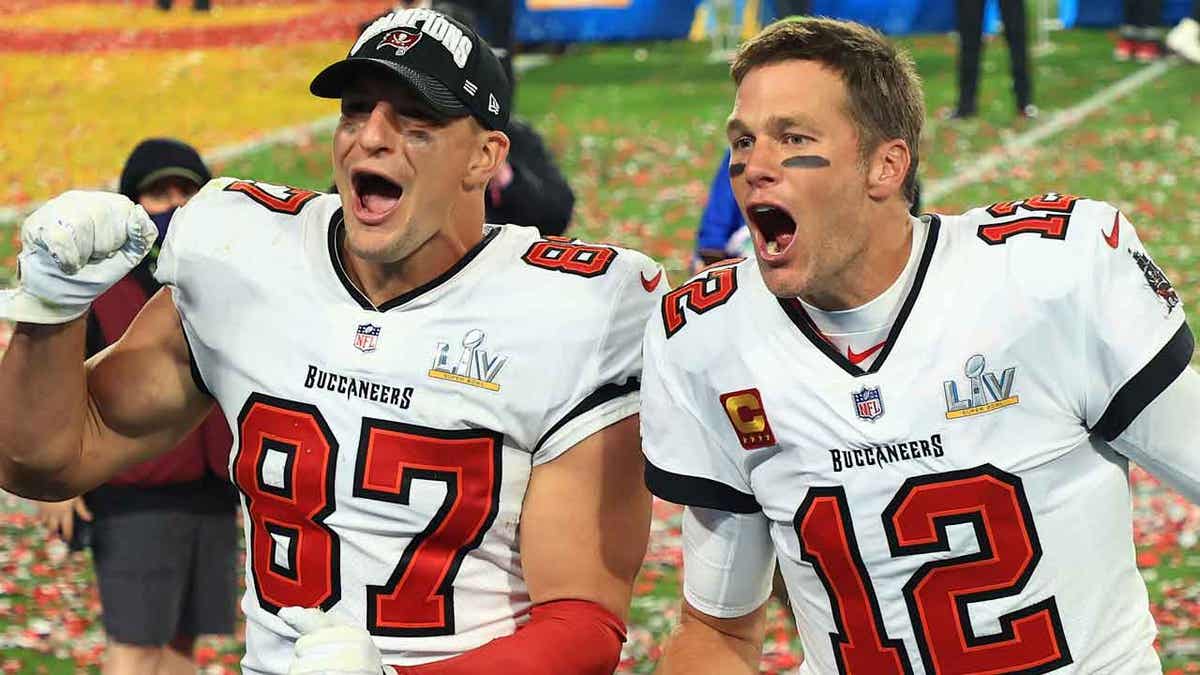 Rob Gronkowski claims LeBron James 'retirement rumors are false'
James has one season left on his contract with the Lakers, and in light of this circumstance, rumors are swirling in the air about his possible retirement from the NBA. However, during a recent appearance on "Ups and Adams Show," Gronkowski exaggerated the NBA legend's playing abilities and dispelled any retirement rumors as the retired NFL player was questioned about whether LeBron has the stamina to continue playing in the NBA and the rumors of his potential retirement.
"No, no, I don't think so," he said. "I think it's just kind of a rumor going around right now. Or he started a rumor, or whatever happened, why the rumor started.
Rob Gronkowski predicts King James' future – (he is going to play at least 1 year with his son)
With his incredible all-around ability and enhanced defense, the 38-year-old has established himself as unstoppable at this point in his career. He has the ability to go down any position on the court. James, however, once expressed a desire to compete alongside his son Bronny James Jr. and the TE assumed the Lakers player would end up playing either as a teammate or as the opposing team's player.
"I think he's going to play until he can at least one year with his son. I think that would be extremely legendary. That would be magnificent if he does that. It'll be the first time we ever see anything like that, and it would be mind-blowing. I would love to see that," he said.
Bronny is a top-ranked high school prospect and is expected to be eligible for the NBA Draft in 2024, so, the remark of the Bradys' friend is justifiable. If it actually occurs, it will be written down in NBA history, and the former Buccaneers expressed his excitement to see the father-son duo in the NBA along with all the other James fans.
"The way that he's playing, he's at such a high level, he's in such great shape. He takes care of his body so well, obviously. 'Cause he won't be doing what he's doing at the age of 38. But I think he's gonna go until he plays one year with his son. So, I think, retirement rumors right now are just false. I mean, he's too healthy. He's too much in shape. Too much of a beat to stop right now. He is too much of a beast," he added.
Given that no father and son have ever played together simultaneously in the NBA, LeBron and Bronnys can use this unique opportunity to make history since the four-time NBA MVP still has plenty to offer the league.