'I hope I have done You proud' Mark Noble Sheds tears as He bids Farewell to West Ham 'Family' After Final Home Match Against Man City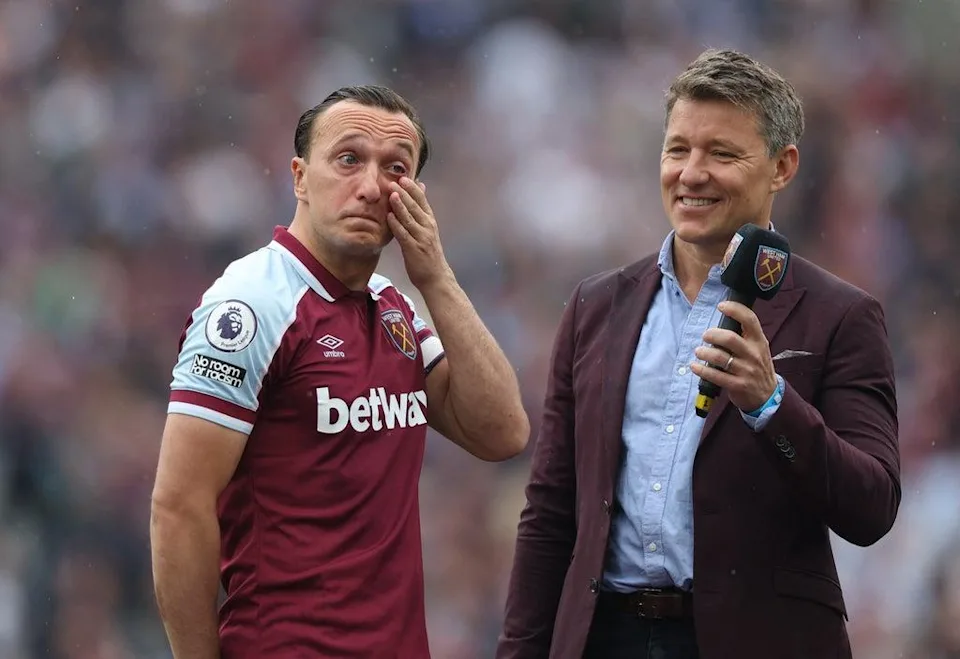 Mark Noble, West Hams long time captain gave an emotional speech to fans on Sunday appearing in the last match of his career for the club. Mark Noble bid farewell to the Hammers, called them "family" after his final home match against Man City, telling them: "I hope I've made you proud".
Noble came on as a substitute in the match, a 2-2 draw with Manchester City at the London Stadium, West Hams last home game of the season. It was the midfielder's 549th appearance of a phenomenal 18 year career he spent at the club.
Ahead of kick-off of the match, a giant banner bearing Noble's name and shirt number 16 lay on the pitch, while a fan mosaic greeted the players' emergence ahead of kick-off. Noble was introduced prior to kick-off and then a guard of honor was given by his teammates, staff and their families after full-time, before being presented with a commemorative framed shirt.
The 35-year-old midfielder announced that he would call time on his Hammers career after this season on march last year.
"A little bit better after that performance, let me tell ya," Noble said, when asked how he was feeling after playing in front of a home crowd for the final time.
The 35 year old midfielder was so emotional that he couldn't resist tears. When asked by the interviewer he said "Look I don't want to talk too much, I've been too emotional lately but what I would like to say is thank you to everyone that's ever helped me during my career.
"It's an incredibly emotional day for myself and my family. I've got a lot of family here today and when I say a lot of family, I mean 60,000.
"All I can say is that I hope in the last 18 years I've done you proud."
Watch the full speech of Mark Noble below: