In a shocking turn of events, WWE's upcoming Money in the Bank London event is set to feature none other than Roman Reigns, the leader of the dominant faction known as the Bloodline. As the news spread like wildfire among fans, confusion and speculation have taken over, leaving everyone questioning the direction WWE is taking with this unexpected move.
The Bloodline, consisting of Roman Reigns, Jimmy Uso, and Jey Uso, has been a force to be reckoned with in the world of professional wrestling. Reigns, in particular, has been on an unstoppable path, reigning as the Universal Champion for an extended period. His character has evolved into an arrogant and dominant figure, backed by the unwavering support of his cousins, Jimmy and Jey.
Amidst this incredible run, it came as a surprise when WWE announced that Reigns would be participating in the Money in the Bank London event. This decision has left fans scratching their heads, as Reigns is already at the pinnacle of his career, seemingly having nothing left to prove.
While WWE has yet to disclose the details of Reigns' involvement in the event, the fans' speculation is running wild. Some believe that this could be a pivotal moment for the Bloodline, potentially leading to an unforeseen twist in their storyline. Others wonder if Reigns' inclusion in the match is merely a marketing tactic, designed to generate more buzz and draw a larger audience to the event.
The Future of the Bloodline Hangs in the Balance as Roman Reigns set to feature at Money In the Bank
The anticipation and confusion surrounding this surprise announcement have created an electric atmosphere among WWE fans. The Internet is buzzing with discussions, theories, and opinions, with everyone eagerly waiting to see how this chapter of the Bloodline's journey unfolds.
As the Money in the Bank London event draws near, all eyes are on Roman Reigns and the Bloodline. Will their dominance continue to reign supreme, or will unforeseen circumstances shake their foundation? Only time will tell, but one thing is for certain: this turn of events has left fans on the edge of their seats, eagerly awaiting the next chapter in the gripping saga of the Bloodline.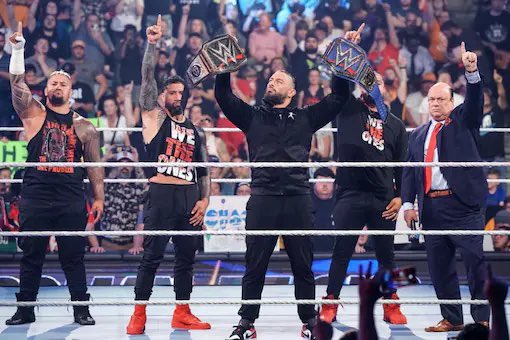 In conclusion, WWE's decision to include Roman Reigns in the Money in the Bank London event has sparked confusion and speculation among fans. The future of the Bloodline hangs in the balance, and fans are eagerly waiting to see what unfolds. What are your thoughts on this surprising development? Let us know in the comment section below.