Manchester United can't seem to get rid of their problems on and off the pitch. After a poor result against Arsenal, the team and its fans are demotivated, and now, a further incident after the game has made the situation even messier.
Manager Erik Ten Hag is not a stranger to having bust-ups with his players. He has already dealt with the legendary Cristiano Ronaldo ensuring the dressing room is totally under his command. It looks like Jadon Sancho is the most recent to challenge the Dutchman. Before things escalate any further, it seems like Ten Hag has found a solution to help the pair reconcile their problems for the benefit of the team.
What happened between Erik Ten Hag and Jadon Sancho? Details explained
After the 3-1 defeat against Arsenal on Sunday, a visibly upset Erik ten Hag was seen being brutally merciless in the press conference. He criticized the referees for many poor decisions throughout the game. When asked about the absence of Jadon Sancho in the squad altogether, he responded that Jadon's performances at training were not satisfactory.
He said, "Jadon, on his performances in training we did not select him. You have to reach a level every day at Manchester United and we can make choices in the front line. So for this game, he was not selected."
However, very quickly, Sancho issued a statement on his Twitter account to rebuff his manager's words. He said that the claims were wrong and that he has been used as a scapegoat for the club's problems every time.
https://twitter.com/Sanchooo10/status/1698417915429531942?s=20
His statement read, "Please don't believe everything you read! I will not allow people saying things that are completely untrue, I have conducted myself in training very well this week. I believe there are other reasons for this matter that I won't go into, I've been a scapegoat for a long time which isn't fair! All I want to do is play football with a smile on my face and contribute to my team."
He did reassure fans that he will keep respecting the coach's decisions and continue to fight for his place in the team. "I respect all decisions that are made by the coaching staff, I play with fantastic players and (am) grateful to do so which I know every week is a challenge. I will continue to fight for this badge no matter what!"
Erik ten Hag reported to hold meeting with Jadon Sancho
The tense situation between the pair is said to be a matter of great urgency in the team. The club hasn't commented on the matter, but it is thought they will back Erik ten Hag in any case.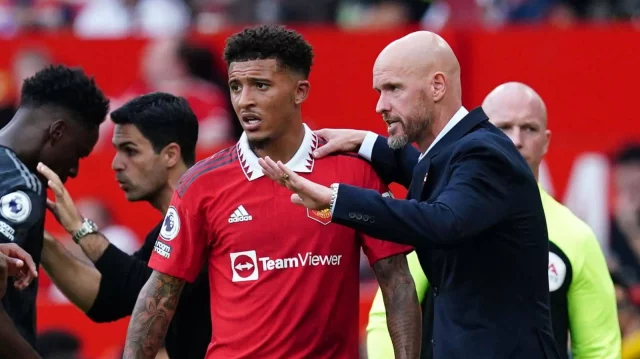 According to the Mirror, people around Sancho believe that the manager has not given the England star enough chances. He has been on the bench since the start of the season, and Brazilian winger Antony is given 'preferential treatment' despite his inconsistency over the former Dortmund superstar.
However, sources inside the club have said that the manager hasn't given up on Sancho, and simply believes he can provide more. The situation can still be salvaged before it gets any worse, which is why the Dutchman has agreed to hold a meeting with the player to clear the air up and resolve any misunderstandings. This is a great initiative from the manager to diffuse the problem.
Whether the talks prove successful or not, United will have to face Brighton on Saturday. Whether Sancho is included in the match remains to be seen.