Getting tattoos done is pretty commonplace. But going to sleep in the middle of the night and waking up with numerous tattoos which you are not aware of? Now that is something rarely heard of. Well, that happened with Jake Paul. The YouTuber-turned-boxer woke up with eleven tattoos.
As impossible and ridiculous as that might may sound, 'The Problem Child' has tattoos almost all over his body at this point (barring maybe the face). This is ironic considering he lost his last bout against Tommy Fury so the trend of 'getting tattoos to mark a victory' does not stand.
Jake Paul gets eleven new tattoos on his body!
Paul had a number of inks on his body. On top of that, he decided to get a few new inks. Upon the decision, he went to Ganga Tattoo. He specifically chose this studio for one certain reason. The problem child wanted to get eleven tattoos on his body. And this studio offers their clients to sleep through the entire inking process.
Getting eleven tattoos done is not only a lengthy process but also can be quite painful. One could connect the dots and see why Jake chose this studio. His entire tattoo ordeal was later on released by Inked.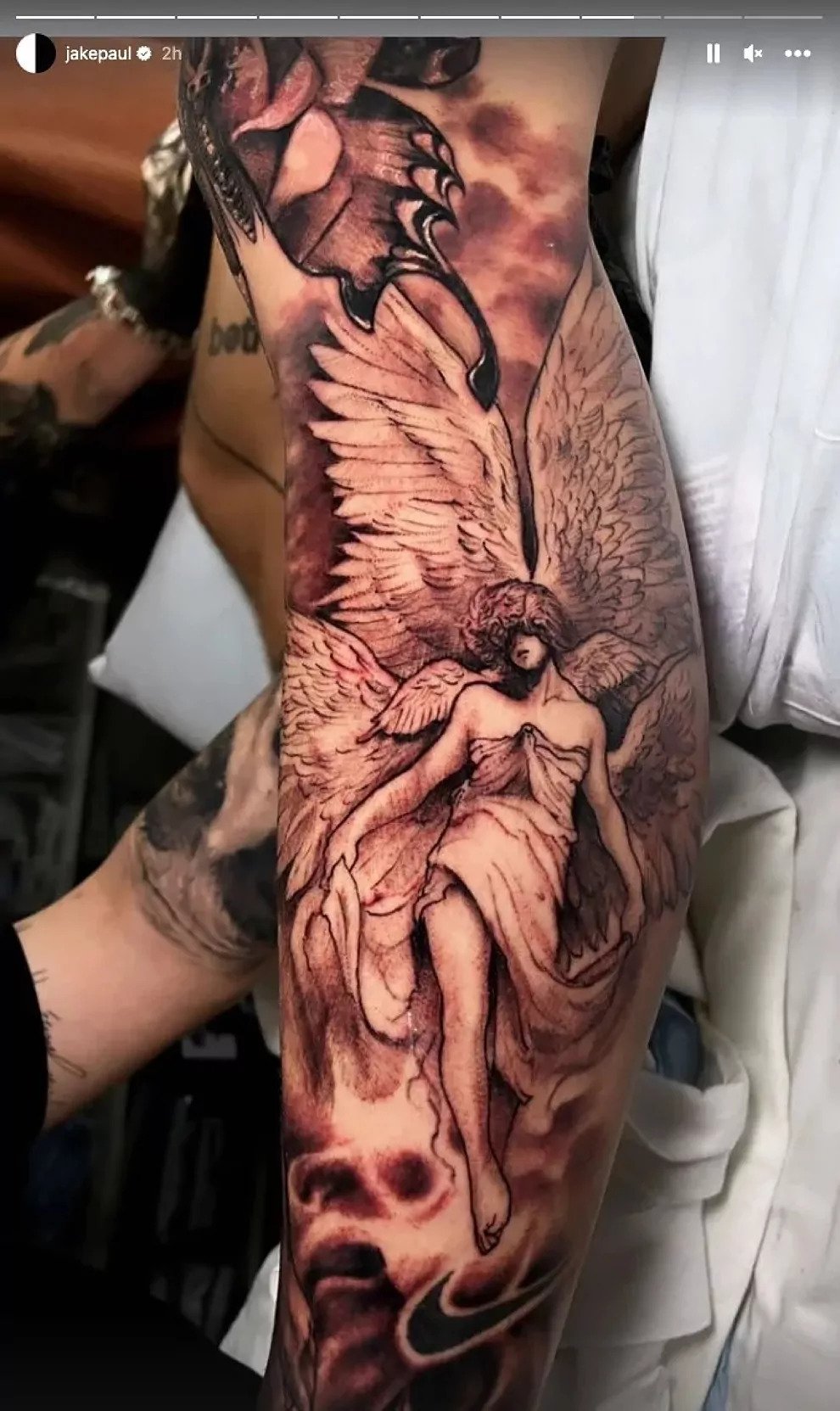 Apparently, his tattoos were done within eight hours as five artists simultaneously worked on his requirements. They worked on the boxer's larger share of the left foot and shoulder. A tiger, an angel, a butterfly, and a contrasting skeleton ornamented Jake's body after the artists were done with him.
What was the story behind his vanished tattoo before the Tommy Fury bout?
This public inking process sparked a latent tattoo story. Previously, Jake had a tattoo done on his right arm on a dare. Before his grudge bout against Tommy Fury, the BBC DJ Charlie Sloth dared Jake to get a specific tattoo.
Sloth promised to pay 250,000 USD to Jake if he got a tattoo of a blue raspberry Au Vodka bottle. Jake took the dare and got it done on his right arm, before flying to Saudi Arabia.
Sloth issued the challenge because he owned the alcohol company. Interestingly, this company was conceived by the partnership between Sloth and Charlie Morgan. Morgan could be best remembered by soccer fans as the Swansea ball boy whom Eden Hazard infamously kicked, back in 2013.
On the flip side, Jake's tattoo became a conversational topic because his tattoo was nowhere to be seen during his fight against Tommy Fury. Fans were perplexed as the tattoo could not be traced, just within a fortnight.
Jake must have known that consuming alcohol in public could potentially put him in danger in Saudi Arabia – a country that does not allow public drinking, or any advertisement of it, thereof. Whether that tattoo was real or Jake got it removed later is still to be found. As the question still hangs in the air, the Youtuber seems to have his fans riled up yet again.