Jason Kidd offers candid thoughts on Luka Doncic following Mavericks' loss vs Warriors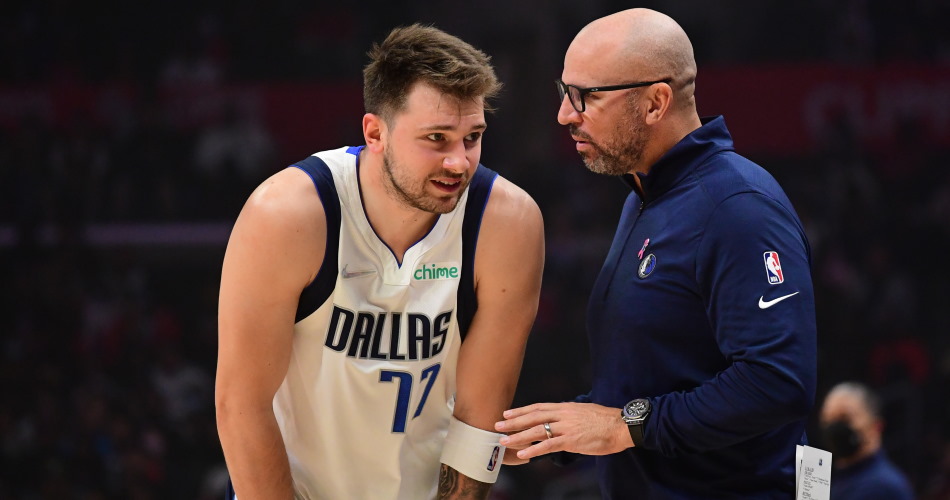 The Dallas Mavericks have had an inconsistent season due to injuries and absences, and on Wednesday night they were defeated by the Golden State Warriors. Despite a close game, Stephen Curry's impressive layup and the Mavericks' failure to make a final bucket led to their defeat. Head coach Jason Kidd spoke about the end of the game, mentioning Luka Doncic's role in the final moments.
Kidd acknowledged the difficulty of defending against Curry and credited his game-winning drive. The head coach also praised Doncic's decision-making in the final possession, stating that he and Reggie Bullock made the right read by going for the quick two-point shot, which would have given them a chance to win or tie the game with free throws.
Doncic returned to action after missing ten games and put up impressive stats with 30 points, seven rebounds, and 17 assists. Although his shooting percentage was not as high as usual, Kidd was pleased with his overall performance and noted that he looked great considering his recent absence.
Jason also mentioned that the team came out of the game healthy, which is a positive sign as they prepare for their next matchup against the Charlotte Hornets. The Mavericks have had a rollercoaster season so far, struggling with injuries and inconsistency. However, Doncic's return is a major boost for the team, and Kidd's praise for his decision-making in the final moments of the game against the Warriors highlights his importance to the team. With the playoffs fast approaching, the Mavericks will need to continue to work on their defense and consistency if they hope to make a deep run.
Dallas Mavericks File Official Protest with NBA Over Officiating Error in Loss to Golden State Warriors
The Dallas Mavericks suffered a heartbreaking loss to the Golden State Warriors on Wednesday night, which saw them slip from the No. 7 to the No. 9 seed in the Western Conference playoff picture. The game was marred by an officiating error in the third quarter when both teams believed the Mavericks had possession of the ball, but the officials apparently changed the call without informing the Dallas bench. This confusion led to the Warriors scoring a crucial layup, leaving the Mavericks frustrated and feeling that they were robbed of a chance to win.
Mavericks owner Mark Cuban and coach Jason Kidd have criticized the officials' handling of the situation and have confirmed that they will file an official protest with the NBA. With just nine regular-season games remaining, every win and loss is crucial for the Mavericks' playoff hopes, making this error all the more frustrating.