On the eve of the FIFA World Cup in Qatar later this year, defending champion France is hard at work, alongside other European powerhouses such as Spain, England, Germany, the Netherlands, Denmark, and Portugal.
Arguably the most prolific French player of this generation, Kylian Mbappe, 23, is also preparing at his best level to retain his finest form with his other national team counterparts to achieve the ultimate glory.
Why did Kylian Mbappe ignore Messi and Neymar Jr on the best forward issue?
It is claimed that Kylian Mbappe presented Paris Saint-Germain with a list of transfer requests during the transfer window of last summer, which included the departures of Lionel Messi and Neymar who are still playing for the club.
Multiple reports from the previous season detailed the depth of the dressing room split in Paris, with Mbappe trusting Messi's friend (Neymar) lacks discipline and is harmful to the club, and there was a rumored aspect of feud between Mbappe and Messi at the French Capital regarding the status of Neymar.
The French World Cup winner has said that he is allowed more creative freedom when representing France than he does at PSG as recently, he scored the first goal for his team and set up many more goal-scoring chances while performing an open role in the attack with Olivier Giroud in a 2-0 victory against Austria.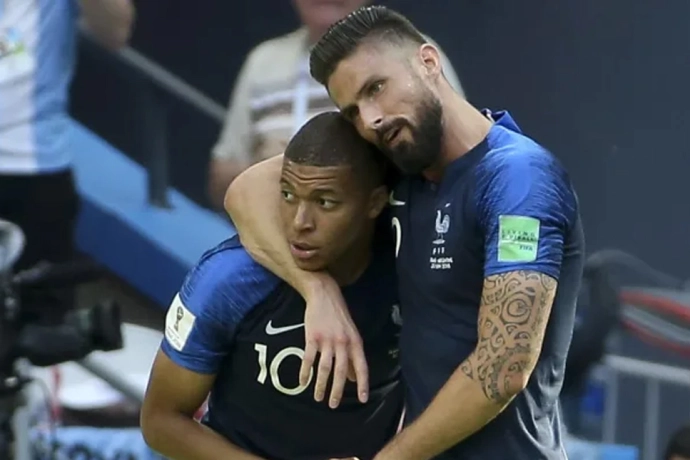 Although Kylian had a smile on his face, he abstained from declaring that he appreciated playing his position for the senior squad more as manager, Didier Deschamps will most certainly rotate his players for Sunday's encounter against Denmark, but Mbappe is keeping his fingers crossed that he will have another opportunity to participate.
The 23-year-old said to the journalist, "I play differently, I am asked other things here in relation to my club. I have a lot more freedom here. The coach knows that there is a number 9 like Olivier who occupies the defences and I can walk around and go into space. In Paris, it's different, there isn't that. I am asked to be the pivot, it is different."
The moments of dispute arose during PSG's Ligue 1 match against Montpellier a few months ago when Mbappe and Neymar spat over the sequence of penalty takers, with the Brazilian refusing to permit his partner to take PSG's final spot after the Frenchman's initial attempt was saved.
The atmosphere in the dressing room was so terrible that veteran player and ex Real Madrid skipper Sergio Ramos was allegedly compelled to intervene to separate the fighting duo – as fissures resurfaced, spectacularly, among the group.
Eventually, Mbappe admitted that the head coach of France urged him to not get involved in any kind of dispute ahead of the World Cup, which made him stick with Giroud as his best front-line counterpart in soccer.