Lewis Hamilton biography: Unknown facts about 'Billion Dollar Man'
The lad that was destined to be another black nigger on the block turns out to be the best racing prodigy of all time. Breaking records at an early age of 8 Lewis Hamilton is strange to none. His self proclaimed black identity after hailing from a caucasian mother is commendable and brave. There are a billion other things about him that we have focused on while covering Lewis Hamilton biography. Well, let's get on with it then.
Lewis Hamilton biography quickie
Name: Lewis Carl Davidson Hamilton
Nickname: The Billion Dollar Man
Birthday: 7th January 1985
Birthplace: Stevenage, England
Age: 35 years and counting
Zodiac Sign: Capricorn
Parents: Anthony Hamilton&Carmen Larbalestier
Marital Status: Single
Height: 5ft. 9in.
Car no: 44
Career Points: 3538
Total wins: 87
Championships: 6
Social Handles:
"The way I drive, the way I handle a car, is an expression of my inner feelings."
Rightly said by the six times world champion, Lewis Hamilton. However, that wasn't the case always for the Britt at the Mercedes cockpit. It might be hard for you to believe but even Lewis Hamilton was bullied during his childhood which had motivated him to take up karate for a brief period of time.
Besides being interested in guitar and music, the 'Billion Dollar Man' used to keep an interest in soccer and continues to support his childhood fan club Arsenal to date.
Though Lewis' parents split up when he was only a tender two years old, we might just have to thank Lewis' father Anthony Hamilton for gifting us such a wonderful racer and our constant love to his mother, Carmen Larbalestier for his marvelous charms.
Lewis' father had been ever supportive of his son's passion for racing and motorsport. Seeing that Hamilton had grabbed a second spot at the British Radio Car Association Championship with the car that he had gifted him, Anthony knew that the lad would have a great career in racing.
After Anthony Hamilton and Carmen Larbalestier split up, Carmen went on ahead with Lewis and later gifted Lewis with Samantha Lockhart, his stepsister. Later on, Anthony also married another woman and gave Lewis his other stepsibling, Nicolas. You might as well have guessed by now; Hamilton wasn't born with a silver spoon, he had to fight hard against all odds since his childhood.
Hamilton had lived with his step-sisters and his mother till the age of 12. He then went on to live with his dad and his stepbrother Nicolas to pursue his passion for the tracks. He studied at The John Henry Newman School in Hertfordshire and later joined Cambridge Arts and Science in 2001.
Lewis Hamilton early life and career
"You just need to be accepted for who you are and be proud of who you are and that is what I'm trying to do."
The only child to Anthony and Carmen was a mere 8-year infant when he first gripped his palms on the steering wheel. Hamilton's starting rendezvous at the track was not staggered and the entire racing circuit was soon aware of the rookie from Hertfordshire.
Lewis Hamilton biography tells us that at the age of 10, he met McLaren boss Ron Dennis and expressed his childhood fantasy of sitting in the McLaren cockpit one day. Amused by the little kid's aspirations, Dennis had told Hamilton to contact him in exactly 9 years. Hamilton was on-route to becoming one of the greatest racing sensations of the time.
After winning the British Championship at the age of 8, he again went onto win it again in 1998 and also the Super Series in that same season.
These initial achievements in his career forced McLaren to keep the promise it had made a few years back to this rising star. They signed Hamilton in their driver development program. The prospect further had a future seat booking at McLaren for the young racer.
In the mean-time, Hamilton kept excelling at various levels like the Formula A and Formula Super A and eventually went on to be the European Champion in 2000. His rapid rise at the regional levels, deemed him, Rising Star Member, an award bestowed on him by the British Racing Driver's Club. His pursuit of motorsport commenced at a steady pace from the year 2002 at Formula Renault UK, a tie-up with Manor Motorsport.
In his initial year, he accomplished with the third stand and bagged the Championship, not for the first time but second. His winning pace just strengthened and was more enhanced as time went on. He penned his contract with McLaren for another time and got into the Formula 3 Euro Series grabbing the fifth position in the year 2004.
He further had his cockpit at the Bahrain F3 Super Prix and Marlboro Masters of Formula 3 to bag the prizes and honors. His accomplishment for better just stepped up calculatedly as he raced for ART Grand Prix where he led the podium again and grabbed the GP2 Championship. He was then fortunate enough to build his way to become the McLaren team's well-esteemed second motorist.
Lewis Hamilton racing career in formula one
How good was Hamilton in McLaren?
Hamilton acquired his license to Formula One tracks in 2007. Validating the official contract with McLaren, Hamilton had Fernando Alonso as his teammate, who with time became his immediate competitor at the racing circuits. In his preliminary racing season in the calendar for the year of Formula One he built assorted records, notably, the Joint most achievements; though he finished as a runner-up to Kimi Räikkönen in that very season. With later various catastrophes that dawned on both the racers, Alonso decided to end his contract with McLaren and get to some other boulevard. On his completion of the launching season at the F1 tracks, Hamilton had the 'Multimillion-dollar deal' with McLaren for a term till 2012.
With his steady motif, Hamilton witnessed the chequered flag in his second season. Thwarting Felipe Massa to lead the podium by just a point and grabbed his first championship in 2008. This conquest made him the youngest Formula One Champion. His battle for next victories just got greater with time, trying for the next Championship award, which did not continue long with McLaren and he had to hop on to another team.
Hamilton in Mercedes, has he improved?
His contract with Mercedes was signed in 2013, where he had Nico Roseberg as his partner. In his inaugural season, he opened the champagne at the Hungarian Grand Prix. His second season in Mercedes proved to be more fruitful though with 11 victories and second Formula One Championship in the year 2014. With a new set of rules and regulations, every supercar in the track had to be labeled with a number and Hamilton proposed his number #44 on the Mercedes cockpit then which still seems to be the same even when he could have changed it to #1 earlier in his third season term in Mercedes.

His star shone bright with his continuous hard work which resulted in his consecutive performances and accomplishments. His very close friend, Roseberg in no time became his staunch competitor. He triumphed 10 races and won his third Formula One Championship in 2015 again. After which he extended his contract with Mercedes for a hat-trick year. 2016 was not the most charming year for Hamilton though, losing the Championship to Roseberg, who took his retirement after the score achievement.
Well, the Scuderia Ferrari's racer Sebastian Vettel couldn't slip out of Hamilton's competitor list, where both struggled to be the best in the rank. Hamilton picked up his fierce motion finished the laps quickest and reached for the podium first to pick on the Fourth Championship in 2017.
Lewis Hamilton in 2018 & 2019
2018 was the most sporting and competitive season for both Hamilton and Vettel, striving to achieve their fifth Crown. With a neck-to-neck battle, Hamilton had its way sorted to lead by the highest points and bagged the Championship the fifth time in 2018. As cited by the media, it was a "Fight for Five" where the crown was put on Hamilton.
Reaching the end of his contract with Mercedes, a new deal was signed and set up further with the same team. 2019 was no different for the "Billion Dollar Man" as he had the podium set for him again to celebrate his sixth coup.
In 2020, amid this pandemic situation, when everything is going haywire Hamilton with his present teammate Bottas is still making the team shine bright with his outstanding performances and achievements, gluing the fans to them.
Achievements and awards
"I feel like people are expecting me to fail, therefore, I expect myself to win."
Oh yes! If you have to talk about Hamilton's cabinet, I might warn you, put on a pair of shades, because this one shines like no other. Among his most prized possessions would be the Formula One World Driver's Championship that he has emerged the victor in 6 times. To add to this accolade would be Formula One World Constructor's Championship which he also bagged 6 times. To complement these prestigious silverware, he has the DHL fastest lap award 4 times and has registered himself the winner of the Pirelli Pole Position award 4 times.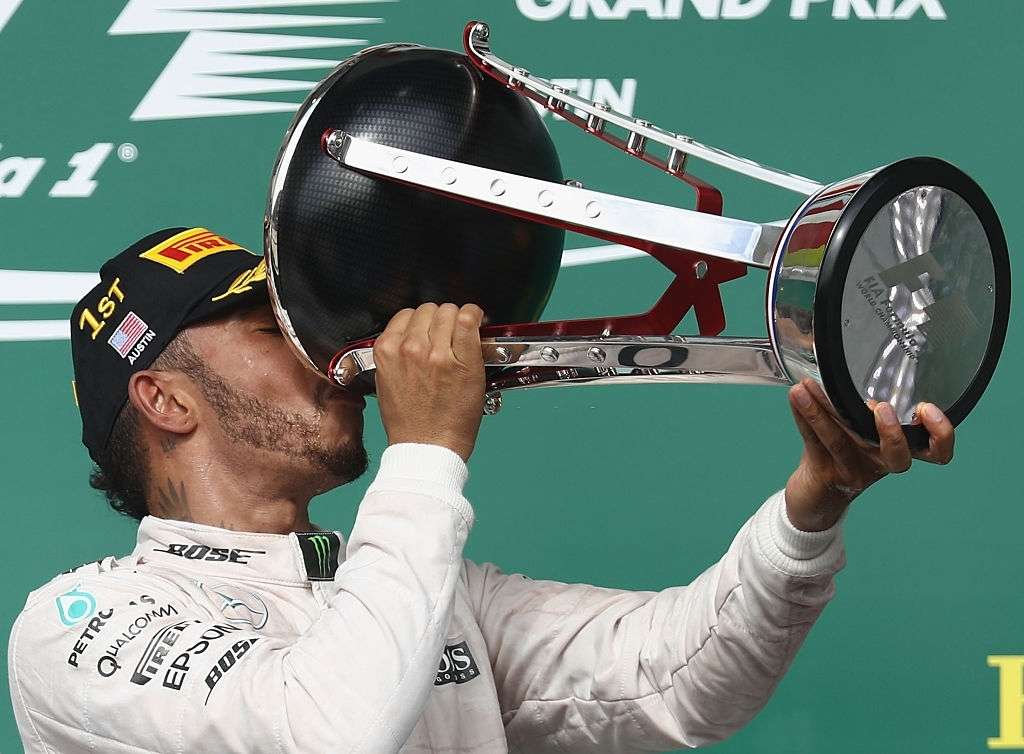 Lewis Hamilton Autosport awards
Hold up, that isn't all, phew!! That isn't even half of it. Mind you, it is not a cabinet, it is a walk-in museum. Hamilton has many times made it to the cover of the Autosport magazine and holds a bunch of awards from the sports journal. To mention a few would be the Autosport British Club Driver of the Year in 2003 and also the Rookie of the Year in 2006 and 2007. He was graced with the Autosport International Racing Driver Award a record 7 times and also the Autosport British Competition Driver of the Year the same as the above number of times.
Other Brands
However, Autosport isn't the only brand to have felicitated him. He was well appreciated by all the brands engaged in sports. BBC had given him the title of the best Sports Personality in 2014 and was also graced with Sportsman of the Year in 2014 and 2015 by GQ. Recently, Laureus had voted him World Sportsman of the Year in 2020 and he had also bagged the Best Driver title in 2017 presented to him by ESPY.
To add to that, there are a few others in this colossal list that should receive a special mention. Awards like the Hawthorn Memorial Trophy that he bagged a record 9 times, GP2 Series Championship in 2006. Formula 3 Euro Series Championship was also won over by him in 2005 along with Formula Renault 2.0 UK Championship in the year 2003. To put a cherry on the icing, he went onto win the Bambi Award (Special Jury Prize) in the year 2008.
Nonetheless, the Englishman wanted everything under his name. Therefore, he bagged another award from Laureus as the Breakthrough of the Year Worldwide in that same year of 2008. To rest it, for now, we cannot miss his historic Lorenzo Bandini Trophy in 2009.
Her majesty bestows
Being a citizen of the UK, it would have been only customary of the Royal family to turn their attention towards the lad who had been effortlessly leaping over records to set new ones. In his honor, Her Majesty graced him with the highest civil order in the UK, the OBE, or the Member of the Order of the British Empire.
Oh well, 'The Billion Dollar Man' isn't done yet lads and there is still a lot more room in that museum as his achievements flowing.
Lewis Hamilton's Contribution Towards the World
"My dad wanted me to have a better life than he had ever had. He wanted us to succeed so badly. And I never wanted to let him down."
Lewis Hamilton foundation and charity works 
Foundation
It can be claimed the 'Billion Dollar Man' also has a heart of gold. While accumulating data on Lewis Hamilton biography, we have found a saddening truth that the racer went through racial abuse since his boyhood. Maybe that is why he with his huge earning has done the greatest of contributions towards the outer world as well.
Starting from his donations of $500,000 for the Australian Bush fire that had taken place in the month of January 2020 to his assistance for causes like Abuse, Unprivileged youths and children, Education, Health, Disaster Relief, Human Rights, Poverty, AIDS and HIV, Slavery and Human Trafficking. His charitable listed sites are Education Africa; Great Ormond Street Hospital; Harlem Children's Zone; Save the Children, The Honeypot Children's Charity, and the UNICEF.
He also has set up 'Total Giving', the Lewis Hamilton Foundation.
Hamilton's Contribution amidst COVID
In the summer of 2020, Hamilton founded The Hamilton Commission with the Royal Academy of Engineering. Established to find ways in which motorsport can engage more young people from black backgrounds with science, technology, engineering, and mathematics subjects and, ultimately, employ them in motorsport or in other engineering sectors, the initiative is set to go a long way.
"My brother was told that he wouldn't walk, that he wouldn't be able to play drums, that he wouldn't be able to race a car – and he's done all those things. He's defied the odds, defied disability. I look at him and I'm so inspired, by his mentality and by how incredible the body and the mind are. There's really nothing you can't do. My brother has proved that."
Lewis Hamilton f
acts you didn't know
"My saying is; We win and lose together. I think that really does apply to both my fans, family, and the team."
Life outside the track
The English have forever had an admiration for art and artists and Hamilton is no exception to this tradition. Hamilton confesses that his favorite artist is Andy Warhol. He also has a cameo with his voice for the anthropomorphic version of himself in Cars 2 and also voices over Cruz Ramirez in Cars 3.
Furthermore, the six-time champ has been the executive producer for the 2018 documentary, The Game Changers. Presently, Hamilton had launched a new line of apparel in association with Tommy Hilfiger named TOMMYXLEWIS. It was launched in association with famous models Winnie Harlow and Hailey Baldwin as an attempt to relive his childhood and his affinity towards the brand.
Music and high school
Now, this has already been mentioned once, but in case you have missed it, Mercedes's main man behind the wheel, is also exceptionally good with his fingers on the guitar frets. He has a tranquil and serene bond with music and says,  "Music has been a huge passion of mine since I was really young. I started playing guitar when I was 13. In here, I can be me, I can be vulnerable. I can show a side of me that people don't get to see." His passion had driven him to write a few songs as well in high school.
"I always remind myself if I'm having a down day because of a bad race it's not just me. That feeling I'm having is shared by my family, the team, and my fans. When we win, they feel the joy as well. That's why I say we win and lose together, and I definitely couldn't do it without them."
Lewis Hamilton: Salary, sponsorship deals, and net worth
"A shark? No, I like to think I'm more like a panther. A shark attacks from behind without you knowing. With a panther, you know it's coming but he still gets you."
Hamilton's salary and sponsorship deals
The 13th highest-paid sportsman, after the new contract signed with Mercedes, reaps an annual amount of an average of £40 million. He approximately has earned around $489 million in his entire tenure in the racing occupation. His sponsorship agreements and deals with brands like Mercedes-Benz, Monster Energy, Puma, Sony, Tommy Hilfiger, and few others reap him a colossal amount as well.
Hamilton's net worth and real estate
Hamilton has a net worth of $285 Million. He has a series of real estate under his name starting from the New York penthouse that is worth $57 Million; the four-storied mansion in Kensington, West London that is worth $25 million to the long list of apartments in Monaco, Nyon, and Switzerland.