Cristiano Ronaldo, aka "CR7" or "Ron" to many, is a Portuguese international football player who currently plays for Juventus football club. Many consider him one of the greatest football players ever in history for his all-round attributes that make him superior to other players. In this article, we will know about Cristiano Ronaldo biography focusing on his childhood, personal life, net worth, endorsements, salary and so on. 
People tend to compare him with the Argentine living legend Lionel Messi all the time. But Ronaldo himself has a unique life story which will let you know plenty of unknown facts about him. Before going into his life story, let's have a quick look at some of his life facts: 
Cristiano Ronaldo biography info:
Full Name: Cristiano Ronaldo dos Santos Aveiro
Birth Date: February 5, 1985
Zodiac Sign: Aquarius 
Ethnicity: Portuguese
Religion: Catholic
Birthplace: Funchal, Madeira, Portugal
Country: Portugal
Nationality: Portuguese 
Club: Juventus
Current Age: 35
Annual Salary: £31 million
Net Worth: $466 million
Height: 6'2″ (1.87 m)
Weight: 84 kg
Current Residence: Turin, Italy
Now without further ado, let's dip into the Cristiano Ronaldo Biography facts and other details:
Nicknames
Ronnie, CR7, Ron, Cris. 
Cristiano Ronaldo childhood and early life story
Cristiano Ronaldo was born on February 5, 1985, in São Pedro, Funchal, on the Portuguese island of Madeira. Ronaldo's father named his son after his favorite movie actor Ronald Reagen who was the former US president. 
Ronaldo grew up in a poor family living in a small tin-roofed home. He shared a room with his siblings during his childhood. His parents raised him as a Catholic. 
From his early age, he always had immense love for football. That persuaded him to join a local club when he was only 10. Later, he played for Andorinha before joining Sporting CP. 
Childhood struggles
Ronaldo had to go through a lot of hardship in his childhood. Firstly, he was an unwanted child of his family. His mother thought of abortion before his birth since they had financial difficulties in running the family.  
Later, Ronaldo started playing in a local football club named "Nacional". His father was a kit man there. Thus, his teammates often bullied and insulted him for his father's profession and drunkard nature.
His family's financial state started to deteriorate due to his father's alcoholism. Hence, his mother, Dolores, often had to work as a cook and a cleaning person to earn the full family's bread. Also, along with his sisters, Ronaldo cleaned the Madeira streets to help their mother maintain the family. 
Education
School life was also a very bitter experience for young Ronaldo. He started going to school early, but he was never attentive to the study. 
At 14 years of age, he got admitted to a school. Instead of studying attentively, he was always keen to play football. His education ended miserably by throwing a chair at a teacher. For that incident, he got expelled from the school. 
After that, Ronaldo's mother allowed him to focus on professional football. 
Personal life of
Cristiano Ronaldo
Parents
His father Jose Dinis Aveiro was a metropolitan gardener while his mother Maria Dolores dos Santos Aveiro was a cook.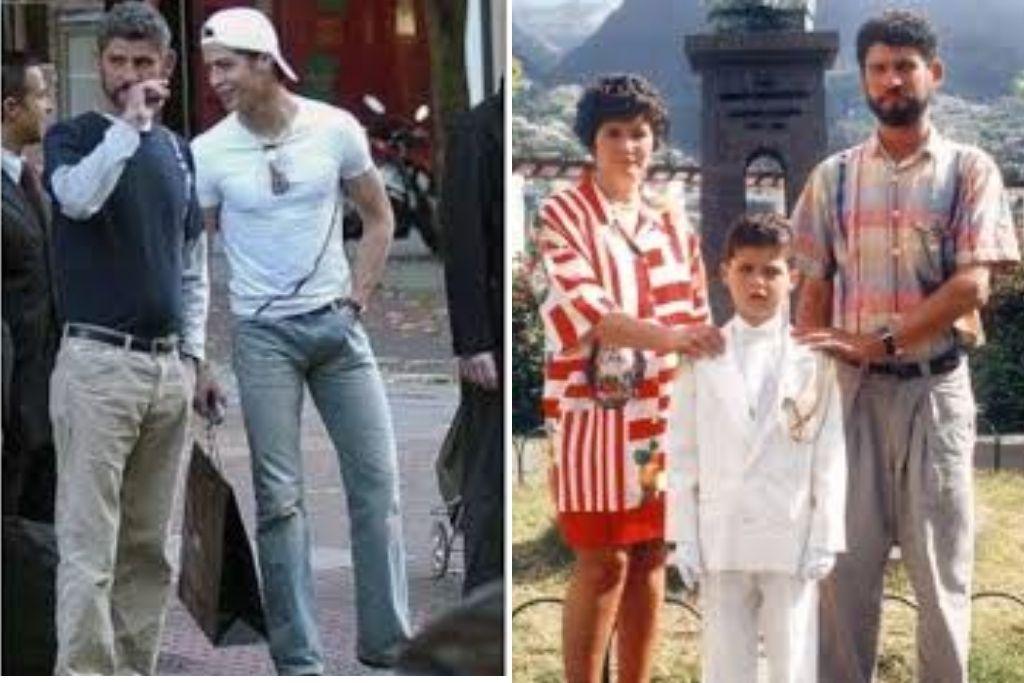 Cristiano Ronaldo's girlfriend 
Children
Cristiano Ronaldo Jr., Alana Martina dos Santos Aveiro, Eva Maria Dos Santos, Mateo Ronaldo
Siblings
Ronaldo has an elder brother named Hugo and older sisters, Elma and Liliana in his family. 
Pets
Two dogs and a cat
When did Cristiano Ronaldo start playing football?
Ronaldo started playing football when he was only 7. His first club was Andorinha, where he spent from 1992 to 1995. Later in 1995, he joined the Nacional football club. After playing two seasons there, he participated in a three-day trial in Sporting CP that he passed successfully to play for the club.
First professional match
On October 7, 2002, Cristiano Ronaldo appeared in his first professional match for Sporting CP senior team against Moreirense. He made his Primeira Liga debut memorable by scoring two excellent goals in his team's 3-0 win. 
Ronaldo's first professional contract
When Ronaldo was 12, he got an offer from Sporting Lisbon to play for the club. Seeing his talent, Sporting CP signed him for 1,500 Euros only after a trial of three-days. It was challenging for him to leave his family at such a tender age. But for the sake of his future, he sacrificed to leave his family members in Madeira. 
Performance in the first season
Cristiano's first season in the Sporting CP senior team ended with four goals in 28 matches. The stats were not very extraordinary. But yes, he showed promising character in the season on multiple occasions. 
Rise to fame
Ronaldo's continuous flourishment impressed his club so much. That being the case, in a single season, he was featured in the club's under-16, under-17, under-18 teams, the B team, and the first team as the first player of the club's history. 
His majestic performance for Sporting CP caught the eyes of the biggest football clubs in Europe. Many English clubs started scouting him and kept his development under observation. 
In 2003, his team played against Manchester United in a Champions League match. Ronaldo's team won the match by 3-1. Thanks to his excellent display of football that enchanted everyone on the field including Man Utd's former manager, Sir Alex Ferguson. 
At the same time, the English club Arsenal also showed interest in the Portuguese teenager. But Ferguson became successful in bringing him to Old Trafford for a recorded 12.24 million pounds fee. 
Ronaldo was the first Portuguese player to play in Manchester United. Also, he had immense pressure for being the most expensive teenager signing of that season. But nothing stopped him from proving his worth. 
His first season in the red devil jersey wasn't that much noteworthy. He scored only three goals in the league but scored an important goal in the FA Cup final to win the title. However, under mastermind Alex Ferguson, he continuously developed himself. 
Eventually, his improvement was apparent from the 2006-07 season. His 20-goal streak helped Man Utd win their first league title in four years. That consistent performance handed him plenty of individual achievements. And that's how Ronaldo came under the limelight in the football world. 
Cristiano Ronaldo stats and accolades for club and country
As a professional footballer, Ronaldo has earned a vast number of awards for his clubs and country. His individual achievements are also abundant in numbers. Among many other Cristiano Ronaldo biography facts, the Portuguese forward's stats and accolades the ones that stand out from the rest. 
Cristiano Ronaldo club career goals & other stats 
Sporting CP
Ronaldo spent his first professional club career in Sporting CP. In his one season there, he scored four goals in 28 games. 
Manchester United
After joining Manchester United from the Portuguese club in 2002, his career took a new turn. He came into stardom after consistently elevating his performance. In his six seasons spent in the English club, Ronaldo scored 118 goals in 288 games. 
Ronaldo's breakthrough season in the 2007-2008 campaign attracted the Spanish giant Real Madrid. They spent a world record fee of £80 million (€94 million) to bring him to the historic club. 
Real Madrid
Ronaldo never had to look back since coming to Santiago Bernabeu. He put up an excellent performance in the white jersey for nine long seasons. With plenty of achievements, Ronaldo established himself as one of the greatest of this sport in the Spanish club. 
With an astonishing 1.03 goal/match, Ronaldo netted 451 goals appearing in 438 games only. 
Juventus
In the meantime, Ronaldo already conquered Spain. He is a man of taking new challenges. Hence, he moved to the Juventus football club for a recorded €100 million in 2018. 
He has already spent two seasons in the Italian club scoring 67 goals in 92 matches. His goal scoring form helped his team keep the run of Scudetto on both occasions for his club. 
Cristiano Ronaldo accolades for different clubs
Ronaldo's 18 years of professional football career earned him plenty of accolades that dream for any football player. But a player of his caliber deserves that many achievements for unbelievable consistency for such days. 
Club Achievements
5x Champions League 
4x FIFA Club World Cup
3x English Premier League
3x English Super Cup
3x UEFA Super Cup
2x Serie A
2x Spanish Champion
2x Spanish Cup
1x Italian Super Cup
1x English FA Cup
1x Portuguese Super Cup
2x English League Cup
Individual Honors
5x FIFA The Best Player
5x Ballon d'Or
4x Golden Boot
3x UEFA Best Player
1x Juventus MVP of the Year
1x Serie A Player of the Year
2x La Liga Best Player
1x La Liga Best Forward
1x La Liga Most Valuable Player
2x Barclays Player of the Year 
1x PFA Young Player of the Year
2x PFA Player of the Year 
Real Madrid's Highest Goal Scorer – 451
Highest UCL goals – 130
Highest UCL assists – 40
Highest UCL Hat-tricks – 8
Cristiano Ronaldo international career
Alongside club career success, Ronaldo has also contributed largely to his nation's football history. Since his arrival, Portugal has never missed the World Cup.
He is Portugal's all-time goal scorer with 99 goals, just ten behind Ali Daie's 109 goals. He led his team to European glory in 2016 and UEFA Nations League in 2019. 
Accolades in international career
1x European Championship
1x UEFA Nations League
10x Portugal's footballer of the year
Portugal's all-time highest scorer – 99
Highest international hat-tricks for Portugal – 9
Cristiano Ronaldo struggles and failures in career
Since his early days, Ronaldo experienced a lot of struggles in his career. 
At 16 years of age, he had heart disease, which might end his career. However, some timely medical treatment saved himself from any significant health issue. 
When he was 20, his father passed away due to excess alcoholism. His tragic demise hurt Ronaldo so much that he decided not to drink or promote alcohol ever. 
Moreover, he has been charged with rape allegations multiple times. Those incidents harmed his mental health. He feels such things are hard to accept and affect his family life.
"You have a girlfriend, you have a family, you have kids. When they play with your honesty, it's bad, it's hard." Ronaldo said to Piers Morgan in an interview. 
Playing style of Ronaldo  
Cristiano Ronaldo had adapted to new styles of playing when he moved from one club to another. But his main position was Left flank in the Man Utd and Real Madrid. During that period of his career, he used to play as the left-winger. His pacey movement and dribbling capability helped him to go past the opponent defenders. 
When he joined Juventus, he was already 33. Because of aging day by day, he entirely evolved his playing style. From a traditional left-winger, he moved into a much advanced position to play as a center forward. Therefore, even after turning 35 last February, he is still scoring tons of goals with his work ethic. 
Partner in Team
Since joining the Old Ladies, Ronaldo has gained excellent chemistry with Paulo Dybala. As Ronaldo prefers to play on the left, Dybala plays on the right or in the middle to link with the Portuguese to create chances. 
Their incredible understanding is visible in Juve's stat since the restart. The duo contributed to 17 goals in their last ten campaigns after the Serie A resumed. Both of them shared their lovely relationship on multiple occasions. 
Cristiano Ronaldo net worth
Cristiano Ronaldo's net worth is about €361m as per the reports by Goal.com in May 2020. 
Cristiano Ronaldo endorsements deals
Ronaldo earns around £35 million per year through endorsing companies like Nike, Herbalife, TAG Heuer, American Tourister, Egyptian Steel, PanzerGlass, MEO, Toyota etc.
The Portuguese is only the third player in the history of sport signing a $1 billion worth lifetime contract with Nike in November 2016 after Michael Jordan and LeBron James. 
Alongside Nike, Ronaldo has contract deals with DAZN, Altice, Electronic Arts, Herbalife, Clear, Tag Heuer, Italia Independent, Egyptian Steel, Armani, Castrol, PokerStars so far.  
Cristiano Ronaldo salary 
Of course, every fan would show interest in knowing the salary of Cristiano Ronaldo. Therefore, we have shared the detailed info about his salary.
Annual: €31m
Monthly: €2.5m 
Weekly: €576,923
Daily: €82,191
Here's an interesting fact for you: 
Did you know that Cristiano Ronaldo earns €57.10 per minute?  
Earnings overview
Forbes June 2020: 2nd highest-paid athlete in the world; dollar 105 million

(salary: 60m, endorsements: 45m)
Forbes June 2020: The first footballer to earn dollar 1 billion 

Forbes January 2020: First person to reach 200 million followers on Instagram, where he earns 1 million per post. 

The Guardian July 2018: Ronaldo signs with Juventus for a record €100m contract

Forbes December 2016: Staggering dollar 1 billion deal with Nike

Forbes September 2013: Real Madrid renews contract with Ronaldo worth of dollar 206 million.  
Messi-Ronaldo rivalry
Lionel Messi has been the biggest rival of Cristiano Ronaldo on the pitch. When Ronaldo won the Ballon d'Or in 2008, Messi responded with four ballon d'Ors incessantly. At that moment, nobody thought Ronaldo would come closer to Messi ever. But Ronaldo came back with two back-to-back Ballon d'Or two times, once in 2013, 2014, and the other in 2016, 2017. At present, Messi leads the race by 6-5. 
Both players have dominated the football world for a long time. They have been at the peak of their form, which helped them earn individual and team achievements on innumerable occasions. 
But off the pitch, they have been respectful to each other always. Messi once told about Ronaldo, "It was a special duel and it will remain forever because it lasted many years and it is not easy to maintain certain levels for a long time.
On the other side, Ronaldo also showed his admiration for Leo Messi. "Messi makes me a better player and vice versa. I have an excellent professional relationship with Messi because we have been sharing the same moments for 15 years." Ronaldo said. 
Movies and documentaries on Ronaldo or where he played a role
In 2015, the documentary film "Ronaldo" was released, which is directed by Anthony Wonke. The film reveals the life story of Cristiano Ronaldo. Until now, over 1.7 crore people viewed the trailer of this film on YouTube.
There have been other documentary films made on his career too. Some of their names are: "Cristiano Ronaldo: The World at His Feet", "Ronaldo: Tested to the Limit."
Cristiano Ronaldo foundations and charity work
Cristiano Ronaldo is a man of a generous heart. He has done plenty of charitable works in his life. He supports UNICEF, AIDS Still Required, Save the Children, and World Vision.
Some other donation works of Ronaldo are:
£1.2m to build schools in Gaza by auctioning off his European Golden boot in 2011. 

 £87,000 to Red Cross after getting prize money for being in the UEFA's Team of the Year in 2013

£55,000 to bear the cost of ten-month-old Erik Ortiz Cruz's brain surgery.

£530,000 to Make-A-Wish foundation after raising from an auction of his 2013 Ballon d'Or. 
Cristiano Ronaldo quotes
"Your love makes me strong, your hate makes me unstoppable."

"If you think you're perfect already, then you never will be."

"I'm living a dream I never want to wake up from." 
Quotes on Cristiano Ronaldo
Zinedine Zidane: "When you play with Ronaldo on your team, you are already 1-0 up."
Luis Figo: "There are some things Ronaldo can do with a football that makes me touch my head and wonder how on earth he did it."
Eusebio: "He has magic in his boots."
Sir Alex Ferguson: "We've had some great players at this club in my 20 years, but he's up with the best."
Florentino Perez: "Cristiano Ronaldo is priceless."
Final remark on Cristiano Ronaldo biography 
Cristiano Ronaldo is undoubtedly one of the most iconic footballers of all time. His greatness is quite unparalleled to any other football player of his generation except Lionel Messi. 
Even if he had a struggling childhood, he overcame each obstacle of his life through enthusiasm and determination. Alongside being a great player, he is a kind-hearted guy, an ideal father, and a good human being. Many people misinterpret him a lot, but his near people know how a complete person he is. 
The world will miss his legacy before he hangs up his boots after passing such a glorious career. Till then, enjoy his greatness.