Top 10 Merseyside Derbies Of All Time
Merseyside Derbies are among those fixtures in the schedule of soccer that throng people to it. As a result, it is regarded as one among the Top 10 soccer derbies in the world. Jostles in the stands and strifes at the tea table meetings are a result of derbies.
In England, people eat, breath and live in their world of soccer. Consequently, derbies have become an indispensable part in their lives. The famous Merseyside Derby deserves a notable mention along with the Manchester Derby, the North-London Derby, the London Derby and the Lancashire Derbies.
With the first Merseyside Derby scheduled on the cards since the Corona pandemic outbreak, people were eager for it. Empty Goodison Park stadium hosted the goalless stalemate clash. However, mention must be made about the Premier League supporting the cause of the black revolution. "Black Lives Matter" – an initiative supporting the equal rights of the black people and protesting the violent murder of George Floyd. Moreover, this slogan appeared at the back of each team's jerseys instead of the respective player names.
Let us ponder upon a few stats of the Merseyside derbies.
Total Merseyside Derby matches: 234.
Most Merseyside Derby wins: Liverpool (93).
Merseyside Derbies' highest goal scorer: Ian Rush (20).
Biggest Win in Merseyside Derbies: Liverpool 6-0 Everton (1935).
With all the stats in our hands, lets have a look at the Top 10 Merseyside Derbies Of All Time:
#10.

Everton 1-0 Liverpool. First Division Match, Goodison Park – October 28,1978
Losing out at the hands of Nottingham Forest in the European Cup, Liverpool set out to win the league. Ray Clemens had set the record for most number of clean sheets. Liverpool was successful in winning the league, but a rare blemish was losing to their arch-rivals from Merseyside.
Since 1971, Liverpool had no wins against the strong Liverpool outfit. Consequently, after a wait of fifteen long matches, Everton defeated Liverpool, and that too in Goodison. Above all, Andy King towered supreme and scored a ballistic goal from 25 yards out.
#9.

Liverpool 3-2 Everton. Premier League Match, Goodison Park – April 16,2001
This match witnessed probably everything. Showcasing brilliant goals, cards shown to players, fouls in abundance and even penalties. Shrouded by the Hillsborough Memorial, when the match kicked off at teatime, it was just one of those feisty Merseyside Derbies.
Emmanuel Heskey opened the scoring, as he shoved past Watson, and powered it past goalie Paul Gerrard. Out of the 12 yellow cards shown, Igor Biscan received two and was duly sent off.
What added to the events was a queer penalty miss by Robbie Fowler. However, the best was indeed saved for the last. Come injury time and a stunning 44 yard free kick by Gary McAllister sealed the fate of the game towards Liverpool.
In a mediocre season, to the Everton fans, this win against Liverpool was sweet in the form of consolation. (Video Courtesy – eljaygee82)
#8.

Everton 3-0 Liverpool. League Match, Goodison Park – September 9,2006
After David Moyes took over in 2002, it took him hardly any time to revamp Everton. As a result, Everton pushed upwards in the table and knocking out Liverpool of the top 4 in 2005.
Come 2006 and Everton with Moyes at the helm of affairs were cruising past most of the teams. In their encounter against Liverpool at Goodison, they rampaged past their opponents.
One of the most memorable Merseyside Derbies of all time for Everton fans portrays them winning by 3 goals. Tim Cahill put Everton ahead with strike at 24 minutes. Andy Johnson netted the second and at the very last minute, completed his brace. Thus, giving Everton an unforgettable win in the Derby.
#7.

Liverpool 4-4 Everton. FA CUP Fifth Round, Goodison Park – February 20,1991
If you have ever seen a seesaw, you would be able to identify yourself with the intricate details of this match. What ended as a goalless draw at Anfield, continued and surpassed all expectations at Goodison.
Harry Harris summarised the clash in the Daily Mirror, "It was a privilege to have been present at a game that lifts British Football apart from any of the fancy versions on the continent".
To Liverpool fans it was a match that slipped out of their grasp four times. Whereas, for the Everton fans it was a lost match that their players attempted and succeeded in levelling the score not once but four times.
Peter Beardsley brought in an end to his goal drought and netted a brace in this match. The Liverpool tally was increased Ian Rush. Thanks to a brilliant curler by John Barnes, Liverpool scored their fourth in the extra time. On the other hand, for Everton, Graeme Sharp equalised consecutively for the first two goals. However, the substitute Tony Cotee is still remembered for his exploits in that game as he chipped in with a couple of crucial goals.
#6.

Everton 0-5 Liverpool. League Match, Goodison Park – November 6,1982
This match is etched in everyone's memories due to the havoc created by a certain Liverpool prodigy- Ian Rush. Packed to the rafters, 53,000 Scousers crammed in at the Goodison.
The books on Derby folklore records Rush's exploits in this game. This game shaped out to be crucial as Rush went to score 30 goals in all competitions that season. Rush opened the scoring after just 11 minutes. He chipped in with his 3 other goals on 51 minutes, 55 minutes and 71 minutes into the match.
A career changing match, accrued Ian Rush as one of the best goal scorers of his era.
#5.

Liverpool 3-2 Everton, FA Cup Final, Wembley – May 20,1989
All the other matches in this list is different from this one. More than the hobnob and hustles in the field and the stands, the 1989 FA Cup Final is known for the clubs' unity.
The Hillsborough disaster had a devastating on the minds of people. The death of 96 people while attending a football match, stirred fans across the globe. Everyone in the stadium sung "You Will Never Walk Alone" in unison.
John Alridge had put Liverpool ahead but, Everton soon equalised through Stuart McCall's goal. McCall scored again in reply to Rush's goal. However, Rush's second goal handed Liverpool the win. (Video Courtesy- ELMSWOOD48)
#4.

Liverpool 1-0 Everton. Premier League Match, Anfield – March 20, 1993
Many Liverpool fans consider this match as the registration of their club's premier league dominance. Merseyside Derbies are always special but this one had an extra incentive. This match happened to be Liverpool's first win against their neighbours in the Premier League.
Prior to this match, Liverpool had won 22 out of their previous 51 games. On the other hand, Everton had emerged victorious in only 9. Ronny Rosenthal, nicknamed "Rocket Ronny" was the prime man of the fixture. A vicious drive and with it came the win for Liverpool. Fans at Anfield were jubilant with the win. (Video Courtesy – sp1873)
#3.

Liverpool 1-0 Everton. Premier League Match, Goodison Park – December 20,2016
Another day at the Goodison Park, set for the Merseyside Derby and another cagy affair was on display. Liverpool with their new manager, Jurgen Klopp at the touchline, were playing eye catching soccer.
Though Liverpool was the stronger side on paper, in the field Everton fought tooth and nail. Everton dug deep and their fast tempo put Liverpool on the backfoot. Coming onto this game after two back to back defeats, Liverpool showed grit and came out with the win.
They absorbed the pressure most of the game but as Klopp as he is a mastermind, substituted Daniel Sturridge in. At 90+4 minutes, it was Sturridge's shot that hit the framework and Sadio Mane pounced on it first. With an easy tap-in, Mane handed Liverpool the win.
#2.

Liverpool 3-2 Everton. League Match, Anfield – April 3,1999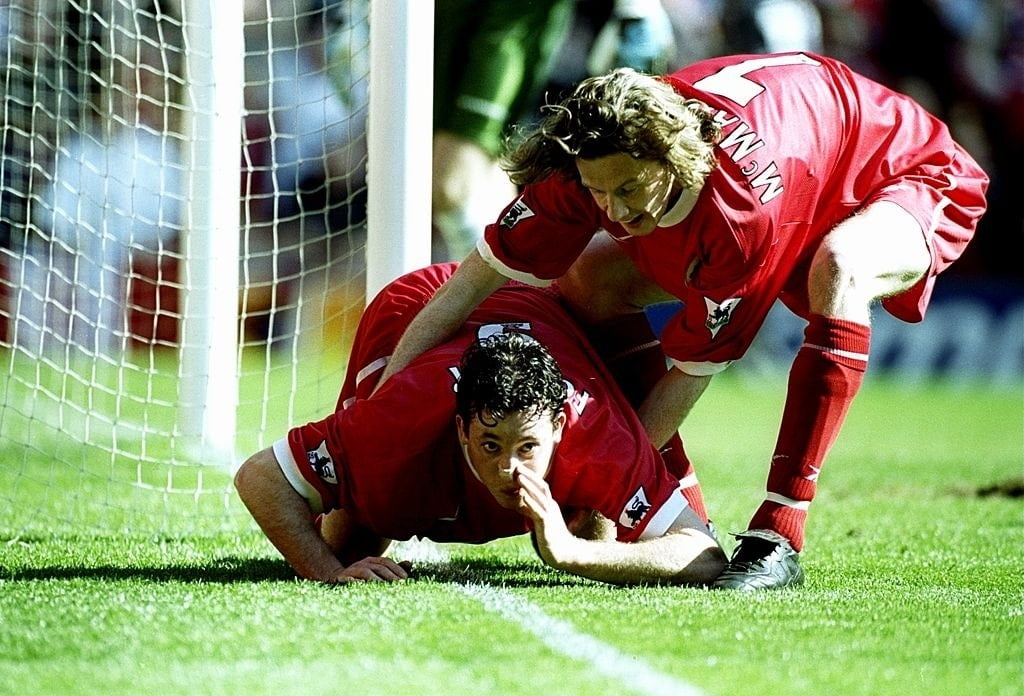 This match is Liverpool's third and the last win against in the last decade of the millennium. Fans at Anfield witnessed goals galore and Robbie Fowler was the usual scorer for Liverpool. Patrik Berger too chipped in with a goal.
Though Everton took a slender lead a minute into the match, through Oliver Dacout's goal, they lost. Francis Jeffers' 84th minute goal couldn't save Everton.
This match, however, is remembered mostly for Robbie Fowler's snorting celebration before Everton fans. The celebration was a protest against the suspected drug usage accuse against him. The encounter also highlights Steven Gerrard's cameo debut in Merseyside Derbies.
#1.

Liverpool 2-1 Everton. FA Cup Semi-Final, Wembley – April 14,2012
The FA Cup Semi-Final Match appears on top of the list considering the FA Cup Final spot up for grabs. It is acknowledged by all that modern-day soccer is better than that of old times in many aspects. Soccer in England too has become more physical and challenging.
A defensive mix-up on the part of Jamie Carragher and Daniel Agger led Nikica Jelavic capitalise on that. He put Everton 1 goal up in the first half. Consequently, with more pressure applied by Liverpool, Sylvian Distin made an even bigger blunder. Luis Suarez capitalised and scored early on in the second half.
It seemed all set to be heading for extra time but, then stepped in the 35 million Liverpool Central Forward. Andy Carroll headed Liverpool in front enabling them reach the finals.