MLB Free Agents in 2021: Ranking Top 15
Lots of things have changed in baseball this year. It's a year when Robert Manfred stated that MLB is at a debt of $8.3 billion. The 2020 season was a shortened one and even then, most of the clubs are shortening their staff list, letting go of their full-time employees. And there's no guarantee that things are going to get better in 2021, whether the game will be held with fans in the seats or it's going to be an empty ballpark as it was in most of the games in the 2020 season. For some of the free agents, maybe it is going to be a long off-season. But there's no doubt that the bests will cash out. There are 150 plus players that are now MLB free agents after the end of the World Series.
With the 'would be' superstar free agent Mookie Betts already out of the way (the Dodgers signed him with a $365 million extension), here are the top free agents for the 2021 season.
#15.

Justin Turner

Between the years 2014 and 2019, Turner was great for the Los Angeles Dodgers, averaging a 139 on-base percentage and with a total of 19 homers. in this 2020 season, he hit .307 with four home runs with 23 RBIs. And in the postseason, .293 with 6 RBIs and three home runs. This veteran third baseman still got some baseball left in him, as it seems. It is possible that Justin Turner will remain in Los Angeles if they don't go in another direction due to his recently created controversy. He would be a perfect fit for any American League club that could let him play at third.
#14.

Joc Pederson

No. 14 in the list of MLB Free Agents, Joc Pederson, struggled throughout this shortened 2020 season, his batting average was .190 with a .681 on-base percentage. He was nearly traded to the Angels in February, but Arte Moreno canceled the deal at last minutes. However, there are still many teams interested in him given that he has maintained a very good exit velocity, in the 91st percentile. Teams that love sluggers, like The New York Yankees, might be a good option for Joc Pederson.
#13.

Shane Greene

Despite having only 18 strikeouts in 22.2 innings, Shane Greene managed an ERA of 1.19. But Greene's specialty lied in his ability to throw four different pitches with ease: slide, cutter, sinker, and changeup. So, without racking up a ton of strikeouts, Greene is mowing the batters down. This particular approach of him made it tougher to square him up, as only three of his balls (among total batted 58) have registered as a barrel. Greene would be perfect for teams looking to upgrade their pitchers' lineup.
#12.

Liam Hendriks

Liam Hendriks didn't have a great career start but between the years 2015 and 18, he scored above average. During the last two seasons of his career, Liam has boosted his fastball speed and had a respectable 13.2 strikeouts every nine innings. His earned run average has dropped significantly too, 1.71 in a total of 95 appearances. Liam Hendriks can easily be described as one of the best relief pitchers on the market now, if not the best and he deserves a good team.
#11.

Didi Gregorius

After his return in 2019 from the Tommy John surgery, Didi never got back to what he was. But he has recovered himself as a playable shortstop now, with a 119 on-base percentage, and seven homers in his last season. Last winter he landed a $14 million contract with the Philadelphia Phillies. His career-high batting average and OPS this season proves that he deserved a longer stay than just a meager one year contract.
#10.

Nelson Cruz

Nelson Cruz turned 40 this year and probably will not get any contract longer than one or two years. But it's fair to say that signing Cruz will instantly improve the lineup of any American League team. In 2019, Nelson Cruz hit 41 home runs for the Minnesota Twins, and in the following year, during the pandemic shortened season, he scored a total of 16 homers. The Minnesota Twins may resign him for 2021, as they certainly can't afford to lose Cruz.
#9.

Michael Brantley

Michael Brantley is one of the only two players who, with fewer than 3,000 plate appearances hit at least .310 with an on-base percentage of no less than 125, since 2014. His records speak for him, and they are no less in the 2020 season with a slash line of .304/.370/.512. However, due to his age, he probably isn't going to get the superstar treatment and will possibly be regarded as a second-level priority on the market.
#8.

Masahiro Tanaka

Tanaka just ended his seven-year-long contract with the New York Yankees which he signed back in 2014 and bagged $155 million for it. Although there have been some downs in this time period, it was mostly good for him. The Yankees benefited greatly from him.. With an ERA of 3.16 in eight years, Tanaka has overtaken Gerrit Cole. His steady records put him at the center of attention in this transfer season. But due to his age and torn UCL, clubs might shy off from spending too much on him.
#7.

Marcus Stroman

Stroman opted out of the whole 2020 season due to injuries. with a career ERA of 3.76 and ERA+ of 113, he hits free agency at 29. however, this could potentially be a long offseason for him, as some clubs might want to steer clear of him since his recent body of work is unknown. But nonetheless, he is a well-rested pitcher with the true talent of pitching great ground balls.
#6.

Marcus Semien

this pandemic shortened 2020 season was disastrous for Marcus Semien. Because 2019 was a great season for him. Scoring 33 home runs with a slash line of .285/.369/.522, he finished third in the AL MVP chart in that season. But in the 2020 season, he hit a slash line of .223/.305/.374 with only seven homers. Moreover, the 2019 season was the only one in his entire professional career in which he had an OPS+ better than average.
#5.

DJ LeMahieu

The two-year-long 24 million dollars deal of DJ LeMahieu was a huge steal for the New York Yankees. While playing 182 games in total, he hit 332/.379/.522 with 32 homers. In 2020, he batted .364 and became the first-ever player to win a batting title in both of the leagues. However, as he is turning 33 this season, LeMahieu can't expect any long contract, so he might represent the Yankees once again, from the front line.
#4.

Marcell Ozuna

Marcell Ozuna went to the Atlanta Braves with a one year contract and increased his value a lot in that time. With a slash line of .338/.431/.636, 18 home runs, and 56 RBI, Ozuna is hot in this year's free-agent market and should easily make it to the nine figures, if not more. He is 29 now and is one of the younger impact players in this MLB free agents market.
#3.

George Springer

George Springer, the 31 years old right fielder is probably the best batter available in the market right now, as Betts is no longer available. He had a good season this year with .899 OPS and 1.9 WAR while hitting 14 home runs. In 2019 though, George Springer hit a total of 39 home runs. He has a total of 19 postseason home runs. Although he just turned 31 this year and has a previous history of injuries, he should have no problems sealing a good deal.
#2.

Trevor Bauer

In theory, Trevor Bauer could easily get a $200 million-plus contract, but he likes to keep it a one-year affair. Bauer is always tinkering, always getting better, and always is open to new methods. In his last seasons, he pitched like a true number one starter, led the NL with an ERA of 1.73, and a career-high strikeout of 12.3 per nine innings.
#1.

J.T. Realmuto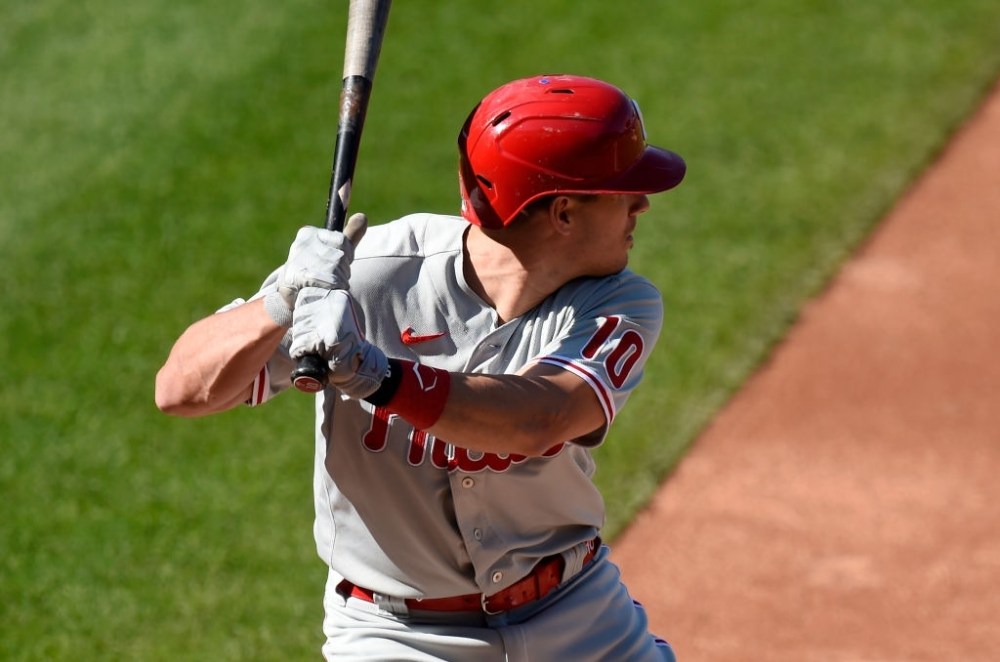 Right now, J.T. Realmuto is regarded as the best catcher in the game. He's been worth 12.3 WAR over the past few seasons and that is more than double what other catchers are at. Throughout his career, he's been an above-average hitter and with 57 home runs and 119 OPS+, it shows. He is also an elite defender and the number one in the list of MLB Free Agents for the 2021 season. 
Honorable Mentions among current MLB Free Agents
Jackie Bradley Jr

Alex Colome

Marwin Gonzalez

Ken Giles

Jose Quintana