Justin Turner under MLB investigation for disregarding isolation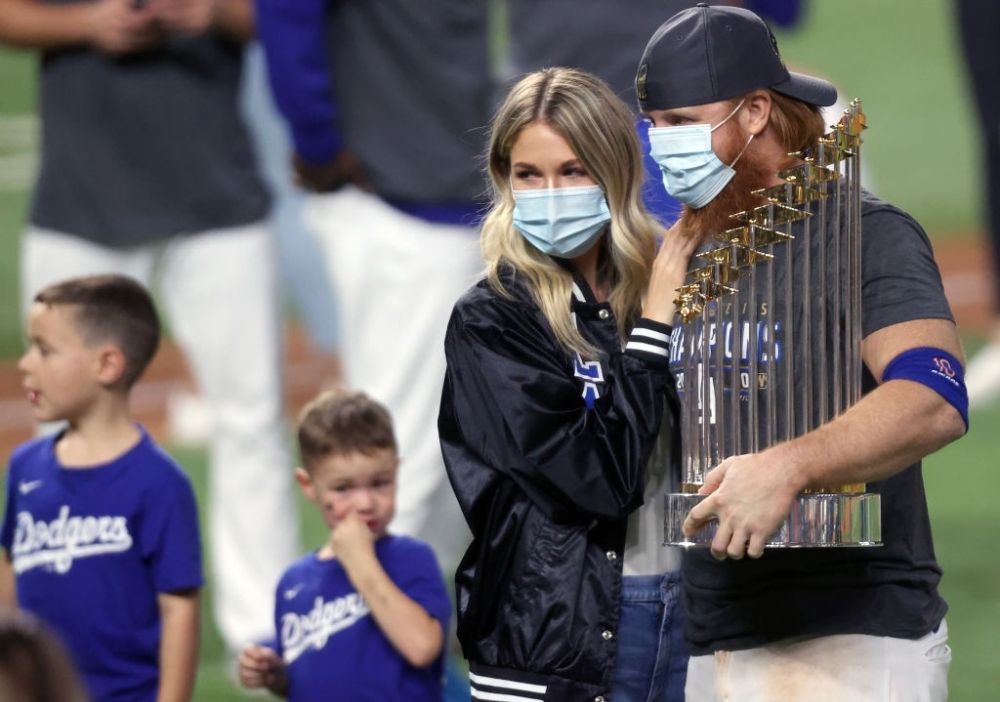 After three decades of long waiting, the Dodgers were able to secure their first World Series victory this week. Earlier that day, Turner was removed from the game 6 which the Los Angeles Dodgers managed to win 3-1 in the end. But during their post-game celebration, to everyone's surprise, Turner returned to the field and took part in the victory celebration. That was MLB's first COVID positive in 59 days, and actions were taken promptly, MLB ensured that the protocol is followed properly. About an hour after the game, Justin Turner returned and was seen celebrating, hugging his longtime fellow Dodgers, Clayton Kershaw. To make matters worse, Turner also took part in a post-winning group photo. He is seen sitting next to the Dodgers manager Dave Roberts, sitting right in front and his mask was nowhere near around his face, initially, there was a mask on his face though.
There's no denying that Turner violated the COVID protocol when he chose to come back and celebrate with his teammates. Furthermore, he refused the instructions from the security and didn't leave the field, this behavior, as the MLB stated, risked other people's safety. The commissioner's office, in their official statement, said that they are starting a formal investigation of this incident.
What the MLB had to say about it
"Immediately upon receiving notice from the laboratory of a positive test, protocols were triggered, leading to the removal of Justin Turner from last night's game," that's what the MLB said in their statement on Wednesday. He was then placed into isolation, ensuring the safety of those around him. However, after the Dodgers' victory, it is clear that Turner chose to neglect the protocol that he agreed to follow earlier, as a result, he ignored the protection and safety of those around him. While it's understandable that his desire was only to celebrate with his teammates, his decision to ignore the protocol was wrong and he put everyone at risk. He also refused to comply, when questioned about it by the MLB Security.
Justin Turner is now subject to discipline under the health and safety protocol agreement between Major League Baseball and the player's association. However, there's no specified range of penalties in the agreement. MLB will now discuss the matter with the player's association as part of their investigation, after gathering the facts on the incident. It's possible that Turner may have to face a suspension.
In this somewhat shorted season due to the pandemic, Justin Turner hit .307 with four home runs with 23 RBIs. And in the postseason, .293 with 6 RBIs and three home runs.
Friedman's comments regarding the issue
"Having a mask on and staying socially distanced, he wanted to come out and take a picture with the trophy," Andrew Friedman said after the game. He added that Turner played a big part in their success. He also said that he didn't think that wasn't anyone who was going to stop him from doing that. But Turner was mindful to other people, those people who he hasn't come in contact with already, to be precise. However, Friedman, in his statement said that he hadn't seen the pictures himself and if indeed there were people around him without a mask, that's not good at all.
"Obviously there are a lot of things we cannot do and lots of protocols, but I'd say the season's been a pretty successful one," Friedman added.
As of now, everything from a minor fine to a major suspension is rumored, but nothing's been confirmed yet. But the reports say that those who helped Justin Turner return to the post-game celebration will also be under investigation.
The Dodgers' fans are disappointed
The Los Angeles Dodgers started Game 6 with a 3 – 2 lead and although the Tampa Bay Rays had secured an early lead, they soon overtook it with Mookie Bett's double. After the ninth innings, they won the game with a 3 – 1 lead. Although the fans were really excited about their first World Series Championship after 1988, they heavily criticized Turner's irresponsible actions