Catchers are a unique set of players in baseball. They are required to be some of the smartest and most agile players on the field, and though they get the number 2 position in the scorecard, they certainly deserve the Numero Uno position at any given time. Why is that?
A catcher leads the spirit of the team, handles the pitching staff, creates and negotiates strategies on the spot, and understands and analyses every situation at hand. Therefore, a catcher needs to be an all-rounder—no wonder some of the veterans of a team turn out to be the best defensive catchers of all times! Stats show that some of the MLB managers were former catchers in their teams.
When it comes to listing the best catchers in MLB history, one must ponder and delay enough on several factors, since listing them is not an easy task at all. The factors that should be taken into consideration include their popularity in the league, career fielding percentage, their performance prowess, and their significance to the club.
Read along and indulge as we reveal the history of ten of the best MLB catchers of all time!
#10. Brian Schneider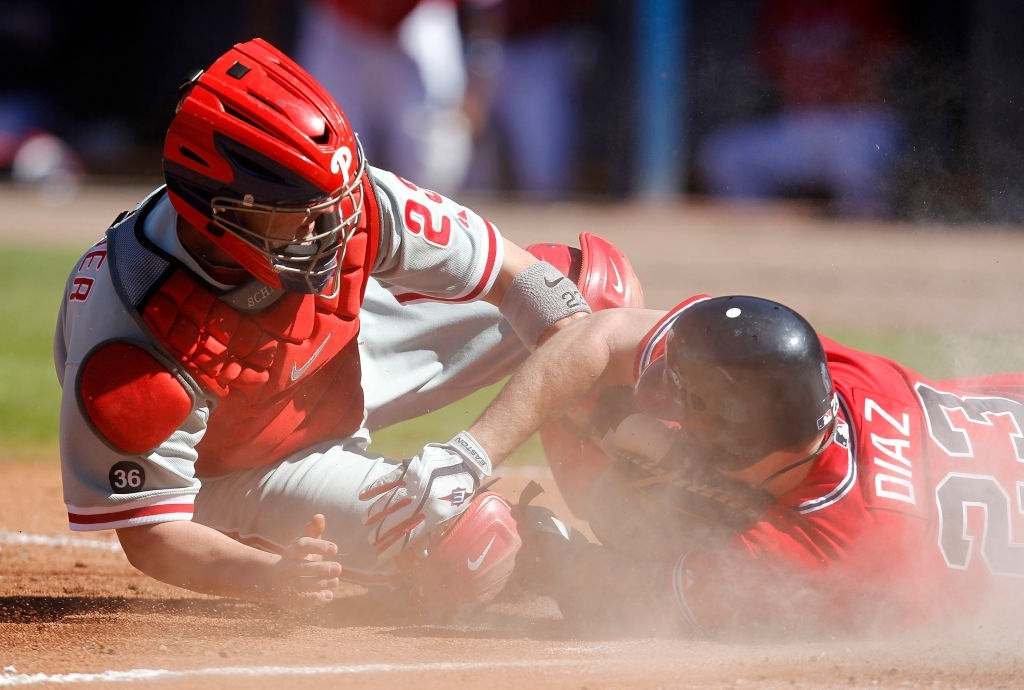 With a career fielding percentage of .9940, Schneider had played for MLB between the years 2000 and 2012, for the following MLB teams—Washington Nationals, Montreal Expos, New York Mets and Philadelphia Phillies.
He is currently a retired manager and coach for New York Mets, and was the former catching coach for Miami Marlins. Schneider started his career with the Montreal Expos in 1995, and within a short time, he established his footing as a strong defensive and offensive player, and was even listed to play for the mid-season All-Star team.
He made his MLB debut in the year 2000 as a defensive replacement in the San Diego Padres' Qualcomm Stadium. At the end of the 2001 season, he had successfully compiled a batting average of .317 playing 27 games and driving 6 runs, scoring 4 times.
In the same year, Schneider scored his first career home run against Colorado Rockies. In 2002, he served as a backup catcher to Michael Barrett. By 2003, he had caught the majority of the club's games, spending 841 innings behind the plate, and committing only 3 errors out of 709 chances.
The 2004 season showcased Schneider's scores of 112 hits, 49 RBIs and 12 home runs, and also managed to stop 47.8% of the base stealers, making him one of the best baseball catchers there is.
In the same season, he made a single-season record as a catcher having scored .998 fielding percentage. In 2005, he became the first catcher for Washington Nationals and managed to throw out 38% of potential base stealers.
Between 2007 to 2009, he served for New York Mets and Philadelphia Phillies, and went to retirement in 2013.
#9. J.T Realmuto
When talking about an all-rounder catcher of MLB, Jacob Tyler Realmuto's name comes to mind. According to FanGraphs, he has been ranked as one of the top fives in pitch framing and scoring runs, and he has also thrown out 47% of baserunners attempting to steal.
Though he is only 29 years old, he has already won a Silver Slugger Award, and on his way to the second. He has slashed .275/.328/.493 in the latest seasons, with career home runs of 25, and 83 RBIs.
Realmuto is one of the greatest catchers of all time and has been playing for Philadelphia Phillies since 2019 and has played for the Miami Martins during 2014. In a very short time, he has become an All-Star.
In his earlier years, the American Baseball Association gave him the title of the National Player of the Year. He played for the Minor League between the years 2010 and 2014 before he joined the MLB Miami Marlins in June of 2014. He scored his first hit against Tampa Bay Rays with a batting average of .241 and 9 RBIs.
April of 2015 saw Realmuto getting promoted to the starter catcher's position in place of Jarrod Saltalamacchia, and what awaited was breath-taking. Realmuto scored a consistent batting average of .259/.290/.406, 10 home runs, 8 stolen bases, and 47 RBIs.
Not only that but also he mesmerized his fans with a record-breaking base-running sprint speed standing at 28.8 feet per second. Out of all major league catchers, Realmuto had the strongest arm strength of 88.5, and he ended up being awarded the Miami Marlins Rookie of the Year Award.
The history-making continued to 2016, where he maintained his fastest base-running sprint record, and he had the second-fastest pop-time among all MLB catchers. In 2017, he won the Jeff Conine Award and Marlin's Heart and Hustle Award for the passion and integrity that he displays in his games.
He continued to play phenomenally in the next year as well, snatching the MVP award from the Marlins, together with the maintenance of all records he had set up to that time.
In 2019, he was traded to Philadelphia Phillies, and during the season he played his second All-Star game. On defense, he had managed to stop 47% of the base runners attempting to steal, and won his first Gold Glove Award in 2019.
#8. Yorvit Torrealba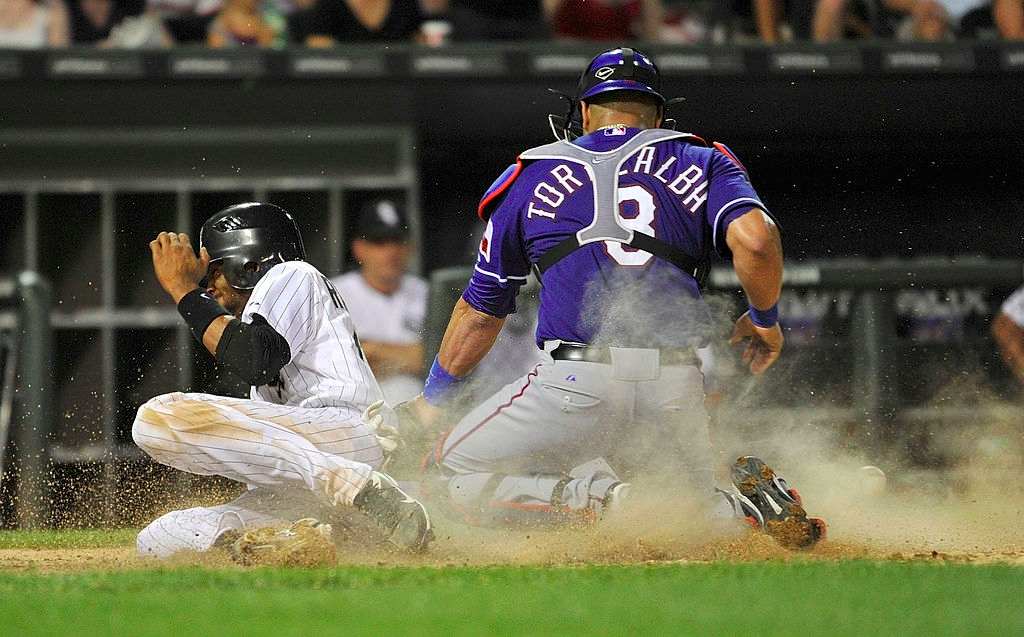 Yorvit Adolfo Torrealba is a Venezuelan former Baseball Professional who had played for the following teams of MLB—San Francisco Giants, Colorado Rockies, San Diego Padres, Toronto Blue Jays, Texas Rangers, and Milwaukee Brewers.
With a career fielding percentage of .9939, he had served for 13 years in MLB, debuting with the major league with the San Francisco Giants in 2001. Starting as the Giants' backup catcher, he soon drew attention as one of the best MLB catchers, especially due to his ability to throw out base runners.
Only in 2001, he scored 136 at-bats, 200 at-bats in 2002, and continued serving as a back-up catcher for the Giants. He joined the Seattle Mariners in their 2005 season as their starter catcher.
In between, while aiming to join Colorado Rockies, he suffered training injuries in his shoulder the reason why he missed games and opportunities. However, he lucked out against Lanneta who was struggling with the game, and Torrealba got the chance to play with the Rockies as their starter catcher.
Yorvit hit a grand-slam, one of the three in his career, against the St Louis Cardinals, and finished the season with .255 batting average and 47 RBIs in May 2007, and threw out 17% of possible base-stealers.
And in late 2007, in the game where the Rockies had won against the San Diego Padres, Torrealba had homered off Jake Peavey, which was commendable attainment in his career. In the 2007 NL Championship Series, he had hit 3 home runs and led the Rockies to the World Series.
His catching instances throughout his career had been praiseworthy where he compiled an average fielding score of .997 with only 17 errors out of 2587 chances; he managed to throw out 32% of the baserunners who were attempting to steal.
He later joined the San Diego Padres and got them a fielding percentage of .996. After that, he joined the Texas Rangers, and in 2011, he maintained a batting average of .273 while hitting 7 home runs, and on defense, he positioned 3rd in the league totaling 9 errors only.
#7. Yogi Berra
One of the legends of MLB, Lawrence Peter (Yogi) Berra, an 18-time All-Star, had served for 19 seasons as a professional baseball catcher, and later retired as a manager and coach. He mainly played for New York Yankees from 1946 to 1963, and then '65.
He had played in 10 World Series Championships, which is a record because no other player up to now has played in so many. As far as his career scores are concerned, Berra had a batting average of .285, had hit 358 home runs and 1430 RBIs.
He is one of the only six players who had won the AL MVP award three times. He is a household name in the world of American Baseball as tournaments could not wait to sign him up, and he was even elected in 1972 for the Baseball Hall of Fame.
Before becoming a baseball player, he had served in the US Navy during the Second World War as a gunner's mate and had even won a Purple Heart. He made his debut with the Yankees at the age of 21 in the year 1946, and though he was a short player (5 feet 7 inches), he was a superb hitter and a larger-than-life defensive catcher.
After he retired from the Yankees, he served as their manager for decades, and then in 1965, he became a coach to New York Mets where he served for a decade as well. Later he coached and managed Houston Astros, AL, and NL teams, the latter two to World Series.
Overall he had coached for 22 World Series, where 13 times the team coached by him had won. The Yankees honored him with a plaque in Monument Park, and fans chose him to be in the MLB All-Century Team. Later he opened the Yogi Berra Museum and Learning Center on the campus of Montclair State University in 1998.
Yogi Berra inspired millions as one of the best catchers in MLB and died at the age of 90 in September of 2015. Strengel, a manager of Hall of Fame, spoke very highly of Berra and even mentioned that in the records Berra has achieved the position as one of the greatest MLB catchers of all times.
#6. Yasmani Grandal
With 8 years of MLB experience and still running strong, this Cuban baseball star had started his journey in 2012. He has a career fielding percentage of .9943, and had played for San Diego Padres, Milwaukee Brewers and Los Angeles Dodgers, currently playing for Chicago White Sox.
Yasmani Grandal is one of the best MLB catchers available these days, even in free agency, and this comes as no surprise. In 2019, among those who had 400 plate appearances, Yasmani has been ranked as the 2nd best hitting catcher and the third-best overall defensive catcher.
Grandal is an all-rounder who has served as a catcher across six seasons, and his performance during the last 5 seasons, had been phenomenal. If you take a quick glance at his OPS+ marks across the six seasons, you would get a clear picture-111, 112, 118, 101, 121, and 119.
In the 2019 season, he had scored .380 OBP and .468 slugging, almost as good as the performance given by Tommy Pham and Francisco Lindor. Yasmani has also established double-digit homers for six seasons consecutively.
Not only that, but Grandal has also proven himself as an elite pitch framer ranked second-best in 2019 and 3rd best over the last three seasons. According to Wins Above Replacement, Grandal has won the 20th best position player ranking.
Having shown constant improvement with the Los Angeles Dodgers from 2015 through 2018, Grandal had completed the 2018 season with a batting average of .241, 24 homers, 68 RBI, in 140 games.
With the Milwaukee Brewers, in the 2019 season, he batted at an average of .246/.380/.468 with 77 RBI and 28 home runs. He signed a contract with Chicago White Sox in November of 2019 and has been playing with them ever since.
#5. Ivan Rodriguez
https://www.youtube.com/watch?v=7FAjM0rMN8o
Nicknamed 'Pudge', this legend is a former MLB catcher. He played majorly for Texas Rangers, Florida Marlins (now Miami Marlins), New York Yankees, Detroit Tigers, Washington Nationals, and Houston Astros.
He is one of the best catchers in MLB history, having been awarded AL MVP Award in 1999, and having won the World Series with Florida Marlins in 2003. With a career putout total of 14,864 as a catcher, Rodriguez established a record by catching his 2,227th game crossing Carlton Fisk.
He had also hardened his footing in the MLB career by scoring the highest caught stealing percentage at 45.68%. Based on his sky-high popular voting, in 2017, he was elected to the National Baseball Hall of Fame and Museum in Cooperstown.
He started his career with the Texas Rangers in 1991, and within a short time, at the age of 19, became the youngest known catcher of MLB history. From 1992 to 1995, Rodriguez had played for the Puerto Rico Winter League, American League, and Texas Rangers with a batting average of .298 among catchers, and having won the title of Texas Rangers' Player of the Year.
By the middle of 2005, he was the only player in the past 35 years who had thrown out 48% of the base stealers. In 1996, Rodriguez set an MLB record for scoring the most doubles by a catcher, amassing 47 over the season, and beating the previous record of 42 by Mickey Cochrane.
Throughout nine different seasons, Rodriguez has eclipsed the 50% mark whenever it came to cutting down runners from swiping a base.
"I take a great pride at my defensive game. That was the main part of my game," retorts the renowned MLB catcher, "I had a good career offensively, but, to me, there's nothing like throwing a guy out trying to steal and killing the other team's rally. That's what I came to the ballpark to do every day."
He was short and stocky, 5'9" and 205 lbs, but that stature had given him the ability to block the plate making it difficult for the base runners to reach their destination.
During his career as a catcher at the MLB, he had to handle a veteran pitching staff consisting of players including Nolan Ryan, Jose Guzman and Kevin Brown, and he dotes on the support he received from the experts.
"I came up young and caught a lot of veteran pitchers. They really taught me how to call a great game," says the catcher, "They didn't treat me like a kid. They felt I was here, so I must be able to do the job."
During the seasons of '96, '98 and '99, Rodriguez's catching ability dazzled his mentors and fans, with batting averages of .300, .321 and .332 in each season respectively. In the season of '99, he hit 35 home runs, 113 RBI, stole 25 bases, and picked 10 runners off base.
When Florida Marlins went to play against the Chicago Cubs in the NL Championship Series, Rodriguez scored 2 home runs, .321 batting average and 10 RBI, and became known as the MVP of NLCS. Pudge has won 13 Gold Gloves, the highest a catcher has ever won.
#4. Gary Sanchez
A Dominican professional baseball catcher, Sanchez has been playing for New York Yankees since 2015. By the time he had played only 53 games, he had won recognition as the AL Rookie of the Month and the Player of the Month for August 2016.
Not only that but by the year 2017, he was already acclaimed as an All-Star and Silver Slugger, and he is one of the best catchers in MLB right now. He has hit 100 home runs and has got the title of the fastest catcher in MLB history.
Having joined the Yankees in July 2009, and ranked as the Yankees' seventh-best prospect, he was promoted for playing for the Staten Island Yankees in 2010. He completed the season with a batting average of .329/.393/.543, 8 home runs, and 43 RBI, in 47 games.
Sanchez started his journey in MLB in October 2015 as a pinch hitter, where he was soon included in the Yankees 25 man roster for AL Wild Card Game. After that, Sanchez resumed playing for AFL and was given the title of Most Valuable Player of the Fall Stars Game.
In 2016, he served as a backup catcher to Brian McCann, and by the end of the season, he scored a batting average of .299, 20 home runs, and 42 RBIs in only 53 games. He also made the best average pop time to second base on defense among all MLB catchers in 2016.
Sanchez faced a minor setback in 2017 due to a strain on his right brachialis muscle and was included in the 10-day disabled list, having missed 21 games. But as soon as he came back, he hit the hardest and the farthest home run ever in his career against Baltimore Orioles.
By the end of the 2017 season, on defense, Sanchez had an arm strength of 87.8 and an average of 1.93 seconds of pop time to second base, among all MLB catchers. Though his performance during the 2018 season was inadequate due to multiple injuries that he had been subjected to, he came back stronger in the 2019 season by hitting his 100th career home run against Los Angeles Dodgers.
This earned him the fame as the fastest catcher ever to have hit 100 home runs, and the second-fastest catcher of all times to have hit 100 home runs. Presently he holds the highest single-season home run totals, and climbing up to the same position as Yogi Berra, as the second with a multiple 30 homer years.
#3. Bengie Molina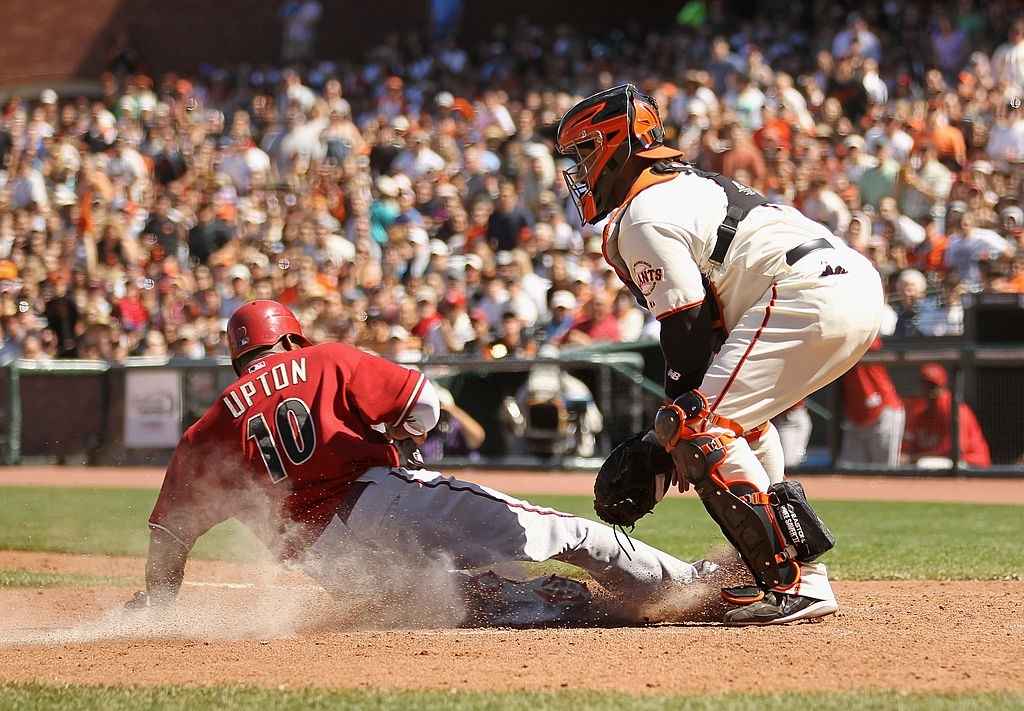 Bengie Molina, nicknamed Big Money, the other highly acclaimed defensive MLB catcher and a sibling of the Molina trio, has a career fielding score of 0.9941 and has played with Los Angeles Anaheim Angels, San Francisco Giants, Toronto Blue Jays, and Texas Rangers.
With a career track of 13 years in MLB starting from 1998 to 2010, Bengie Molina, being the oldest of the three Molina siblings, had led the way of his younger brothers Jose and Yadier to being expert catchers at MLB.
In 2002 and 2003, Bengie Molina had won the Gold Glove reserved for some of the best MLB catchers of all time. After he retired, he served as a color commentator on the Spanish language radio broadcast of St Louis Cardinals, and he still occupies the position. He is currently serving as an instructor for the catchers of Texas Rangers.
He entered Los Angeles Anaheim Angels in 2000 as their regular catcher and remained so across several seasons up to 2005. During the 2002 World Series, he won his first championship ring against the San Francisco Giants. During his games with the San Francisco Giants between the years 2007-2010, he won the Willie Mac Award winner for two years in a row.
He joined the Texas Rangers in 2010 and achieved the grandest form of recognition during his play there. In the entire history of MLB, Bengie Molina is the first catcher to hit a grand slam and hit for the cycle in the game of 2010 Texas Rangers against Boston.
#2. Jose Molina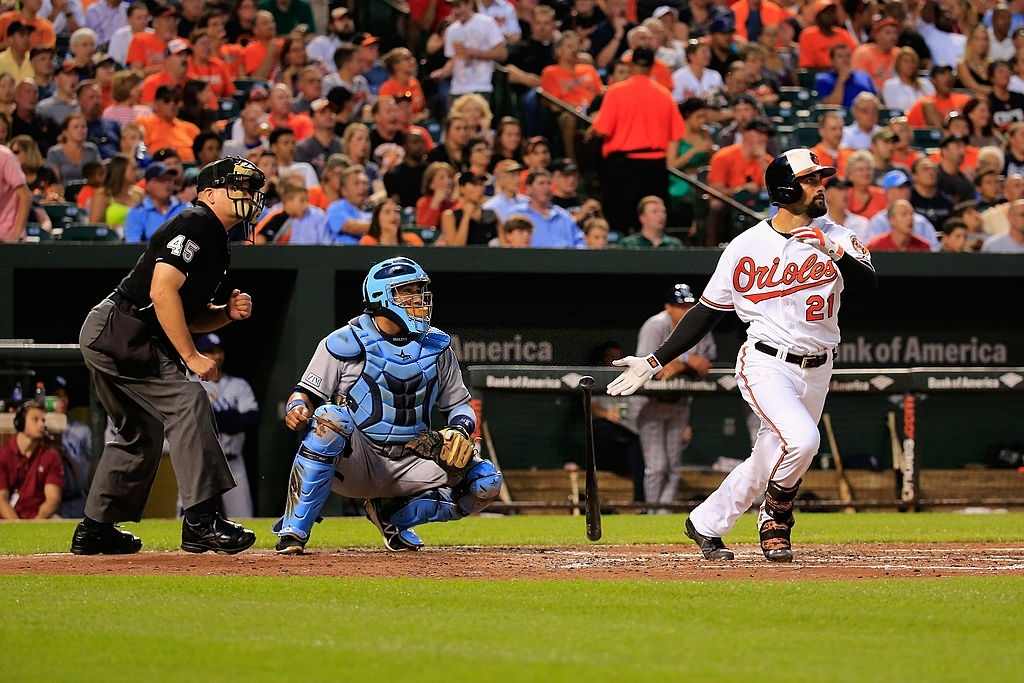 One of the siblings of the power-packed trio of Molina brothers, Jose Molina, is definitely one of the top ten catchers of all time. With an excellent track record of 15 years, commencing from the year 1999 to 2014, this star player has an established fielding percentage of 0.9940.
Jose has shown an astounding performance at MLB playing with teams such as the Chicago Cubs, New York Yankees, Toronto Blue Jays, Tampa Bay Rays and Los Angeles Angels. Jose Molina, in the same ranking as an MLB Defensive catcher as his other two siblings, has twice become the World Series Champ against the Anaheim Angels and the New York Yankees in the year 2002 and 2009 respectively.
Known to be a former Defensive Catcher at MLB, and a natural at handling pitch-framing and managing pitching staffs, Jose is also a two-time silver-medalist with Puerto Rico. Presently, he coaches Los Angeles Angels teams for the Puerto Rican Professional Baseball.
During the 2002 season, Jose entered into the team of Anaheim Angels as a backup catcher for his brother Bengie, and also as a starter catcher in the 2006 season when Bengie had departed the Angels.
In July 2007, Jose was traded into the New York Yankees, and by December he was selected for a two-year deal. When Jorge Posada suffered a shoulder injury, Jose served as the team's starter catcher for a short time, until Ivan Rodriguez entered the scene.
In 2015, Jose joined the Los Angeles Angels of Anaheim as their minor league catching coordinator to train the catchers. According to 2019 season stats, Jose Molina occupies 85th position as a catcher with a career total of 6,033 putout score as a catcher.
#1. Yadier Molina
The youngest of the Molina brothers, Yadier Benjamin Molina, nicknamed Yadi, is currently the best catcher in MLB history. With a track record of 16 years, having started in 2004 and running, Yadi has a career fielding percentage of 0.9948 and has been serving as a professional baseball catcher for St Louis Cardinals of MLB ever since he started his career.
When talking of astounding catchers, Yadi is one of the first names that come to mind, and he is the recipient of countless accolades including 6 Fielding Bible Awards and 9 Rawling Gold Gloves. A two-time World Series Champion and two-time Silver Medalist with Puerto Rico, Yadier ranks second among catchers with a score of 150 Defensive Runs Saved or DRS.
He is also the first among active catchers with 845 assists, 213 all-time runners caught stealing, and 55 pick-offs. The accolades do not end here. He also lists in the top 70 catchers in terms of games played, the number of assists, fielding percentage, and double plays turned.
Yadier is also a recipient of 4 Platinum Glove Awards and 1 Silver Slugger Award. Having received training and inspiration from his older brothers, he is a natural team leader on the field, and one of the longest-tenured players playing for one team since 2004.
Regarded as the only catcher in the Cardinals' history to have appeared in 5 postseasons, and after Johnny Bench and Yogi Berra, he became the third catcher to participate in two World Series before turning 25 years of age.
Remarkably, he leads among all catchers as far as double plays, stolen bases, put-outs, total chances, and starts are concerned. He is considered to be a savior to the Cardinals, and one of the youngest ever catchers in MLB history with magnificent scores up to date.
Wrapping it up
A catcher's performance in a team is measured by the way he manages to communicate effectively with the pitchers, the number of putouts he scores, and how he masters the fielding positions. Overall, a catcher is expected to be active and aware at all times, and if he is an all-rounder, then even better.
What do catchers do? He crouches behind the home plate, in front of the umpire, and waits to receive the ball from the pitcher, and stop the runner from reaching the bases. More or less, a catcher is similar to a wicketkeeper in cricket games. Some of the veteran baseball players turn out to be phenomenal catchers over the years. So, who are the best defensive catchers of all times in MLB?
Ivan Rodriguez is blasting the charts in the current times with total career putouts of 14,864 as a catcher. Following him is Yadier Molina, the youngest of the Molina phenomenon, with a PO score of 13,434 as a catcher.
Aside from the current trendsetters, are the legends like Yogi Berra, the two Molina brothers catchers Bengie and Jose Molina, and Brian Schneider.
Promising newcomers like Yasmani Grandal and Realmuto have become fan favorites in a short time with their astounding performance. In the ever-changing world of sports, these faces have and will keep inspiring and entertaining millions of baseball lovers all around the world.