Josh Smith, an outfielder for the Rangers, was struck in the face by a pitch and was taken to a nearby hospital with a terrible injury. The incident occurred in the top of the third inning when the shortstop was hit by a fastball from Danny Coulombe of the Orioles.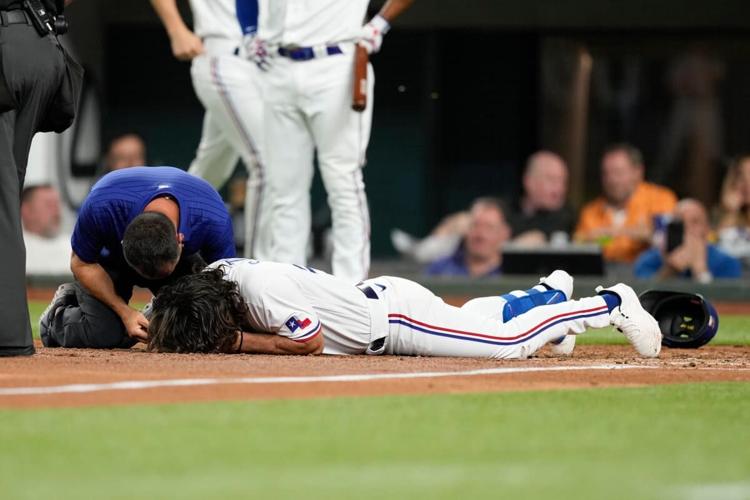 The Rangers defeated Philly by a score of 2-1 to complete the sweep, but they were defeated by the Baltimore Orioles by a score of 2-0 in what was their first scoreless contest of the year.
How did Josh Smith get hurt and break his jaw?
Smith was hit on the right side of his face by Coulombe's 1-0 slider in the third inning. Danny's 88.5 mph sinker appeared to have gotten away from him and the pitch hit the Ranger players so hard that he immediately turned to his left and held his face with his right hand as he fell to the ground in agony. The team later acknowledged that Josh had a fractured jaw.
Yikes, Josh Smith just took an 89 MPH pitch to the jaw pic.twitter.com/UUVfmjQeN4

— Ben Palmer (@benjpalmer) April 4, 2023
The team said after the incident, "He was struck on the right side of his face by a pitch in the bottom of the 3rd inning."
The 25-year-old received initial care from the medical staff right away, and he was later taken to a nearby hospital for more extensive testing. Though the length of his absence from duty is not yet known, it is not anticipated to be very long. SJ is now feeling better, and the results of his test were also positive, according to Rangers manager Bruce Bochy.
"He got hit in the face area, in the lower jaw. We did take him to the ER. He had some CT tests. They came out clean. So, we got good news there. He's feeling better as I'm speaking right now. Tomorrow, we'll just reevaluate him," Bruce remarked.
The incident served as a terrifying reminder of the risks associated with playing professional baseball, though Josh's condition is fortunately not that serious.
Smith's fans and the entire Rangers family, however, are eagerly awaiting his quick recovery and return to the court.