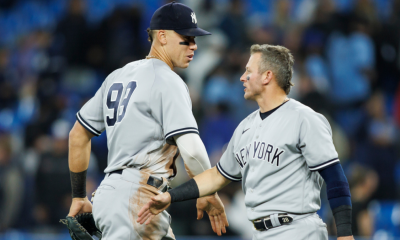 MLB
Josh Donaldson firmly desires exit from Yankees amid Aaron Judge's glory everywhere
Aaron Judge is in the form of his life as he is regularly striking out-of-the-stadium home runs and winning matches for his team. However, his eye-popping...
On Wednesday, the New York Yankees star Aaron Judge struck his 61st home run of the season while playing against the...
More Posts
Conor McGregor, who fought in the lightweight division and holds the record for reigning...

TJ Dillashaw started his glorified UFC journey in 2011, where he reigned twice as...

It's entertaining to watch videos of dude perfect's shooting long-range basketball. Steph Curry recently...

Draymond Green is among the NBA's most vocal advocates for LeBron James. The Klutch...

The fight between coach and player isn't uncommon in sports. Nate McMillan and Trae...

Partnerships with sports brands like Nike, Adidas, and Puma are always a dream for...

Birthdays are special days for everyone. People celebrate their birthdays for making the day...

The head coach of the Tampa Bay Buccaneers Todd Bowles is tired of failure...

The scandals of an athlete are very common in media history. Recently, Nia Long...

Aaron Rodgers is a beast quarterback, as the entire NFL universe knows. The MVP...