Canada is a sports enthusiast nation. Whether it is professional or amateur sports, Canadians always find interest in any kind of sport. That is why the study found that around 77% of Canadians, which is more than three-quarters of the population, follow professional sports.
Usually, Canadian sports fans are more educated than any other sports-loving nation in the world. They also come from socially engaging, high economic cultural values. You will be surprised to know that almost one-third of Canadians watch sports every day.
All this data may wonder you, and you may ask, what are the most popular sports in Canada?
Well, we will give you an idea about that in this article. Read on to know the 10 most popular sports in Canada.
#10.

Golf
With around 2,700 golf facilities, including 921 9-hole courses, Canada is the third biggest golfing nation. Although the country has 310,000 registered and overall 1.5 million golfers, golf is not very popular in Canada.
Canadians started playing golf from the 1850 to 1900 centuries, and the country has had numerous professional golfers over the centuries. Unlike other countries, 90% of the golf courses in Canada are open to the public. However, Montreal Golf Club was the first golf club in Canada, which was founded in 1873, and since then, golf has become popular in Canada.
#09.

Basketball
Both men and women in Canada play basketball year-round in different levels of competition. Although professional basketball started in 1946 in Canada, it got popular in 1994 after Toronto Raptors and Vancouver Grizzlies enlisted in the NBA.
Around 354,000 youth aged between 3 to 17 play basketball in Canada, and it is the sixth most popular sporting activity for Canadians. However, basketball is getting popular among adults too. The Millennials, immigration, and the NBA have been contributing to gain the popularity of Basketball in Canada.
#08.

Curling
Outside of Canada, curling is known as bewilderment. Curling was invented as far back as 1511 in Scotland but came to Canada in 1985, and the first curling club was established in 1987 in Lethbridge, Alberta. After that, curling became an essential sport for grassroots Canada, and gradually all ages of participants from all levels found a lifetime persuasion.
Among the Canadians, 1,986,000 people curled at least once in their life. Nevertheless, around 80-90% of the world's curlers are from Canada.
#07.

Rugby
Rugby union is moderately popular in Canada. An early form of rugby was first played in 1923 in Canada, mostly in east Canadian towns. Although there are not many rugby players in Canada, there are around 30,000 adults who play rugby at some level.
Despite being a moderately popular sport, Canada participates in many international events such as Rugby World Cup, Churchill Cup, etc. Canada doesn't have any full-time professional league as they are a tier two rugby nation.
#06.

Soccer
Soccer is the fastest growing and largest participatory sport in Canada. According to FIFA, 2.6 million Canadians played soccer in 2006. Hence, in terms of participation rate, soccer is the most popular sport in Canada. However, Canada participates in Major League Soccer, United Soccer League, and Canadian Premier League for professional soccer.
Currently, there are 1 million registered soccer players in Canada who play in 1200 clubs available in 13 provincial/territorial member associations. Canada's men's national soccer team ranked at 78th in the FIFA World Ranking, and the Women's national soccer team ranked at 7th.
#05.

Cricket
Until the popularity of Ice Hockey exploded in the early 20th century, Cricket was considered the most popular sport in Canada. Due to its popularity, the first Prime Minister of Canada, John A. Macdonald, declared Cricket as the national sport. With more than 40,000 active cricket players, it is now the fastest-growing sport in Canada.
Canada has participated in four Cricket World Cups in 1979, 2003, 2007, and 2011. However, Canada is yet to be approved by the International Cricket Council (ICC) to play test matches. In 2018, Canada got the approval from ICC to start Global T20 Canada, the first franchise-based Twenty20 league in North America.
#04.

Baseball
The world's first baseball game was played in Beachville, Ontario, on June 4, 1838. During the 19th century, Canadians participated in numerous level competitions in the country. Currently, the Toronto Blue Jays are the only major league team.
However, minor league baseball is played in around 75 Canadian cities and towns. Reportedly, 120,000 Canadians played baseball in 2016, which is increasing approximately 14% rate each year.
#03.

Canadian Football
In terms of the spectator, Canadian football is ranked second in the list of most popular spectator sports in Canada. Moreover, the Grey Cup, the annual championship of Canadian football, is considered one of Canada's largest annual sports events. During the grey cup festival many casino platforms offer lucrative deals on online casinos for real money, which enables the fans to earn a hefty amount of bucks. It is fun and a way to connect better with the game.
Although Canadian football originated from rugby in the early 1860s, Canadians did a unique modern football sport. The first documented football game was played at the University of Toronto on November 9, 1861. Canada has their own national football league named Canadian Football League (CFL).
Nevertheless, CFL is the third biggest sports brand in Canada, and almost 50% of Canadians follow this league at some level.
#02.

Lacrosse
Lacrosse is the national summer sport in Canada. Beginning of the 20th century, lacrosse has become one of the most popular sports in Canada, and modern lacrosse got its popularity in the 1800s. Whenever there is a lacrosse game, the stadiums are always full. It is considered an integral part of Canadian culture.
Currently, more than 100,000 registered players play lacrosse across Canada. However, there would be more unregistered participants. Lacrosse might not be popular in other parts of the world, but it has immense popularity in North America. Due to its popularity, it was included in the Summer Olympics.
Moreover, Canada is a major rival in world lacrosse, and in 2006 they won the World Lacrosse Championship after 28 years by defeating the USA.
#01.

Ice Hockey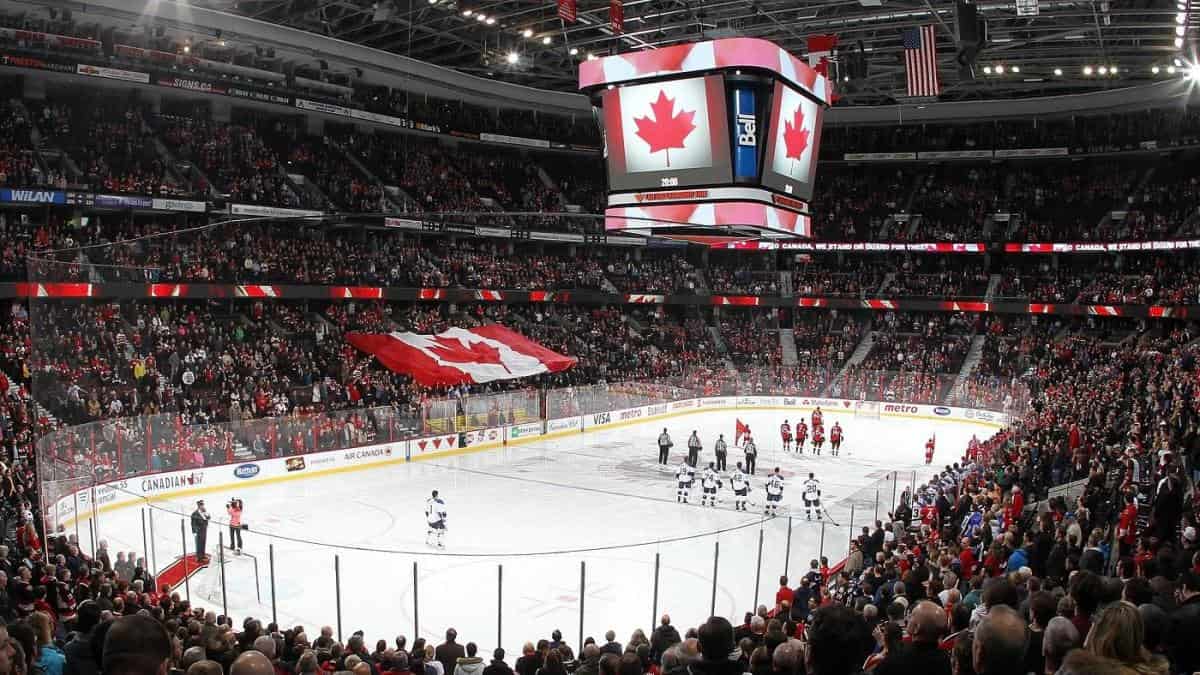 If you wonder, what is the number 1 sport in Canada? Ice Hockey is the answer.
Ice hockey is the number one popular sport in Canada, and it is the national winter sport of Canada. Although hockey was played in Europe and Canada, it found its home in Canada. Currently, 42.7% of the NHL players are Canadian-born.
In 2010, 1.3 million Canadian adults participated in ice hockey. When it comes to the most popular hockey teams, Toronto Maple Leafs and Montreal Canadiens are the top favorite teams.