Lucas Pouille triumphs over adversity: Qualifies for French Open 2023 after battling depression and overcoming challenges
Former top 10 tennis star Lucas Pouille has made an incredible comeback and secured his spot for the French Open 2023 after emerging triumphant over alcoholism and depression.
Pouille was hailed as the future of French tennis and was tipped for great success. But the Frenchman's fortunes turned sour after an elbow operation in 2020, when he suffered a slew of injuries. After a long hiatus, Pouille returned to the tennis court in 2022 for one final shot at reclaiming his former glory.
Currently positioned at World No. 670, Lucas Pouille defeated Tomas Machac and Tseng Chun-hsin in the first and second qualifying rounds. He then defeated Jurij Rodionov in a thrilling 1-6, 7-5, 6-0 victory in front of the home crowd.
Lucas Pouille qualifié pour le tableau principal !! #RolandGarros pic.twitter.com/dAuGivNeiS

— FFT (@FFTennis) May 25, 2023
The former World Top 10 succumbed to alcoholism and depression
The 29-year-old Frenchman, who once ranked among the top 10 in the world, suffered a devastating fall from grace. At Wimbledon and the US Open quarterfinals in 2016, the Frenchman's career reached its pinnacle. His breakthrough victory came at the 2019 Australian Open, where he advanced to the tournament's semifinals for the first time.
Pouille admitted earlier this year that he had fallen from being a top 10 player to struggling with addiction to alcohol and depression. He also expressed his desire to bounce back from adversity and return to the court after spending some time away.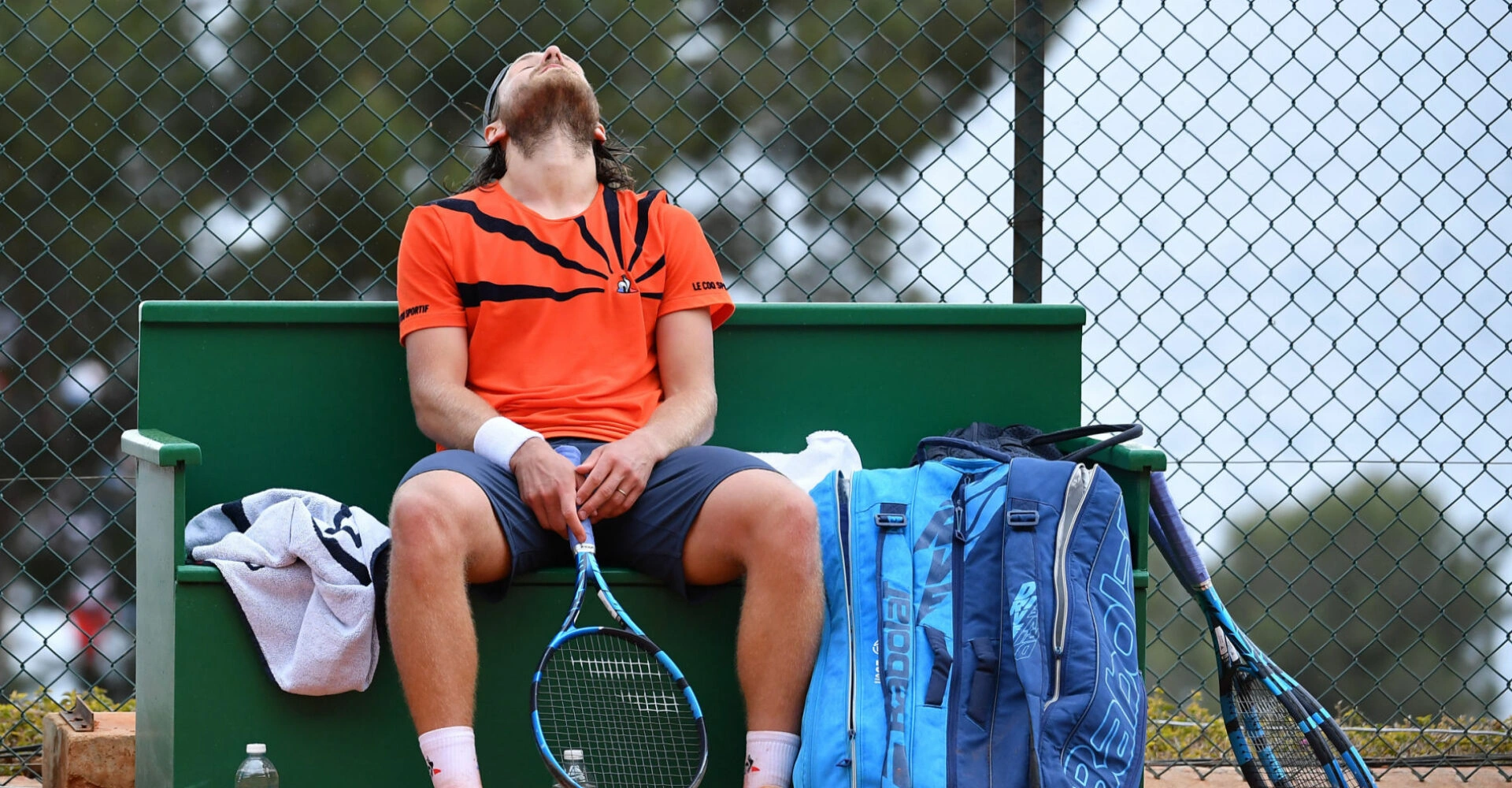 "I started to have a darker side and went into a depression that led me, after Roland Garros, in England, to sleep only one hour a night and drink alone," he said.
"It was impossible to close my eyes. I was in a bad phase. And I made the decision to say stop. Otherwise, I would have ended up in Sainte-Anne at the crazy house. For my mental health, I had to stop."
Lucas Pouille and daughter receive guard of honor
In a short 8 second video clip that emerged on social media, Pouille was seen walking through a guard of honor from the ball kids while carrying his 2-year-old daughter, Rose.
Lucas Pouille carrying his daughter after qualifying for Roland Garros is just so wholesome.

This man has been through the ringer.

He's been knocked down by alcoholism & depression

But be sure of this… he's standing back up. 🥹

— The Tennis Letter (@TheTennisLetter) May 25, 2023
It seems like this is the first good news of the Rolland Garros, despite the main tournament not even kicking off, as the local boy qualifies to bring joy to the French crowd after falling heavily from grace.