To what extent a player is underestimated that he or she may enter into the list of most underrated NBA players list is always a debatable issue. Then again, it will be an injustice to the names- mentioned in the following writing- if some less known faces do not get a proper acknowledgement for their achievements.
These players, who played with the greats, have remarkably been a driving force behind the team. However, in their effort to play for the team, they have often been overlooked in the history of NBA.
What is it to be the most underrated NBA players?
Well, let's ask ourselves, who can answer this question?
Definitely the ones who have been dubbed as the most underrated NBA players
Every sport has long been witnessing its respective 'gods of all time' or GOATs. Their flamboyant and unique playing style outshines many. Lost in their light are many players playing in the same era and playing with the same lucrative style.
However, they often go unnoticed in and outside the field. Despite achieving fantastic stats, history and media keep failing to spot them, ultimately giving no respect they really deserve. Here is a list of those 10 most underrated NBA players whose achievements and skills have been worthy but due to some reasons or the other, they have not been mentioned anywhere in the history book of NBA.
#10. Dennis Rodman
Nicknamed 'the Worm', Rodman was one of the greatest defenders of his time. He was at the peak of his career while playing for the Chicago Bulls. Although he had also played for the LA Lakers, he recorded his most dominant phase for the Bulls. Dusted off as a player with useless tattoos and piercings, Rodman is undoubtedly a unique player.
Dennis won 5 Championships and played in 2 All-Stars Games. He also bagged 2 NBA best defensive player of the year and featured in 7 All Defence First Team. If all this was not enough, he surprisingly snatched 7 NBA rebounding Champion with his extraordinary skills. However, this isn't enough for NBA pundits to give him a spot in the Hall of Fame. Shame!
Rodman has often been criticized for disrupting games with his aggression with other players. Agreed, but that is no excuse for letting his performance go unnoticed. The GOAT Michael Jordan once said about Dennis that he was destined for greatness. He is undoubtedly one of the most NBA underrated defenders of all time.
#9. Dominique Wilkins
He is undoubtedly one of the best Dunk masters in the game, and arguably one of the most underrated small forward in basketball history. Nicknamed as the 'Human Highlight Film', Wilkins was unstoppable in his time. His inexhaustible agility and strength rewarded him with the 23 out of 23 free throws record.
With an average 25 ppg in 10 consecutive seasons, Wilkins featured 9 times in the All-Stars Team and became NBA scoring Champion once. Besides, he won the Slam Dunk Championship twice and had also been mentioned in the All NBA First Team. His achievements have also landed him in Naismith's Hall of Fame.
All the achievements of Wilkins sadly were not enough for making himself conspicuous, and thus the hard-stinging truth of quantity outshining quality once again repeats itself.
Another dominant factor for him to be in the most underrated list is the era where he was born. However, at the end of the day NBA fans will never deny that Wilkins was unstoppable in his heydays and is rightfully in this list of underrated NBA players.
#8. Jerry West
Ever wondered who features on the NBA Logo. Yes, correct, it is a silhouette of Jerry West. Admit it now, how many of you did know this mind-boggling fact? Exactly, it is a shame. Nicknamed 'Logo' for this reason West was one of the best Point Guards in the game. Playing for the LA Lakers straight out of the First Draft, West drove them to be one of the best in NBA.
Mastering the Jump Short and being an excellent shooter, West bagged many achievements with his skills. Living legend Jerry has an NBA finals MVP and an NBA Championship to his name. He also starred a magnanimous 14 times in the All-Star Games and 10 times in the All NBA First Team. West has also been awarded the Presidential Medal of Freedom and has coached LA Lakers for a time as well.
He has also earned his spot in 4 NBA All-Defensive First Team and in Naismith's Hall of Fame. However, this isn't enough for him to be known far and wide. It is depressing that such a phenomenal talent features in the top 10 underrated NBA players list.
#7. Alex English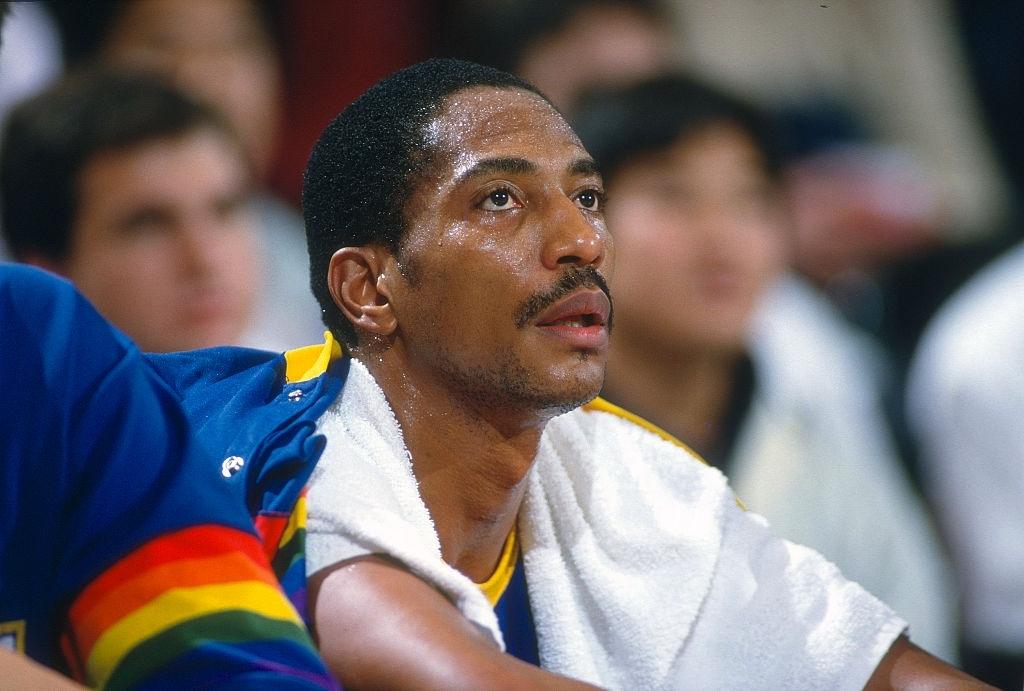 English was the brief spark that hit us and went through even before we realized it. Undoubtedly the most underrated small forwards in the game, Alex was a master of the game. He is still the leading scorer for the Denver Nuggets and has featured in the 11 spots of the NBA all-time scoring history list.
Mastering the High Release Shot, English was an extremely agile and enthusiastic player. One may ask about his achievements, which are not many to validate his performance. We admit this fact. Then again, we would request you to reconsider the fact that skills also matter along with the numbers or stats of a player. Beating Magic Johnson and Larry Bird, the all-time greats of the game, English turned out to be the greatest scorer of 1980s. In that same season, he pulled off an average of 25 ppgs and stretched it for an entire decade.
His high-flying offensive style of play earned him 8 NBA All Star Games and he retired as 6th of the NBA all time scoring list. However, he was no different from being another victim of the era. His efforts could not be acknowledged well as others outshone him.
However, we consider he deserves way more respect than he usually receives. Technically he is one of the most underrated NBA players, though the authority's justification would be numbered. Nuggets retired No. 2 in his honor. But still, he deserves huge respect and honor from us.
#6. Nate Thurmond
Talk about the greatest victims of being overshadowed by greater presence and Thurmond would be in this discussion, undoubtedly. Playing alongside the all-time great, Wilt Chamberlin and Bill Rusell, Nate played 11 seasons for the Golden State Warriors.
Nate again has many achievements to validate his skills. Though he hasn't won any Championships he had 7 NBA All Stars to his name and was also included in the 2 All NBA Defence Team. To compliment things further, Nate was the first player to record the Quadruple Double.
However, as already mentioned, he was hugely overshadowed by Wilt Chamberlin's and Bill Rusell's presence. Yet as a gesture of gratitude to his performance, Golden State Warriors retired No. 42. Sometime later, when block shot was a statistical category, the NBA included him in their 50th All Time Team. He is known for his ferocious defending and thus is one of the most underrated NBA defenders in the game.
#5. Lafayette 'Fat' Lever
Nicknamed as Fat Lever, he features from the same team as English, Denver Nuggets. Playing as a Point Guard, Lever should have been considered in top 5 of the Nuggets. However, a victim of the era, he has slid between and is now lost.
Lever's best season was arguably 1988-89's season. In that season, he achieved 9 steals in one quarter. In that same season, he averaged a total of 19.8ppgs, 9.3rpgs and 7.9 apgs. Thus, he is not any different from English. His fame was short lived and was done in no time.
Though he has 2 NBA All Stars Games and one All NBA Team, his numbers are bleak. Therefore, he receives the consolatory respect from Denver Nuggets.
#4. Bernard King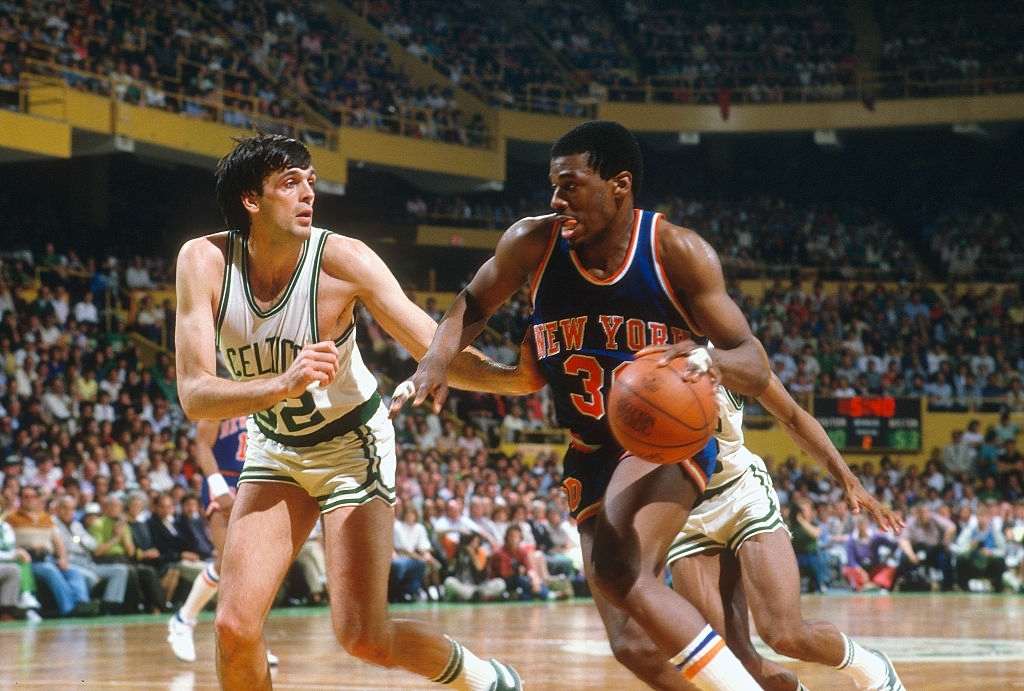 He has mastered the Spin move and is by far the most agile players the game has ever seen. He has often been regarded as the player having the fastest release in the Jump Shot. King has been one of the most underrated NBA players of all time.
In a straight explanation, at 6'7" King was unstoppable in the time when he was at his zenith of success. Bernard achieved a 22.5ppg with the Knicks. The season for Knicks was also the most dominant season. That same season, King held an average 28ppg and maintained it through the decade. King featured in 4 NBA All-Stars games and also 2 NBA First Team. He also has the NBA highest scorer for a season and a few more for his cabinet.
However, probably, these weren't enough for the association to give him a place in the Hall of Fame. The reason again stands undefined but we believe King deserves much more than what he gets. King is by far the most underrated NBA small forward in the game.
#3. Sam Jones
Jones could have been considered to be among the top 50 players in Basketball undoubtedly. To be honest, his Championship titles are just a number shy from that of Bill Russell's. Then why is he on this list of underrated players? There are no complementary answers to this.
Jones has several achievements along with his 10 Championship titles. He has featured in the NBA All-Stars Team for five times and has also featured in the All NBA team 3 times. To run along these, he has been mentioned in the 25th as well as the 50th anniversary team.
However, ask yourself and you will be astonished knowing the fact that many have no idea about who he really is and what are the achievements he gained in his career. The numbers are not as great as the other GOATs of the game. Though a victim of the era, he should have lived through the times given his exquisite style.
#2. Scottie Pippen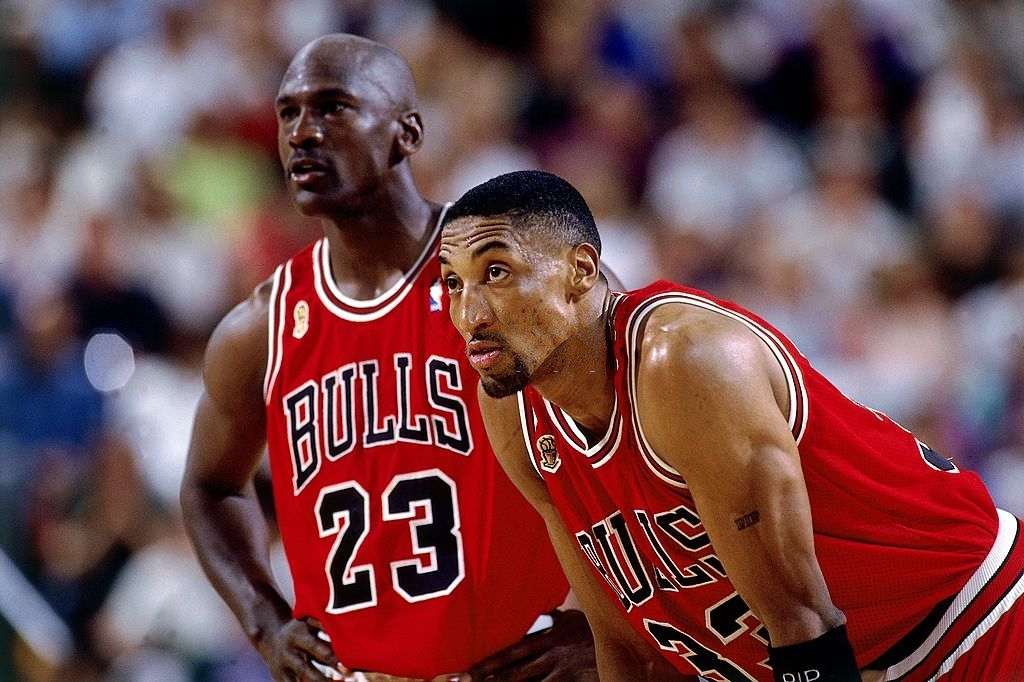 If you are playing alongside the great Michael Jordan and that too on the same team, it is very likely to see yourself being ignored by the media. However, what critiques overlook is that Pippen assisted Michael Jordan throughout the time of his career. Scottie Pippen has undoubtedly been the best defender in the game. Rodman was the only player who could alone stand side by side with Pippen. Let's not forget that Rodman was his teammate and has already been mentioned in our list of the most underrated NBA players.
Pippen has quite a few achievements to his name including 6 NBA Championships. He has featured in the NBA All-Stars Team 7 times and also has won the NBA All-Stars MVP. He has been the NBA Steals Leader and also featured in All NBA team 5 times.
Therefore, he got his cabinet shinning and has undoubtedly proven his worth. However, as already been mentioned, the negative impact of playing beside the great M Jordan, one is bound to be overshadowed. However, Chicago Bulls paid their respect to him by retiring the no 33. Undoubtedly, Pippen is one of the most underrated players in the NBA.
#1. Dennis Johnson
Honestly, how many of you have heard of him? You are definitely aware of the name Larry Bird and McHale. That is obvious. How about Johnson. The point guard from the Boston Celtics was the main man in regulating the play from the defence.
With achievements like 3 NBA Championships and NBA Finals MVP Johnson has proven that he is an excellent player. He also played 5 All-Star Games and Boston Celtics retired no 3 in his honor. Although in possession of such skill, he never played for himself but for the team. As a player, he has done his part. However, as fans and admirers of the game, we have failed to give him the honor and respect that he deserves.
Maintaining a performance at the time of Magic Johnson and Larry Bird isn't an easy feat but Johnson did it whatsoever. A fantastic basketballer and by far the most underrated player in the NBA.
As mentioned earlier, these players were dedicated to their team and have always worked towards a common goal. However, as we stated, as fans we have lost our way. We have failed to address other talents in our quests to ascertain the GOATs. This problem isn't just there in Basketball, it is there in every sport undoubtedly.
We should give other players equal respect as well as  they equally entertain us in the game. In our effort to look at the shooter and praise his/her skills, we forget the blocker, the point guards and the defence on which the entire team rests.
Most underrated players in the NBA today
The tradition of players going unnoticed and overlooked isn't over. Even today, overshadowed by the greats other talents that are more or less same go unnoticed. And honestly, it is nobody's fault, it is how things work. To take names in the present day, Devin Booker, Chris Paul, Khris Middleton, Spenser Dinwiddie, are the most underrated current NBA players.
Though this is quite depressing, we the fans should learn to be more supportive and appreciative of such underrated players. We need to have a better and more equipped understanding of the entire scenario to support our players further. Thanks to Golden Hoops we can have a better idea about the players we are missing.