Legendary quarterbacks like the current Kansas City Chiefs starter, Patrick Mahomes, are not created overnight. crafting Mahomes and ensuring that he stays on the right path so that he can prove his value on the field required a lot of physical activity and resiliency.
Thus, the quarterback documentary series will focus on the 2022 season and reveal the competition among quarterbacks on and off the field, with Mahomes, Kirk Cousins, and Marcus Mariota featured. Many NFL fans are eagerly anticipating the series, and in light of this, the Chiefs quarterbacks' personal trainer revealed the quarterbacks' workout routine.
Patrick Mahomes' training regimen unveiled
The 27-year-old 'reportedly' doesn't take a day off; instead, he tries to exercise daily for at least an hour and a half, concentrating on various muscle groups. The two-time Super Bowl champion works out three times a week on his own with personal trainer Bobby Stroupe to stay in shape. He has worked with Bobby Stroupe as his performance coach since he was in fourth grade.
When it comes to Pat, Stroupe is also eager to keep the quarterback "healthy" and "resilient." NFL viewers can expect to see the three quarterbacks' internal struggles to make it to the field, just as in the docuseries, before Stroupe shared some training methods,
"We train to be able to move in as many ways as possible. I believe in armoring the body in different movements to make sure that you are prepared to go where you don't want to go. You have to be comfortable in those uncomfortable positions or you're gonna be hurt."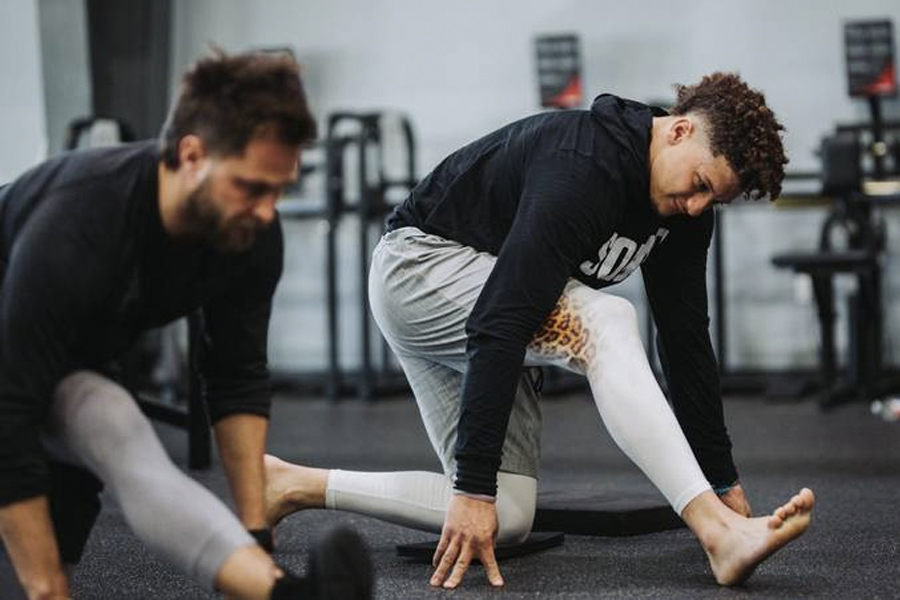 His personal trainer also recommended that he concentrate on strengthening his body against injuries and tissue resilience so that it can adapt to various positions. You can see how Patrick's training made a big difference in the Super Bowl game when he got hurt but kept playing and finally managed to win,
"There is something that we focus on called tissue resilience, working in different positions, to where his tissues literally have to create density and have to adapt to these positions I'm putting him in. And those things give you a little more of a resistance to injury."
He also added that he focused on a different strategy for each of the three days, naming them A, B, and C days according to the formula.
How many episodes of Quarterback will there be?
Eight episodes of the "Quarterback" documentary series will focus on the three quarterbacks, all of whom are at very different stages of their careers. Peyton Manning, a former NFL player, is the series' executive producer, and NFL Films and his Omaha Productions collaborated on it.
"Mahomes balled out. Kirk had a good year. Marcus is going to be back," Manning said.
The Hall of Fame quarterback provided details on what NFL fans could expect to see on the screen regarding their favorite quarterbacks. The eight-part series will give viewers a quick glimpse of the three quarterbacks' performances from training camp to the Sunday night game as well as their off-duty activities.
"Look — we've seen quarterbacks mic'd up for a game. We've certainly seen training camp. But we've never followed a quarterback throughout the entire season to see what he does Sunday night after a big win, after a brutal loss on a last-second field goal — what they do on Mondays and Tuesdays on their off days," Manning told Netflix.
It remains to be seen if the series comes back with a new season in the future. Such a series offers fans a rare snap at their favorite player's life.