After a blistering end to the proceedings of week 3, NFL fanatics and the players look towards the oncoming handful of games that is gameweek 4. With each team having played three games, they know all about their strengths and weaknesses and will surely be working upon those.
Each team having played three games results in a lot of contrasting situations across the spectrum. While teams like the Broncos and Rams are living large with three wins out of three, sides like the New York Giants are already struggling to find form. The coaching staff of each team now has an added responsibility of keeping morale up and finding new ways to eke out wins from difficult situations.
This week brings us a few fiery fixtures, the most notable of them being the Tampa Bay Buccaneers vs New England Patriots game on Monday evening. Tom Brady returns to his old stomping ground, arguably with a stronger side this time around.
Fixture list of gameweek 4
Bengals vs Jaguars
Jets vs Titans
Bears vs Lions
Dolphins vs Colts
Vikings vs Browns
Falcons vs Washington
Bills vs Texans
Saints vs Giants
Eagles vs Chiefs
Cowboys vs Panthers
49ers vs Seahawks
Rams vs Cardinals
Packers vs Steelers
Broncos vs Ravens
Patriots vs Buccaneers
Chargers vs Raiders
Thursday night football
Jacksonville Jaguars vs Cincinnati Bengals
I don't think any team has had a worse start to the campaign than the Jacksonville Jaguars. With three losses on the trot, the entire team looks short of ideas and is heavily dependent on the young shoulders of Trevor Lawrence. Sure, he is a brilliant QB who can turn the game around in the blink of an eye, but he needs a team that complements his skill. Right now, the Jags just aren't doing that. In the game against the Bengals, there is little hope that they will be able to walk away with a positive scoreline.
Prediction: Jaguars 15, Bengals 40
Games on Sunday
New York Jets vs Tennessee Titans
With two wins out of three games, the Titans will consider themselves to be at a relatively comfortable spot. On the other hand, the New York Jets are coming out of a hapless defeat at the hands of the Broncos and will be short on confidence. I can see this game going in only one direction.
Prediction: Jets 7, Titans 35
Chicago Bears vs Detroit Lions
There is no doubt about the fact that the Detroit Lions are in dire straits. They've lost three games out of three and look done for. It is evident from their performances that there is a lack of game time for some important players. However, they have the talent in their ranks to turn it around. they would not get a better opportunity than this game against the faltering Chicago Bears to steady their rocking ship.
Prediction: Lions 27, Bears 24
Miami Dolphins vs Indianapolis Colts
The Miami Dolphins almost managed to squeak out a win against the high-flying Raiders in last week's game. However, they weren't able to do so despite the team's incredible rally in the final quarter. Something tells me they will rout the Indianapolis colts to get their campaign back on track.
Prediction: Dolphins 42, Colts 13
Minnesota Vikings vs Cleveland Browns
The Minnesota Vikings were able to stitch together an incredible performance against the Seattle Seahawks last week. However, the Cleveland Vikings have a stronger defense than most teams in the league. That is why scoring against them is going to be a tough job. This game has everything in it to be one of the best matchups of this game week.
Ahead of this long awaited game, a lot of speculation already started, circulating only one question that matters: who is likely to win after ending all the spec? Such type of matchups require extensive analytical skill, are always difficult to predict the winner. But relax! we have scoured the internet and found some of the best betting news. With these news, you can pick out the team which is favorite to win the tie.
Prediction: Vikings 25, Browns 24
Atlanta Falcons vs Washington Football Team
With identical records after three games, this game promises to be a close affair. There won't be much flair on display because of the way in which both these sides are set up. In the end, the result might come down to the confidence levels of players, and the Falcons are riding high on that aspect.
Prediction: Falcons 32, WFT 27
Buffalo Bills vs Houston Texans
The Buffalo Bills this season has started to look like the Buffalo Bills of old. The players are clicking and the passes are sticking. Even their defense looks in better than shape when compared to the shambolic efforts of last season. In the game this week against the Texans, I expect the result to be in favor of the Bills.
Prediction: Bills 43, Texans 15
New Orleans Saints vs New York Giants
No critic or analyst in the entire country sees the New York Giants improving upon their dismal performances in the first three games. The New Orleans Saints should not have any problem in winning this one. However, they should not get complacent and lose control of the match.
Prediction: Saints 27, Giants 17
Philadelphia Eagles vs Kansas City Chiefs
Won one lost two. Nobody thought that the Kansas City Chiefs would be here after three games. Yet, here we are. The Patrick Mahomes-led outfit has to turn things around in this game and look to build momentum towards the playoffs. In the Eagles, they have a relatively weak opponent and the team should be able to make light work of them.
Prediction: Eagles 12, Chiefs 28
Dallas Cowboys vs Carolina Panthers
Both Cowboys and the Panthers have been two of the star performers in the NFC. While the Cowboys, led by Dak Prescott, have won two games, the Carolina Panthers have won all three matches. This game promises to be a fiery affair owing to the pre-existing rivalry between the two sides.
Prediction: Cowboys 43, Panthers 17
Sunday late games
Green Bay Packers vs Pittsburgh Steelers
After stitching together an incredible comeback against the 49ers, the Packers must be riding high on adrenaline and confidence. That is why I believe that the Steelers won't pose much of an issue for them. If the Steelers manage to turn a corner and produce a masterclass, then the Packers might have a problem on their hands.
Prediction: Packers 35, Steelers 19
Denver Broncos vs Baltimore Ravens
The Denver Broncos have produced some of the most scintillating performances in the first three game weeks this season. All of that is thanks to the brilliance of QB1 Teddy Bridgewater. When they come up against Baltimore Ravens on Sunday, it will be very difficult for the Ravens to salvage a positive result from the match.
Prediction: Broncos 24, Ravens 21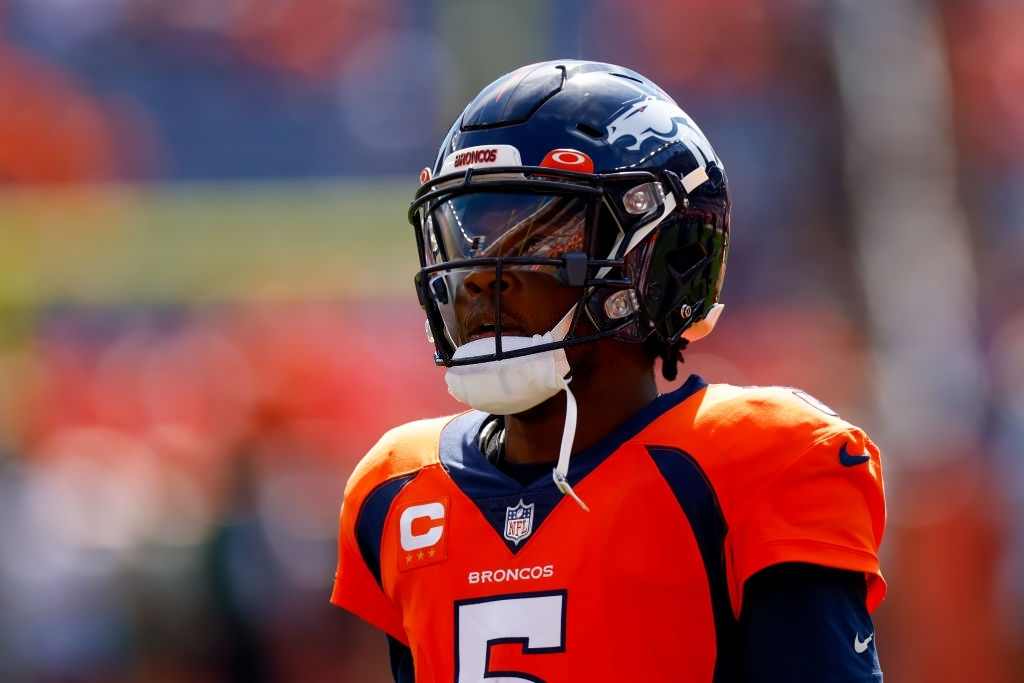 New England Patriots vs Tampa Bay Buccaneers
Hands down the most interesting game of the entire week, the Bucs vs Pats game is sure to stir up some memories at the Gillette Stadium. Tom Brady will look to get all of that out of his head and work towards delivering a result for the Buccaneers. That won't be much of a problem because of the disparity in quality. This game is heading only one way.
Prediction: Buccaneers 30, Patriots 21
Los Angeles Raiders vs Los Angeles Chargers
In the final game of the week, city rivals Raiders and Chargers face off against each other. While both sides have looked great going forward, the Chargers have looked like men possessed. Their playing style has improved drastically over this offseason and they are able to execute elaborate plays with ease. That is why I think the Chargers will be able to extend their streak to four wins on the trot.
Prediction: Chargers 28, Raiders 27