Patrick Mahomes is a successful professional football player. He has won two Super Bowl titles in the last four seasons. But he is also a proud parent of two adorable children. His 3-month-old son, Patrick Lavon Mahomes III, hasn't been in the limelight much. But his daughter Sterling Skye has certainly received more attention in front of the camera.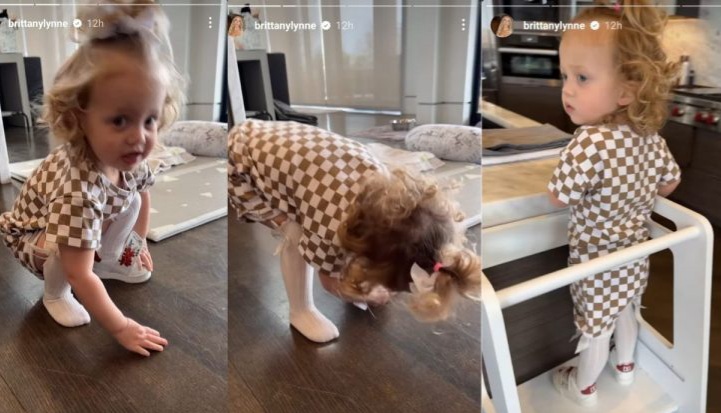 The charming 2-year-old daughter of Patrick and Brittany stole the show at their lavish wedding last year. Brittany continues to capture Sterling's adorable antics on video, which are adored by their fans.
Recently, Brittany shared a collection of videos. In these videos, Sterling attempted to avoid the camera to prevent her mother from filming her.
What does the daughter of Patrick Mahomes, Sterling do when Brittany tries to video her?
"You pick out your outfit today," Brittany was heard saying in the video but before she could say anything more, little Sterling yelled, "no, nooooo."
Little Sterling wants her mommy to stop filming her every move😂

Credit: Brittany Mahomes' Insta pic.twitter.com/MrqjCG3TRl

— Shubham Bhargav (@shubhbhargav21) March 2, 2023
Brittany chuckled as she watched her daughter's adorable reaction. She jokingly asked, "Oh, I can't video you?" She then commented on Sterling's fashion choice by pointing out her socks. The little one responded with a long "yessss."
Despite facing criticism online for her outspokenness, Brittany Mahomes doesn't hold back when it comes to expressing her opinions. Although she couldn't attend many games during the 2022 season due to her pregnancy, her passionate tweets defending her husband kept her in the spotlight.
Brittany has been known to get carried away while attending games. There was an instance where she sprayed cold champagne on the crowd to celebrate her husband's victory. This action didn't sit well with many people. Because it was a cold day, and not everyone wanted to walk home soaked in champagne.
Despite toning down her reactions, Brittany still receives backlash on social media platforms such as Twitter and Instagram for almost everything she says or posts.
However, these precious moments between mother and daughter are cherished by fans of the Mahomes family. Fans can't seem to get enough of Sterling's adorable antics. Despite facing criticism for her bold personality, Brittany's love for her family is undeniable. She continues to be a supportive and proud wife and mother.
As Sterling grows up, fans eagerly anticipate seeing more of her charming personality and watching her blossom into a beautiful young lady.