Since this season's NBA kicked off, all the coaches, players, and referees have knelt to show solidarity for BLM, save Jonathan Isaac who is not kneeling.
Everyone on the #Magic and #Nets are kneeling for the national anthem. Except Jonathan Isaac. No judgment, how one chooses to protest and observe the anthem is their own choice. But I believe Isaac is the only player who has chosen to stand.

— Orlando Magic Daily (@OMagicDaily) July 31, 2020
Ever since NBA resumed battling through every issue related to the pandemic, at Orlando's Walt Disney Resort, every person related to the sport, has taken a knee.
During the anthem, everyone from a coach to the referee knelt, wearing a Black Lives Matter T-Shirt.
This is their way of expressing solidarity to the movement of Black Lives Matter.
This is in addition to paying respect to the murdered George Floyd, and every other black person treated unjustly.
However, it is Orlando Magic's Jonathan Isaac who has refused to be kneeling or wear a BLM T-shirt as the anthem plays.
Isaac is the lone person breaking the mold, contrary to the usual norm being followed by every person in NBA.
After Friday's session of warm-up, the basketball player from the Bronx has responded to the flurry of questions hurled at him regarding his actions.
He is a devout Christian who believes that the Gospel shuns racism.
However, Jonathan Isaac does not feel kneeling during the national anthem or wearing a T-shirt is showing solidarity for him. 
He has said on record that he completely respects the movement and lives of black people matter.
It's just his personal choice he has come to believe that wearing a T-shirt or kneeling shall be a statement against racism. 
Jonathan Isaac said, "I don't think that kneeling or putting on a T-shirt for me, personally, is the answer.
For me, Black lives are supported through the Gospel, all lives are supported through the Gospel".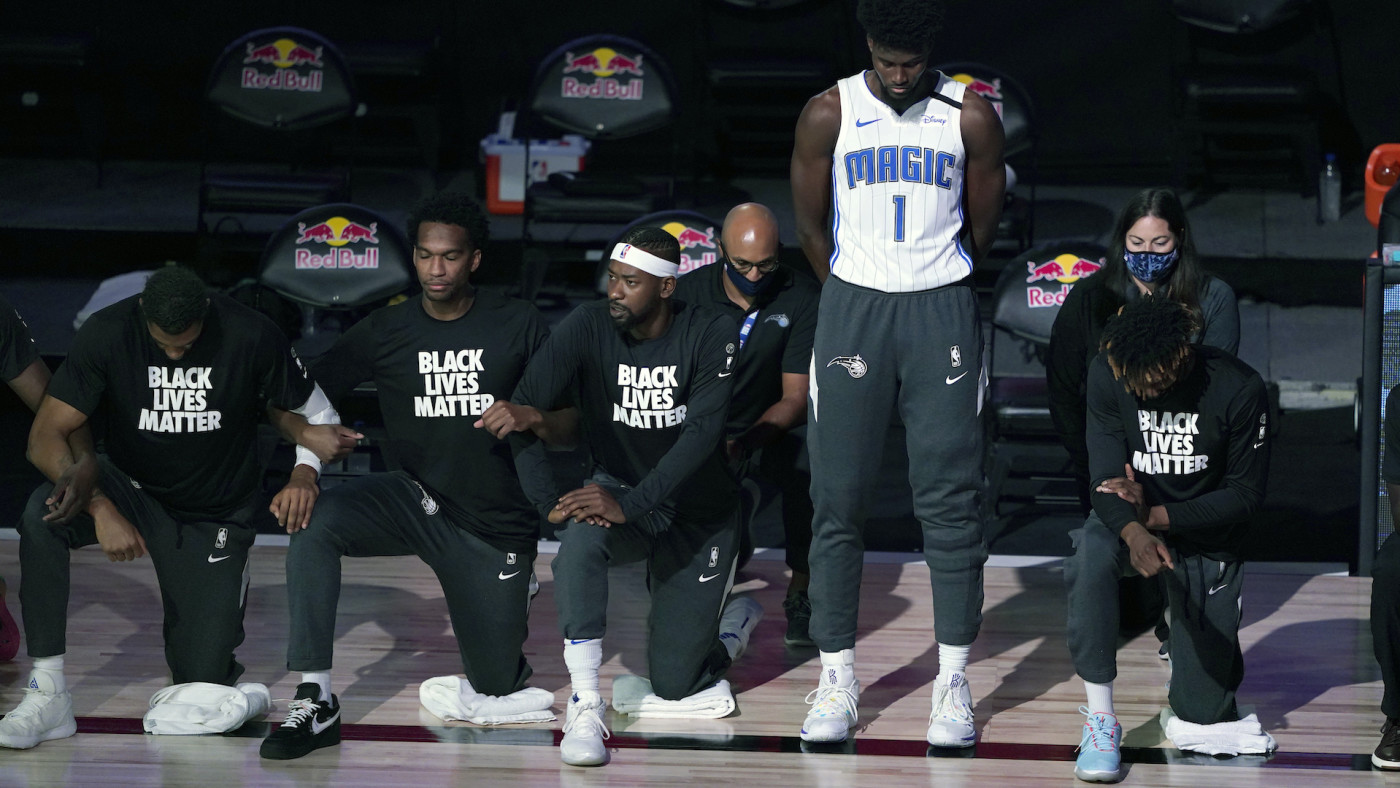 His faith in Christianity intact, Isaac says that the glory of God is the reverential one.
People have to ask God to forgive them for the mistakes they do and feel repulsion for the crimes they have committed. 
Only when someone accepts God truly, can they see beyond things like complexion or superficial things.
These are much less important than matters of the heart, is what the 22-year-old firmly believes.
The coach of the Orlando Magic, Steve Clifford has been supportive of the decision of his team's player.
He respects the decision of Jonathan Isaac to not be kneeling or wearing the BLM T-shirt.