Phase one of the Kanas City Chief off-season training program is starting with quarterback Patrick Mahomes' interacting with WR Zay Flowers, one of the top wide receivers available in the 2023 NFL Draft.
Flowers is an epicenter of attention and a record-breaker, consistently demonstrating why he should have been selected in the first round of the NFL draft. In 2022, he established himself as the offensive falcon for Boston College, recording 78 receptions for a career-high 1,077 yards and 12 touchdowns.
The first encounter between Patrick Mahomes and the BC star
Adam Schefter reported yesterday that the Boston College star had landed in Texas at the team's demand to work out with Mahomes. Undoubtedly it is a great opportunity for Zay to make a name for himself before entering the NFL.
Boston College WR Zay Flowers – Mel Kiper's No. 10 overall prospect – is in Texas today to workout with Chiefs' QB Patrick Mahomes at the request of the team, per source. Flowers believed his pre-draft process was over after visiting the Titans on Tuesday…until the Chiefs called…

— Adam Schefter (@AdamSchefter) April 19, 2023
The senior pass catcher visited the Tennessee Titans on April 17, according to a report by Tom Pelissero of the NFL Network, and the WR assumed his pre-draft process was over after doing so. Nevertheless, he received a request to meet the Chief's Star quarterback later on.
Flowers, a groundbreaking wide receiver with a big rush, ran a 4.42, ranking him in the 82nd percentile for wide receivers. A while back, ESPN's Mel Kiper Jr. ranked the top 25 prospects and he listed Flowers as the 10th overall.
"Flowers, who had 200 catches and 31 touchdowns in his college career, is one of my favorite prospects in this entire class. He's so elusive, so quick in and out of his breaks," Kipler remarked in his draft report.
"He can play out of the slot or lined up outside. He can take a jet sweep to the house. He just gets open and makes plays. He forced 25 missed tackles last season, the third most in the country for a wideout. Flowers' size won't wow teams, but if they just put on the tape, they'll see why he's a first-round talent."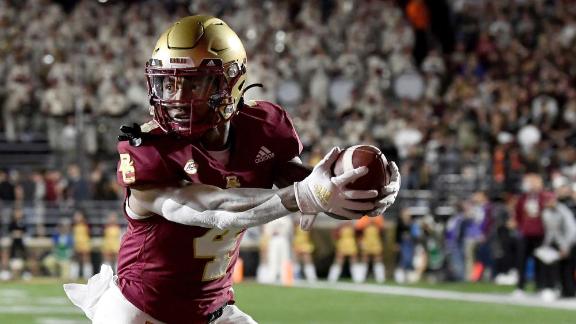 With his quick feet, ZF caught 78 passes for 1,077 yards and 12 touchdowns in his final collegiate season. He is only the second Boston College wide receiver to ever be named to the first team of the ACC and consistently demonstrates his ability to pose a serious threat to the opposition.
The 22-year-old established career highs in 2022 for 78 receptions, 1,077 receiving yards, and 12 touchdowns. It remains to be seen whether his workout with the Chiefs quarterback helps him find a way into the NFL.