La Liga keeps providing exciting rivalries amongst many fan favorite clubs like Real Madrid, FC Barcelona and Atletico Madrid for the past few decades as the fans were used to experience Messi vs Ronaldo on different 'El Classico'.
However, the scenario changed over the years after the departure of the above mentioned superstars but the fans can again brace for another upcoming rivalry of Robert Lewandowski vs Karim Benzema who will be the center of attraction for next classicos.
Now, let's dig deep into the potential rivalry between the two strikers.
Who will be the best striker in La Liga this season?
FC Barcelona and Real Madrid are the two biggest clubs in the history of La Liga and their rivalries have gone out of Spain on different occasions over the years.
Robert Lewandowski
According to speculations, this year's 'El Classico' will be an epic one after FC Barcelona successfully signed the famous Polish forward Robert Lewandowski who spent the last eight seasons with German giant Bayern Munich and won a range of club level trophies with the Bavarians.
Fans of FC Barcelona are thrilled for their new striker Lewandowski for many reasons, and first of all, the ex-Bayern striker has 86 shots on goal in total and 35 goals on which 57 percent of goals were converted as a consequence and also he had 119 great opportunities in all competitions on 2021.
In addition, Lewandowski generated 52 opportunities; made 41 important passes; and assisted 3 goals which arguably made him one of the best strikers of 2021 beside Mohamed Salah and Harry Kane.
Karim Benzema
Real Madrid's new skipper Karim Benzema has been playing for the Los Blancos for over a decade now but eventually came out of cocoon after the departure of Portuguese forward Cristiano Ronaldo from La Liga few seasons ago.
The French striker is arguably one of the best strikers in Spain last season after clinching La Liga and UEFA Champions League in the same season under their Italian manager Carlo Ancelotti.
It is speculated that Benzema's only high-profile rival will be Robert Lewandowski because only Benzema has bigger records in European stage than the Polish with 59 shots on goal in total and 27 goals on which a goal conversion rate of 47% is the consequence.
Karim also had 79 great opportunities in all competitions last season and has a total of 14 assists, 54 important passes (passes that set up shots on goal), and 54 opportunities that he helped to generate goal-scoring moments.
Head to Head Comparison: Robert Lewandowski vs Karim Benzema
Although Lewandowski spent the last season in Bundesliga and played against fewer opponents, he still managed to create bigger chances (35 expected goals) than his future rival Karim Benzema (26 expected goals).
Additional goal scoring stats can also be seen from the following table,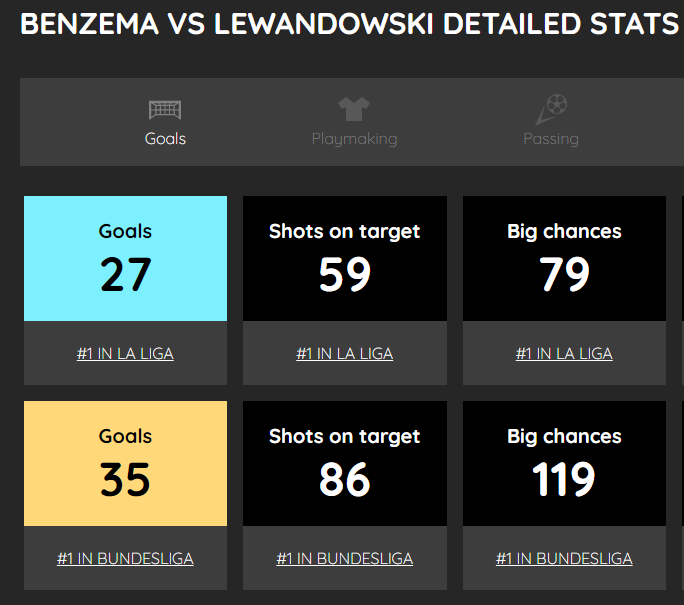 However, in the goal assist sector, Benzema has the upper hand over Lewandowski last season as he assisted more than four times higher in La Liga and became one of the best playmaker in 2021.
Karim's assist supremacy over the ex-Bayern striker can be seen from the following table,
After reaching out to an agreement with in-form striker Robert Lewandowski, FC Barcelona actually heated up the never ending battle between the two biggest Spanish sides (Real Madrid and Barcelona) which would be staged at least twice on the upcoming season of La Liga.