The Octagon meets the squared circle as Ronda Rousey throws down the gauntlet, seeking an inferno of a feud within the WWE universe. Originally earmarked for a WrestleMania 39 clash with Rhea Ripley for the SmackDown Women's Championship, Rousey took a detour off the beaten path.
Gear up, folks, as Rousey and Baszler unleash their combat prowess, intertwining the realms of UFC and WWE with a mesmerizing dance of aggression and finesse.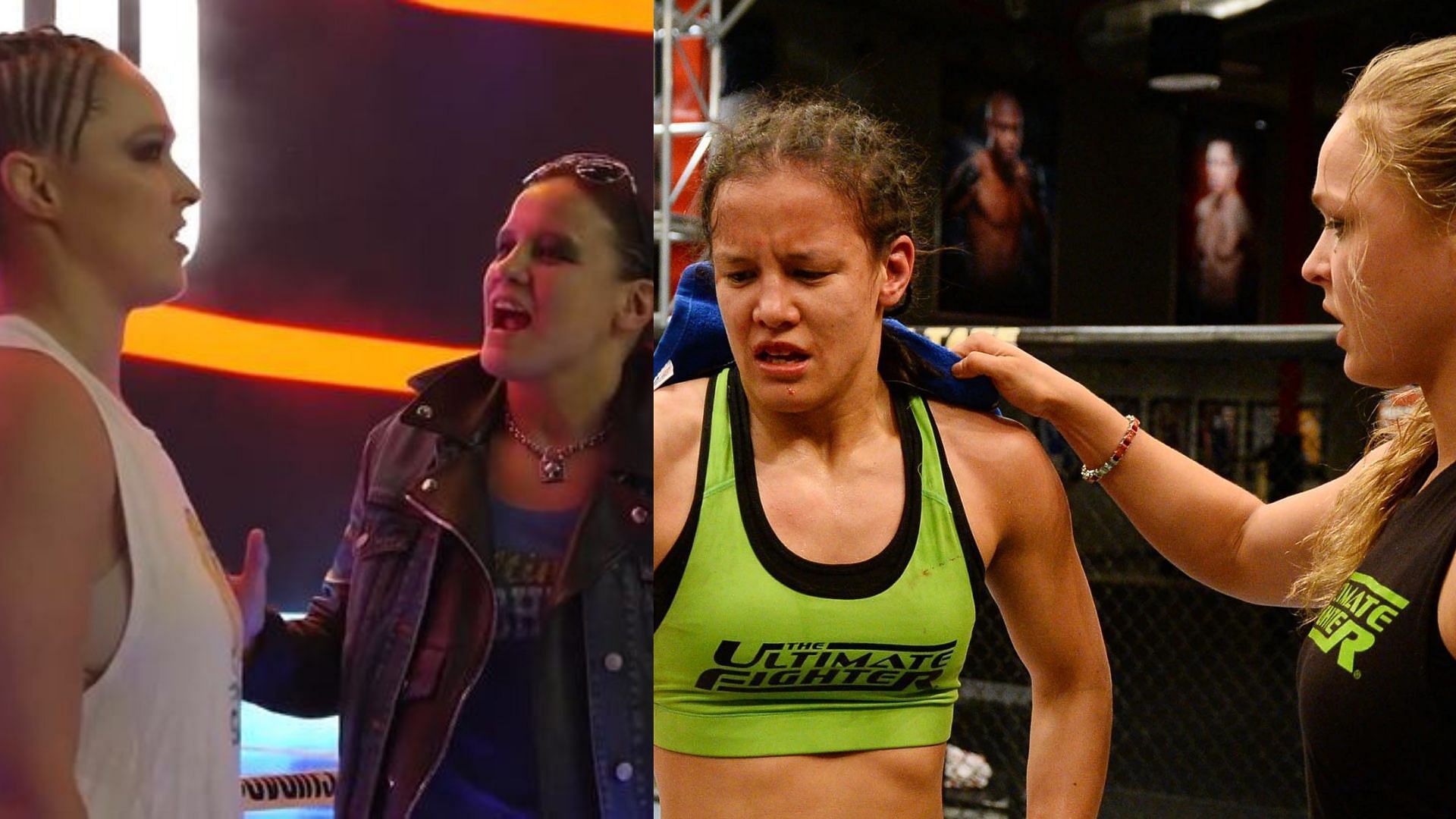 Ronda Rousey wants to have a Heated feud with former MMA fighter Shayna Baszler
"Rowdy" Ronda Rousey is a force unquenchable. In the hallowed pages of the Wrestling Observer Newsletter, the venerable Dave Meltzer revealed that the audacious fighter, fueled by her unwavering spirit, yearns for more than just teamwork.
She craves a white-hot showdown with none other than her current comrade-in-arms Shayna Baszler. Prepare yourselves, fight fans, for the impending eruption of Rousey's searing ambitions.
Shayna Baszler says Ronda Rousey demanded their tag run to the office

"This was something she demanded. We'd been asking for it forever, but she finally put her foot down and went to the office and said, 'Listen, we've been asking for this forever. You keep telling us, 'After,… pic.twitter.com/cOGNO9VmXZ

— Fightful Wrestling (@Fightful) June 2, 2023
The WWE universe is about to be scorched by a rivalry unlike any other, where the clash of fists and the thunderous roar of the crowd converge into a mesmerizing spectacle. Brace for breathtaking maneuvers and heart-stopping moments as Rousey and Baszler lock horns in a collision course destined to redefine the limits of combat sports entertainment.
The duo currently holds WWE Women's Tag Team Championship
Rather than solo glory, the former UFC sensation flexed her creative muscle, teaming up with her long-standing ally, Shayna Baszler. This seismic shift resulted in a shocking turn of events, with Ronda Rousey falling prey to Charlotte Flair's clutches, relinquishing the title on the last SmackDown of 2022.
Nevertheless, Rousey and Baszler emerged victorious in a fatal four-way WrestleMania Showcase, stealing the spotlight on the grandest stage of them all. Their conquests didn't halt there. In Albany, New York, the power-packed duo seized the vacant WWE Women's Tag Team Championship, capitalizing on Liv Morgan and Raquel Rodriguez's unfortunate injury-induced exit from the title scene.
The countdown is on, and the wait will be nothing short of torturous for those who hunger for a confrontation of titanic proportions. In this realm where warriors collide, Rousey and Baszler are destined to etch their names in the annals of combat sports lore. Prepare for an unforgettable journey into the fiery depths of Rousey vs. Baszler. The scene is set, and the lines of battle are marked. Let the firestorm begin!