Since like mirror reflection of LeBron James in 2003, Victor Wembanyama, a 19-year-old Frenchman, has been one of the most highly anticipated draft picks. 'Wemby' is recorded as being a mountain at 7 feet 5 inches tall with a massive 8-foot wingspan.
The adolescent is considered a "unicorn" in the world of basketball, a player who can do it all, but Wembanyama recently stated that he preferred James' description of "alien."
Victor Wembanyama shares frame with his "role models"
Tim 'The Big Fundamental' Duncan, David 'The Admiral' Robinson, and other notable figures in the history of the Texas franchise were at dinner with Victor Wembanyama. "I couldn't ask for better models," the French teen's heading for the already august image read. Overall, 17 million people have seen the image on Twitter.
"In a few hours with them, I learned more about the NBA than in my entire life," he declared. The connection between Victor Wembanyama and Spurs has already fallen into the surplus box after only three days of shared history. The NBA is alarmed by the Frenchy's presence in San Antonio, and the Texas franchise's supporters are thrilled.
Couldn't ask for better role models 🖤 pic.twitter.com/lcw7cvbeTt

— Wemby (@wemby) June 25, 2023
A straightforward image of the former Boulogne-Levallois behemoth standing next to a basketball star was never going to get past the runaway in this situation. He had dinner on Friday with David Robinson, Gregg Popovich, Manu Ginobili, Tim Duncan, Sean Elliott, and the Spurs staff.
Since that time, the picture showing them all standing arm in arm has circled the canvas. Robinson and Duncan's resumes as former basketball players almost made the French leviathan look like a playmaker.
Spurs reveal Wembanyama's jersey number
Following his selection as the top pick in the 2023 NBA Draft, 7-foot-5 superstar Victor Wembanyama is seen for the first time wearing a San Antonio Spurs uniform. The San Antonio Spurs have officially revealed Victor Wembanyama as a player. Wembanyama has been pictured wearing a San Antonio jersey with the 'number 1' of his choice.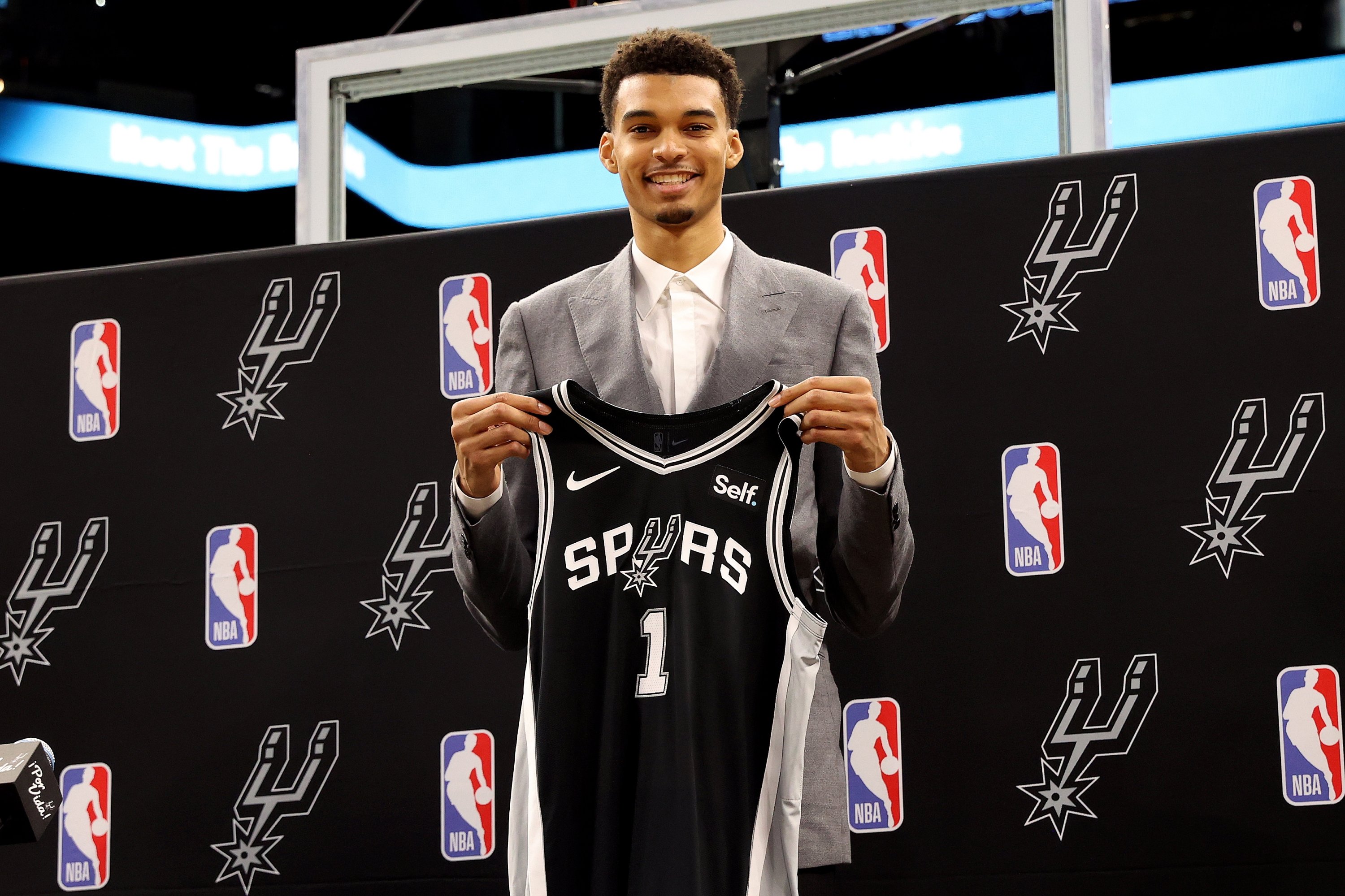 The Spurs selected the French star first overall on Thursday night in Brooklyn, New York, during the NBA Draft ceremony. 'I've got a lot to do,' Wembanyama said. 'But it's all right. It's OK. It's all going to fit in.' He has every reason to be thrilled. On Saturday, he donned a Spurs uniform for the first time.
In San Antonio, he will make his debut in one of those summer leagues in Las Vegas or Sacramento somewhere in early July because he plays in both of them. Hundreds of Spurs employees welcomed him at the arena on Saturday, and he gave high-fives to them all while grinning the entire time. Supporters are hoping that Victor Wembanyama can give coach Gregg Popovich's rebuilding effort the much-needed boost it requires.