Tiffany Stratton and Becky Lynch headlined the NXT Premium Live Event "No Mercy," which is expected to be one of the best matches of the year. "No Mercy" was easily one of the best Pay-Per-Views on the calendar year, and Shawn Michaels has taken NXT to levels comparable to the main roster and perhaps even beyond.
After a 5-Star Extreme Rules match against Becky Lynch, Tiffany Stratton broke the silence and expressed confidence about headlining the biggest event of the calendar year, WrestleMania.
Tiffany Stratton breaks silence after loss to Becky Lynch
Tiffany Stratton was defeated by Becky Lynch for the NXT Women's Championship, which completed her grand slam but the Buff Barbie was out to get her title back at No Mercy. Their feud started after Stratton interrupted her at Payback. After their first match, Stratton described the experience of facing Lynch for the title as elevating in an interview with ComicBook.com.
She was quoted as saying, "Yeah, definitely going into that match, the pressure got to me a little bit. Everybody has the what ifs or the imposter syndrome of like, 'Oh, my gosh, it's only been two years. What am I doing here? Becky Lynch, aw, I don't know.' But definitely, I rise to the occasion when the pressure is on. And the match, honestly, even though I lost, I feel like I did not lose anything. I came out of that match, I feel, elevated. I brought my all in that match. Becky definitely brought her all, as well. And she definitely elevated me,"
After her match, she finally broke the silence and posted on Instagram teasing a WrestleMania appearance. She was confident in her talent to headline the biggest event of the calendar year and praised The Man Becky Lynch for taking her to a new level for the bout.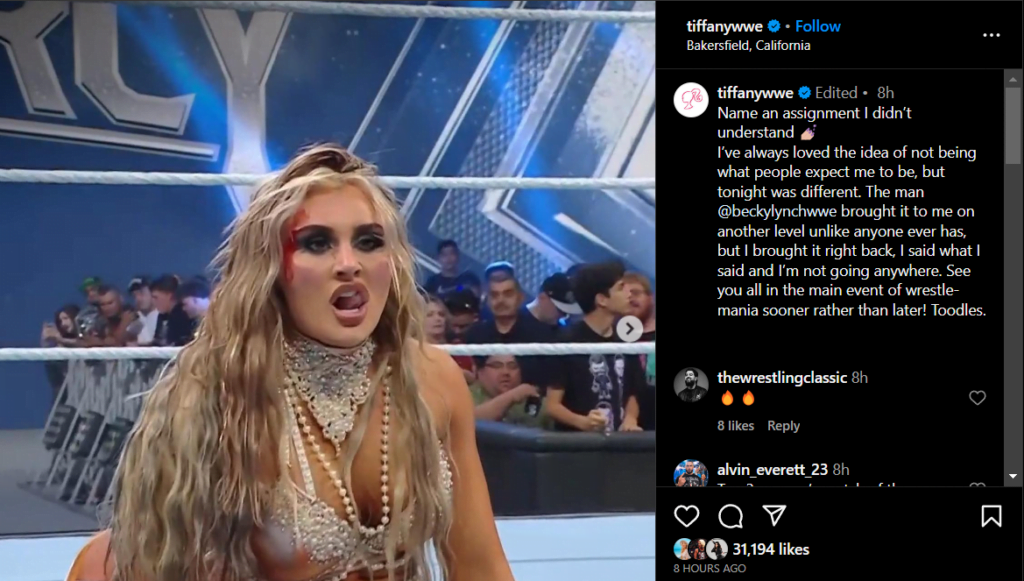 Tiffany Stratton vs Becky Lynch match review
Becky Lynch and Tiffany Stratton tore the house down the last time they fought against each other. Big Time Becks finally won the title which alluded to her entire career but a rematch was set at NXT No Mercy in an Extreme Rules match. The match got underway even before the bell rang and went on to be an instant classic.
It was a very good main event to close out the show with several near-falls from both sides, which made Stratton look like a star and an equal in her loss to Becky Lynch. The match had some crazy spots such as the Swanton Bomb and Leg Drop on the table. Even a barbed wire bat was used which reaffirms HBK's opinion of NXT being similar to Attitude Era.
It's going to be exciting to see how Becky Lynch leads the women's division as the NXT Women's Champion. Is it time for Tiffany Stratton to go to either Raw or SmackDown? Feel free to discuss in the comments.