Over the years, we have witnessed a lot of interesting and intense feuds in WWE. Most of these feuds took place on-screen in order to entertain fans and for storyline purposes, but plenty of Superstars didn't see eye to eye in real life as well.
Some of these rivalries were turned into storylines, which led to a lot of great feuds and matches in WWE. Whether it was because of jealousy, ego or lust, these Superstars became enemies in the real world. Here's a list of the ten real-life enemies in WWE.
---
#10. Alberto Del Rio and Sin Cara
#9. Randy Orton and Mr. Kennedy
Randy Orton and Mr. Kennedy were involved in a real-life feud which was possibly caused by jealousy. The latter could have had a very successful career in WWE. He was chosen to star in a movie and was also on the verge of becoming a World Champion after he won the Money in the Bank contract.
This all started after Mr. Kennedy returned after recovering from an injury. Kennedy's return lasted only one night. During a match with The Viper, he accidentally dropped Orton on his head and almost injured him.
The Apex Predator reportedly yelled at Kennedy in the locker room following the match, and the latter was fired a few days later by the WWE. Orton even admitted that he complained to the WWE management about Kennedy's in-ring work.
In an interview with WrestlingInc., Kennedy also revealed that he believes John Cena also had a hand in him being fired. He stated:
"To be honest with you I kinda had a weird vibe all day. Randy Orton and I had become very good friends…we rode together, we were tight, we were buds…when I got to the building I ran up behind him and gave him a big bear hug from behind and he treated me like I was just an acquaintance of his.
And then the fact that he made such a big stink about supposedly dropping him on his head. He literally blew up in front of all the talent including Vince and Stephanie and began to lecture me about how I had to be careful and his health was very important. It just doesn't make sense to me. And I think Cena had a hand in that too. Like, Cena helped out, and he said, 'hey, we need to go to Vince.' I didn't get along with him too well."
#8. Chris Jericho and Taz
Taz (or Tazz in WWE) and Chris Jericho have had very little ring time together. They squared off several times during their stints in ECW and WWE. When they were both active wrestlers, there was never any tension between them.
This quibble derives from their time outside the wrestling business as hosts of their respective podcasts. Jericho claimed that his show "Talk is Jericho" got millions of downloads and plays.
Taz, who hosts his own show, "The Taz Show", publicly expressed skepticism regarding Y2J's claim on both his show and on Twitter. When Jericho interviewed Samoa Joe after the latter left Impact Wrestling, he promoted it as the latter's first interview since departing the promotion.
Jericho was unaware that Taz actually interviewed Joe the week prior, and the oversight didn't sit well with Taz. He threw some shade at Jericho and he even said that he doesn't think Y2J is even aware he has a podcast.
#7. Triple H and CM Punk
CM Punk & Triple H feuded not only on TV but in real life as well. The two Superstars had big egos, which made it difficult for them to come to terms with a lot of things.
As Punk himself stated on the Art of Wrestling podcast alongside his former best friend Colt Cabana, the relationship between himself and "The Cerebral Assassin" was full of negative vibes.
Punk also revealed that Triple H was the main reason why new wrestlers didn't become main eventers and that the latter never liked him in the first place. The Game didn't like the way Punk carried himself.
The Straight Edge Superstar was unhappy that Triple H refused to put him over at Night of Champions 2011. Punk retired from pro wrestling after he was fired by WWE on his wedding day.
#6. CM Punk and Jeff Hardy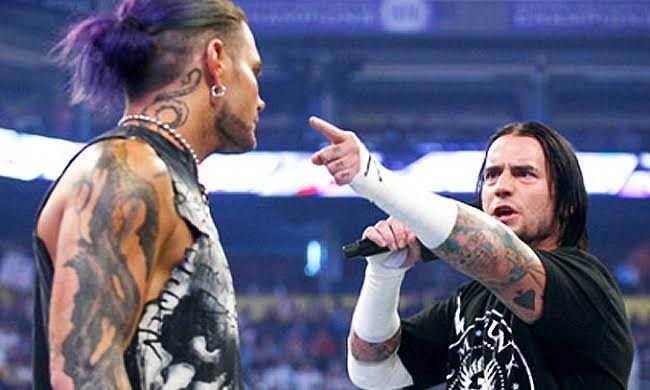 If one could build a machine to produce two completely polar opposite human beings, the result would be CM Punk and Jeff Hardy. One leads a straight edge lifestyle while the other one has been arrested several times for substance abuse and public intoxication.
The two were embroiled in a heated feud in WWE that looked so real. The feud was riddled with hatred and perhaps the reason why it felt real was that both Superstars didn't like each other in real life.
#5. Goldberg and Triple H
It's no secret that Goldberg hated Triple H's guts, and the former Universal Champion expressed that hatred publicly on multiple occasions. The two had heat for a long time, and perhaps that heat cooled down a little after Goldberg returned to WWE in 2016.
They nearly fought in an airport years ago and Triple H stated that Goldberg had no respect or passion for the wrestling business and he is not a Hall of Fame worthy competitor.
In 2013, when a fan asked Goldberg to return to WWE, the latter responded with: "If they knew how to do business I'd consider it." 
When another fan asked him on Twitter "If you can spear someone currently in the WWE who would it be?" the former WCW star mentioned it would be none other than Triple H.
Regardless of their feud, Goldberg returned to WWE in 2016 and he was inducted into the 2018 WWE Hall of Fame.
#4. Stephanie McMahon and Chyna
Triple H is included in this list for the third, and even though he isn't really at the end of the stick this time, he is still, however, the main reason behind Stephanie McMahon's real-life disagreement with the late Chyna.
The Game seemingly made a point by paying tribute to Chyna at Raw 25 after he declared her an unfit candidate for the WWE Hall of Fame thanks to her pornography career after she left WWE.
The fact is that Stephanie's sudden involvement in Triple H's relationship with the 'Ninth Wonder of the World' had something to do with her change of employment. Chyna's spiral into alcohol and drug addiction eventually led to her exit from the company where she became a sensation.