Every football club aims to win trophies and it is for this reason that players run themselves to the ground in a bid to have something to show for their efforts at the end of the season.
Although continental trophies and cup competitions might have prestige in their own right, in many ways, the domestic league title is the most difficult to win and it is perhaps more highly revered than other competitions as winning it signifies being the best in the country and gives fans bragging rights over rival fanbases in their nation.
Historically, some clubs have been more successful than others, with factors like being founded in capital, commercial, or more financially viable cities helping to place clubs at a significant advantage to attract better players than those founded in less viable cities.
This early advantage has helped cement some clubs' statuses as dominant football powers in their countries and this has largely been the status quo over the years except in instances where recent takeovers by wealthy owners have helped upset the hierarchy.
In almost every league in Europe, some clubs have dominated the domestic scene for many years and this is reflected in the number of league titles they have won, with a distinct difference in their total numbers and those of their nearest challengers.
Here at Sportszion, we shall be having a rundown of the 10 European clubs with the most league titles.
#10 Sparta Prague (Czechoslovakia/Czech Republic) 33 titles
Sparta Prague are the most successful club in the Czech Republic and one of the most successful in central Europe.
They were founded 126 years ago on 18 November 1893 and play their home games at the Generali Arena in Prague.
Sparta Prague's total of 33 league titles won is the national record, same as their 27 Cup wins, while they have also made it to the semifinal of the European Cup and UEFA Cup Winners' Cup.
Their first league title was won in the maiden edition of the Czechoslovak First League in 1926 and they were the most dominant team in the competition up until the break up of the nation into two separate countries.
Upon the formation of the new Czech First League in 1993, Sparta Prague still performed creditably well and won four of the first five editions, although they have not triumphed domestically since 2014 as city rivals Slavia Prague, as well as Victoria Plzen, have risen to prominence in recent years.
#9 Real Madrid (Spain) 33 titles 
Real Madrid is arguably the most popular club in the world and some of the most legendary players throughout history have worn the famous all-white of Los Blancos.
Under the leadership of the dictator General Franco, Real were installed as the national team and this largely helped them consolidate their position as the top team in the land, while they were also immensely successful on the continent, winning each of the first five editions of the European Cup.
They won the first of their 33 LaLiga titles in 1932 and they had their golden period in the 1950s and 1960s, although they also won five consecutive league titles between 1985 and 1990. 
In recent times, they have watched on as their Clasico rivals Barcelona have dominated the scene in LaLiga.
#8 Anderlecht (Belgium) 34 titles
Royal Sporting Club Anderlecht was founded on 27 May 1908 and it took them some time to get going, with their first league title won almost three decades later in 1947.
Since then, they have gone on to triumph in the Belgian league a record-breaking 33 times and are also the most successful Belgian club on the continent, with two UEFA Cup Winners' Cups, two UEFA Super Cups, one UEFA Cup, and one Inter City Fairs Cup won in international competitions.
#7 Ajax (Netherlands) 34 titles
Ajax are the traditional team in the Netherlands and with four European Cup/Champions League trophies on display in their football museum, they are undoubtedly bonafide European royalty.
Not only do Ajax win, but they also win well by playing aesthetic football and the Ajax academy is one of the most acclaimed in the world, with players who pass through the academy expected to possess a certain skillset and technical ability.
In recent years, the club has become something of a production line for the bigger teams in Europe which has consequently affected their performance on the continent but that has not stopped Ajax from flexing their muscles domestically and their 34 Eredivisie titles is more than anyone else has managed to win in the history of the Dutch league.
#6 Juventus (Italy) 35 titles
The Serie A has become something of a one-club league in recent years, owing to the unprecedented dominance of Juventus.
The Bianconerri have always been one of the traditional teams in Italy and had legendary players like Alessandro del Piero, Michel Platini, Gaetano Scirea, and Paolo Rossi represent them in the distant past, but even at the height of their powers, the Turin side never dominated Italy like they have in current times.
They endured the ignominy of being relegated for the first time in their history when they were demoted for their culpability in the Calciopolli scandal in 2006, but have risen from those dark times to cement their claim as the strongest team in the land.
Juventus are currently on an unprecedented streak of having won each of the last eight Serie A titles consecutively, bringing their total tally to 35, although they have not quite been able to translate their domestic superiority onto the continent.
#5 Benfica (Portugal) 37 titles
Benfica are one of the traditional 'big three' teams in Portugal alongside Porto and Sporting Lisbon, but whereas the former can boast of more continental success, Benfica are by far the most successful team domestically in the Iberian nation.
The Eagles won their first Primeira Liga title in 1936 and have since added a further 36 titles, while they have won record totals in the Taca de Portugal (26) and Taca de Portugal (7).
Alongside Porto and Sporting Lisbon, Benfica have never been relegated from the Portuguese top-flight and they currently play their home games at the 64,000 capacity Estadio de Luz.
#4 Olympiacos (Greece) 44 titles 
Olympiacos F.C. is the footballing branch of a multi-purpose club that derived its name and emblem based on the ideals of the Olympic Games and Ancient Greece.
They are by far the most successful club in the history of Greek football, with record wins in the domestic league (44), Greek Cup (27), and Greek Super Cups (4), furthermore, 17 of their title-winning campaigns came in 'double-winning seasons.
Olympiacos play their home games at the atmospheric Karaiskakis Stadium, a 32,115-capacity stadium in Piraeus and they have a long-standing rivalry with Panathinaikos, with clashes between the pair usually heated affairs and referred to as the 'derby of the eternal enemies'.
When Olympiacos won the league title in 2015, they became the first side in history to have won five or more consecutive league titles on five different occasions and the club received a congratulatory letter from FIFA to commemorate the occasion.
Furthermore, they have won the league six times in undefeated campaigns and are one of only three clubs to have never been relegated from the Greek top-flight.
#3 Celtic (Scotland) 50 titles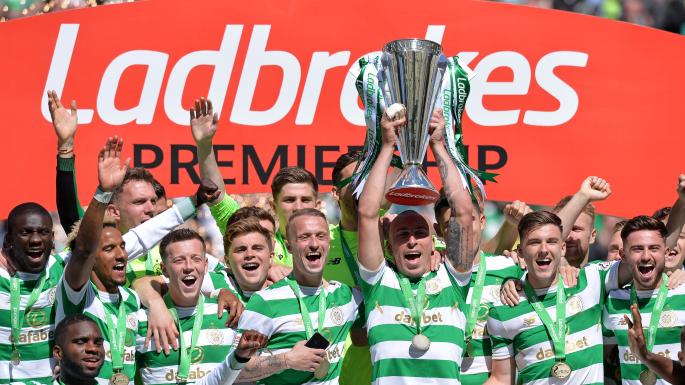 The recent travails suffered by Rangers over the last decade has established Celtic as the sole force in the Scottish league and 'The Bhoys' are currently on a run of having won each of the last eight league titles consecutively (which is just one short of the record of nine held jointly by them and Rangers).
Incredibly, Celtic have been an ever-present in every season of the Scottish top-flight since its inception in 1890 – a remarkable run stretching 129 years – and they were the first side in history to win a continental treble, doing so in 1967 when they won the League, Scottish Cup, and European Cup in addition to the Scottish League Cup.
They play their home matches at the 60,000 capacity Celtic Park and have a long-standing rivalry with Rangers which is referred to as the 'Old Firm derby'.
#2 Linfield (Northern Ireland) 53 titles
Like Celtic, Linfield have also not been eliminated from the top-flight of their domestic league which has been in existence since 1890.
They are one of only three clubs in Northern Ireland to have achieved this feat, but unlike every other club on this list, Linfield is not fully professional and currently operate at a semi-professional level as the game in Northern Ireland is not as mainstream as other British nations.
Linfield were founded in March 1886 and play their home matches at the 18,600 capacity Windsor Park in the capital city Belfast.
#1 Rangers (Scotland) 54 titles 
With 119 major trophies won in their illustrious history, Rangers are the most successful club of all time and along with Celtic have dominated the Scottish footballing scene for over a century. 
Of those triumphs, 54 have come in the Scottish league, while they also hold the record for domestic trebles with seven so far.
The one missing piece from their trophy cabinet is the Champions League and ironically, it was their quest for European glory that led to them spending obscene amounts of money that ultimately led to their liquidation in 2012.
Before their liquidation, 'Gers' along with Celtic had been present in every single season of the Scottish top-flight, but their demotion to the fourth tier of Scottish football led to their eternal rivals forging a monopoly over the domestic game.
They have, however, seen an upturn in fortunes in recent years and former Liverpool midfielder Steven Gerrard is leading their revival with his managerial brilliance.