Deshaun Watson, the quarterback for the Cleveland Browns, apologized to the women who have accused him of sexual misconduct during massage sessions in public for the first time on Friday. "I want to say that I'm truly sorry to all of the women that I have impacted in this situation," In an internal interview for the Browns' pregame show that aired on Cleveland News 5, Watson stated.
In his only two press appearances since going from the Houston Texans to the Cleveland Browns, Watson had said, prior to Friday, that he had "no regrets" about any of the actions he took during the massage sessions. In his second interview at Cleveland's minicamp in June, Watson reiterated that he had no guilt about his actions, but he did admit that he regretted the impact the claims had on those close to him.
The start on Friday came as Watson, the Browns, and the NFL await a decision on the NFL's appeal of Watson's six-game ban from former New Jersey Attorney General Peter C. Harvey. According to NFL Network Insider Mike Garafolo, there have been negotiations between the NFL and the NFL Players Association regarding a potential settlement, but nothing is imminent.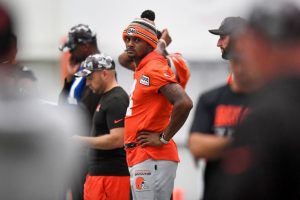 The 26-year-old has achieved confidential agreements with 23 of the 24 women who sued him for sexual assault during massage treatment sessions. Watson had denied any criminal behavior and said that whatever intercourse he had with the ladies was consensual. In March, two Texas grand juries declined to prosecute him on criminal charges.
Watson admitted on Friday that he had no idea when he will play again. "I know I have a lot of work to put in, especially on the field to be able to make sure I'm ready to play whenever that time comes whenever I can step back on the field," Watson said before the game.
"But also, the biggest thing is I want to continue counseling and I want to make sure that I'm growing as a person, as an individual for my decision-making on and off the field. I want to make sure that I'm just evolving in the community as much as possible, and that is for the Cleveland community, that is the NFL community and beyond."