NFL fans earned their notoriety for their bloodthirstiness and ravenous desire for brawling opportunities in stadiums. The SoFi stadium is not a stranger to these incidents, as it appears to be a place for fans to fight rather than watch football play.
What actually happened in SoFi stadium?
Earlier this month Las Vegas Raiders faced off Los Angeles Rams, with a flying start they were able to achieve 13 point lead. Although, that wasn't enough for the Raiders, as the Rams smelled the blood of desperation and started raking up points. Finally, the LA Rams won the match with a minimum margin.
Nevertheless, Raiders fans lost their senses observing such a disastrous performance and started a brawl among themselves. In a recently leaked video, a group of raiders fan were seen fighting with each other out of rage. Eventually, an individual raining punches on another like we are watching a 'ground and pound' moment in UFC.
Raiders fans fight their own fans… 🤣🤣🤣 pic.twitter.com/NdRU5XLXXi

— TPS (@TotalProSports) December 24, 2022
The security was able to break off the fight though no one had been arrested. It seems Raider are supposed to be loser at SoFi Stadium in one way or another.
How was Raiders Fans' previous experience in SoFi stadium?
Raiders fans also faced a similar situation against the city rival, New York Chargers as both teams were able to instigate brawls in the arena. Last year, during a game against the Chargers, two Bolts fans severely abused a 'silvers and blacks' fan. The fight continued until security reached them, although they were not able to take control of the whole stadium.
Welcome to Los Angeles 😂 @GrindFaceTV #SofiStadium pic.twitter.com/sZnyodt3nt

— Coach Drew📋 (@Just_A5) August 15, 2021
In this opportunity, another brawl was started by a group of individuals using another group as a punching bag. According to TMZ, the bystanders tried to break up the fight, but there was no help from security.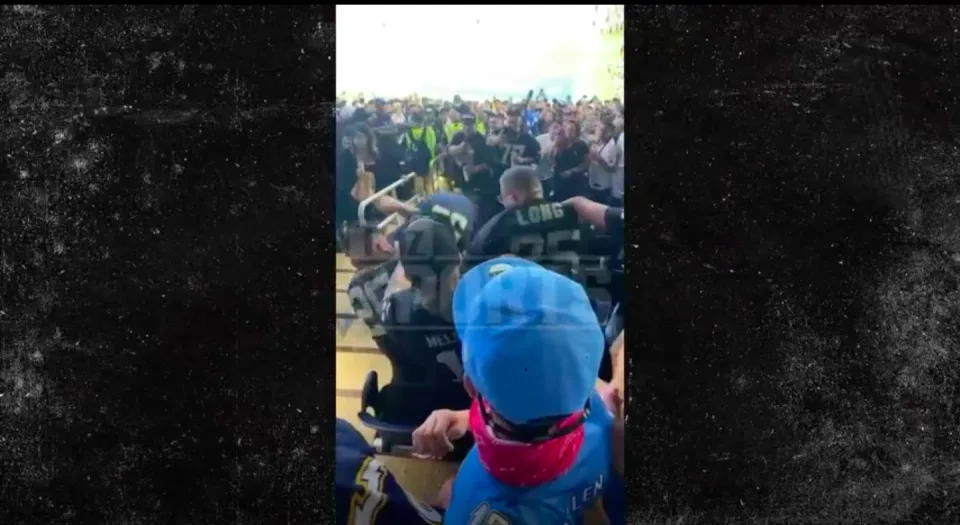 Raiders fans had to defend themselves against an 'one man army' wearing black shirt in SoFi stadium a few months ago. In a Twitter video, you can see the lone warrior fighting almost four people at the same time. Among them, a woman was seen to participate in that bizarre incident, but she got some sweet punches on the face and eventually backed off with her fallen comrades.
Meanwhile at the #Raiders game 🤯

@ geraaa_ pic.twitter.com/5Pj5mKZiq5

— GrindFace TV (Entertainment) (@grindfacetv_) September 12, 2022
Furthermore, the NFL world witnessed Rams or Chargers fans fighting among themselves on a regular basis, as if it were a tradition, which can make the stadium look like a boxing ring.