WWE's interference delayed Nate Diaz's preparations to battle Logan Paul. Real Fight Inc. president Zach Rosenfield mentioned Diaz's intriguing offer to fight Paul back in August. WWE attempted to arrange this boxing battle, but it never happened.
Nate Diaz, a former UFC fighter best known for challenging for the lightweight belt, was a part of the organization for more than 15 years. His most recent UFC bout was a submission victory over Tony Ferguson. The WWE reportedly attempted to set up a fight between Logan Paul and Nate Diaz, and Paul also confirmed this, weeks after Jake Paul's $2 million victory.
Logan Paul reveals WWE's Nate Diaz plan
Logan Paul hinted in April that former UFC star Nate Diaz might be avoiding a battle with him because of their controversial personalities. After Diaz left the UFC, he was offered a bout by the WWE.
Paul is scheduled to fight Dillon Danis, but after the fight, he will likely return to WWE. He had planned to battle Nate Diaz, but WWE's role in putting up the match turned him off. Diaz went so far as to discuss the situation in public, saying that WWE's involvement in the fight against Paul made him uncomfortable.
Logan said that there was a serious attempt to make it happen, which ultimately failed: "Yeah, they were. You know why I think it didn't come to fruition. I don't know. I think Nate wanted to fight Jake. There's no doubt that any event that I do with the WWE will be massive. They're one of the biggest sports organizations on the planet. Where's the hesitation? I don't understand it. I'm sure he has his reasons."
Paul performed his WWE match at SummerSlam 2023
It was during this year's SummerSlam that Logan Paul battled Ricochet and triumphed with bare knuckles. His next wrestling participation is in doubt as he is training for a boxing battle with Dillon Danis next month. There may not be enough time to develop his character before the Survivor Series begins. His next match, most likely for WrestleMania 40, could be lined up at the Royal Rumble.
During the promo, Ricochet landed in front of Paul after performing a front flip over the top rope. The two first clashed during the Royal Rumble, setting the stage for their feud that began at Money in the Bank. People on social media also went wild for their aerial collision during the Royal Rumble.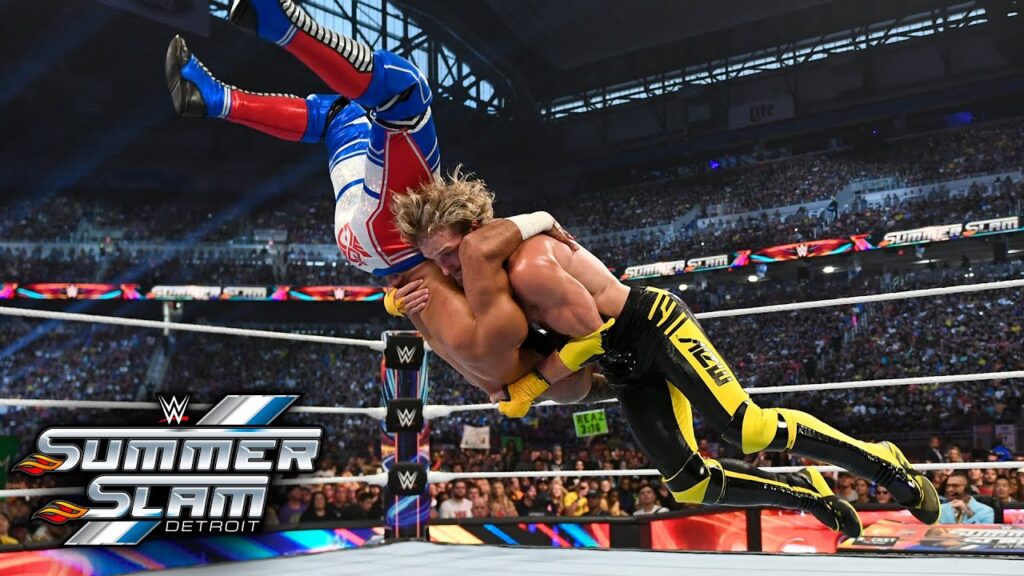 Even though Paul won against Ricochet at SummerSlam, their feud continues to this day. Both wrestlers have engaged in viral moments in the past, so their rivalry is sure to continue.
The bout between Paul and Nate Diaz may or may not happen, but the rematch between Paul and Ricochet in the ring is guaranteed. So, what do you think? Leave a comment and tell us.