Things were looking bright for Carlos Alcaraz in July, when he battled warrior-like to win the Wimbledon title. However, slowly the Spaniard's form has waned a bit towards the business end of the season. A Cincinnati Finals loss to rival Novak Djokovic notwithstanding, Carlos has gone on to suffer inadvertent losses at the US Open, Shanghai Open and the exit at the Paris Masters.
The consequence of his downtick in form was that he relinquished the opportunity to reclaim the world no.1 ranking from Djokovic and entered the Nitto ATP Finals somewhat in danger of losing out on the opportunity to dominate proceedings. Nevertheless, the 20-year-old produced one of his better games on Wednesday and reached a significant milestone in the process.
Alcaraz's first ATP finals win sets records beyond Novak Djokovic's reach
In his first match at the ATP Finals as world No. 2, Carlos Alcaraz suffered a defeat at the hands of world No. 7 Alexander Zverev. The Spaniard's form and inconsistency at the top level of tennis was scrutinised immediately, but he answered his critics with formidable ferocity when he dominated his world No. 6 opponent in his second match on Wednesday night.
In a night of fervent support from the crowd for the Spaniard, Carlos Alcaraz demolished Andrey Rublev 7-5, 6-2 in under an hour and a half, in what was their first meeting ever on the ATP circuit.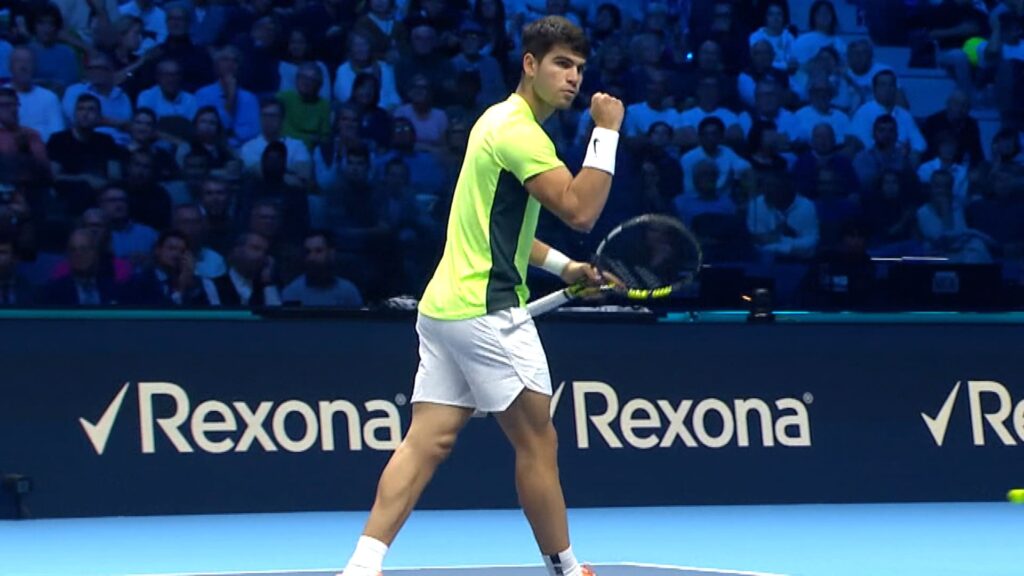 With the victory, Carlos Alcaraz became the first U-21 player to win over 120 matches in the ATP across two seasons since Rafael Nadal registered 138 wins across the 2005-2006 season.
He also became the third player after Lleyton Hewitt (2000-01) and Rafael Nadal (2006) to register 10 wins against the top-10 players while aged 21 or less.
"I'm really happy to get my first win at the Masters here in Torino, I played at such a great level I'm really happy about it," said Alcaraz on court.
Carlos has been a revelation in the tennis circuit, as he has dominated proceedings, won two grand slams and become world No. 1, all within two years since he turned professional. Even the greats like Novak Djokovic and Roger Federer took time to find their footing before they broke records.
Racket mishap leaves Rublev with bloodied knee vs Alcaraz
Andrey Rublev was in a mercurial mood on Wednesday, as he slumped to a defeat against Carlos Alcaraz. At one point during the tension-filled encounter, Rublev smashed his racquet against his knee out of anger and was left with a bloodied leg.
Former US Open finalist Greg Rusedksi, who watching on in his role as an Amazon Prime analyst, suggested that Rublev should seek some help to control his anger when the pressure mounted on him.
"Rublev lost his mind," declared Rusedski. "He went absolutely fruit and nuts."
"The good news is he didn't injure himself, but he has to change that behaviour. He is so desperate to win and doesn't find a balance out there," he added.
Rublev was in no mood to take the loss lightly, as witnessed by the constant blind swinging of his racquet in anger and his berating of the line judges during the match.
Rusedski was particularly critical of the Russian's game, stating that to win slams and not get doomed as a nearly-there top-ten player, Rublev would have to improve his strokeplay and handle variety from opponents.
What are your opinions on Carlos Alcaraz's comeback win after a string of upset losses? Let us know in the comments section below.