The Kansas City Chiefs superstars Patrick Mahomes and Travis Kelce are taking their friendship to a whole new level as the two of them have become part of a Formula One team. Drivers of the team later showed their solidarity by showing up in a new jersey.
This incident adds a new feather to Mahomes and Kelce's crown.
Pierre Gasly wore a Patrick Mahomes jersey after Alpine takeover
After Patrick Mahomes invested $210 million in Formula One team Alpine, the Formula One stars of the team arrived wearing jerseys of Mahomes and Kelce. The Alpine's official Twitter account later posted a moment from the incident.
In the video, Esteban Ocon and Pierre Gasly were seen arriving at the U.S. Grand Prix wearing Kelce and Mahomes jerseys. And was captioned with "arriving in style." Gasly's jersey not only had Mahomes' name on it, but also it had his number '15'.
Esteban Ocon and Pierre Gasly are the team's drivers for the 2023 season. Although both of them have a strained relationship history, they are currently working on improving their relationship. The Alpine is a racing team that competes in the FIA Formula One World Championship. The team also has financial backing from celebrities like Ryan Reynolds, Michael B. Jordan, and Rob McElhenney.
Mahomes backs Pierre Gasly in "The Netflix Cup"
Patrick Mahomes also decided to back up Alpine's star driver Pierre Gasly ahead of 'The Netflix Cup' in Las Vegas. After Mahomes and Kelce invested $210 million in the Alpine, 24-year-old Gasly received a special surprise at the United States Grand Prix.
Before the start of the race, this unusual collaboration between Pierre Gasly and Patrick Mahomes had fans in awe of the duo. This unexpected teamwork on display possibly hints at a unique bond transcending their individual sports. It seems like we will be seeing more of Gasly and Mahomes in the future.
"The Netflix Cup" is a collaboration of Netflix's flagship sports docuseries- "Drive to Survive" and "Full Swing." Pierre Gasly will participate in the event along with other Formula One drivers- Alex Albon, Lando Norris, and Carlos Sainz. The 4 PGA Tour golfers participating in the tournament are- Rickie Fowler, Max Homa, Collin Morikawa, and Justin Thomas.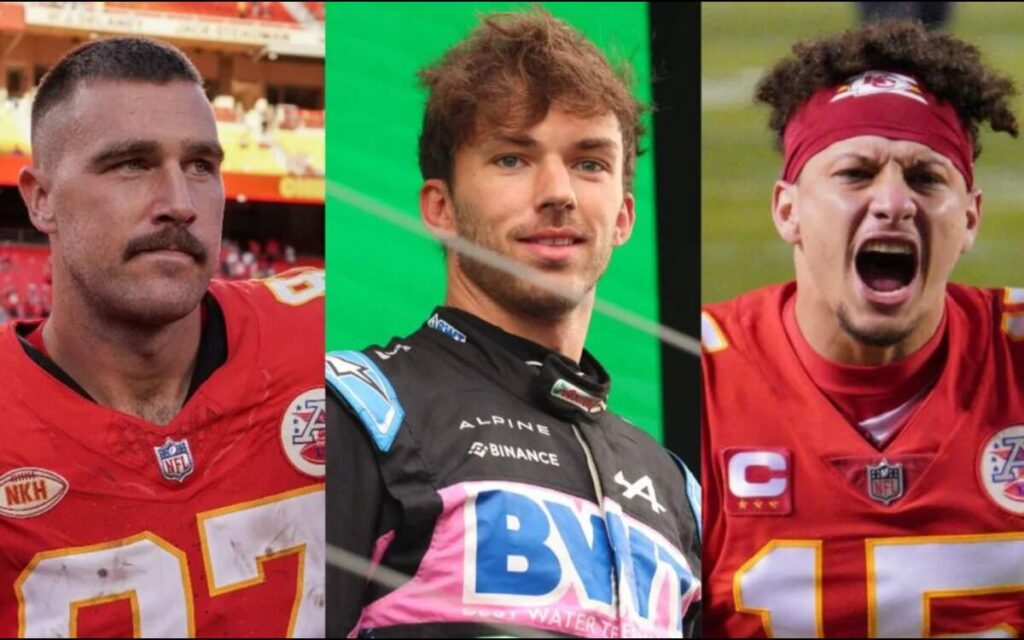 The teams will be playing in four pairs. Each is made up of a golfer and a driver, competing in eight-hole matches. From there two best-performing teams will advance to the final hole for the trophy in Nevada.